We recently received an interesting lighting product that was introduced in 2018 called the bitLighter. This innovative gizmo might look like a conventional oversized flashlight but as we will see here it has some true benefits for photographers and videographers.
The bitLighter is a very long flashlight measuring about 30cm or 12 inches and quite heavy at over 500 grams or a bit over 17oz. It has zoom capability so you can flood or spot the light as well as a nice continuous power knob (just be careful not to drop the light as this knob might get hit).
bitLighter – interchangeable heads with different colors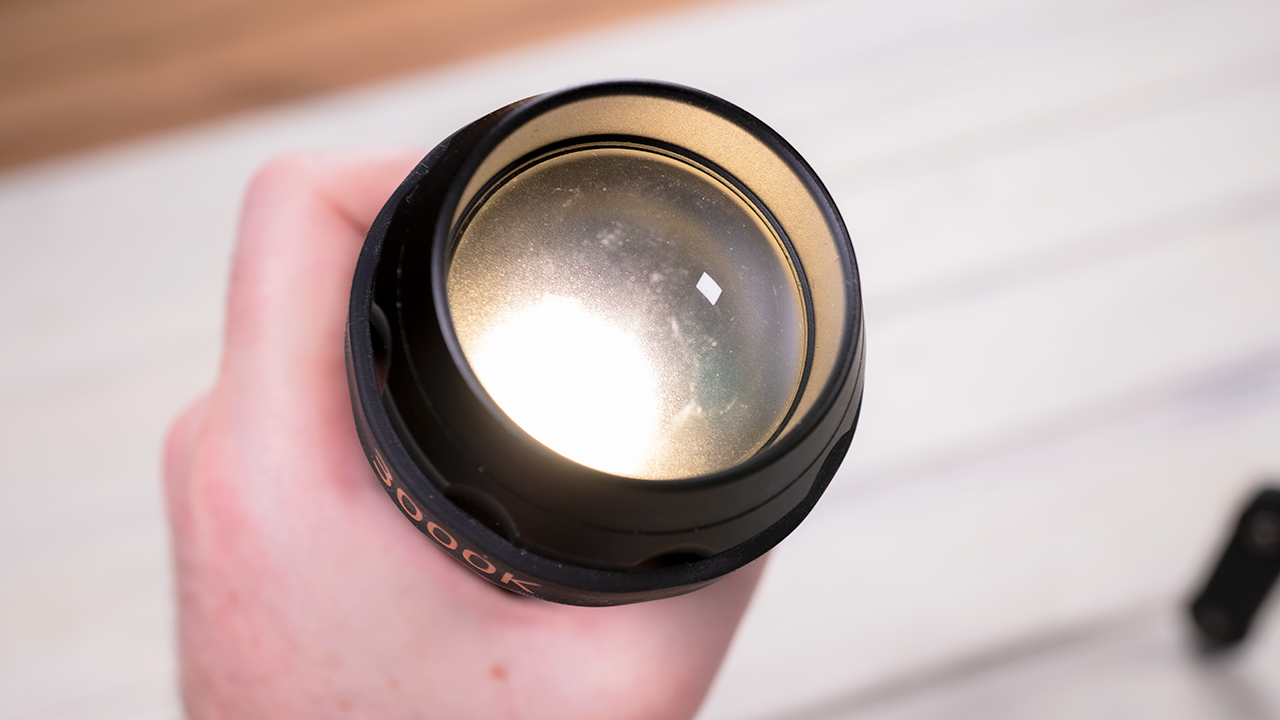 The bitLighter has Interchangeable "heads" for changing the temperature of light, we got it with the 5000K and 3000K heads which we will test momentarily but you can get 2700K, 3500K, 4000K and 5700K heads.
Looking at performance, like we typically do with other lights we tested the power output, color and temperature reproduction, and battery life. We used our trusty Sekonic C700 for these tests as we normally do.
Let's start with the power output. At 5000K we got about 2200lux at 1 meter with the flood mode and over 6000lux with the spot mode (update: measuring the spot again after our first test we discovered that from 1m you need to be very precise with the measurements – after experimenting a bit we discovered that the 5000K can actually produce over 10,000lux at the very center of the light spot which is even more impressive) .
Looking at the 3000K we found 1830lux at 1m with the flood mode and 6160lux at the spot mode (we re-measured here as well, a number of times, but in this case we got about the same results – interesting…).
We measured the temperature accuracy of both heads. The 5000K actually produced just under 5400K while the 3000K measured just under 3350K.
As for color accuracy, we measured around 93 CRI for the 5000K head which is certainly respectable although the R9 (reds) and R12 (blues) were somewhat less impressive – both around the 70-75 mark.
bitLighter test: 5000K head, flood mode
With the 3000K we measured 94 CRI and an especially low 66 R9 reading but better R12 at 84.
bitLighter test: 3000K head, flood mode
When it comes to battery life the unit has a huge Panasonic 3400mAh battery with a 17.5 Watt power consumption, rated at 2 hours of runtime at full power. We tested two things here – the first was trying to corroborate this number and we indeed got about 2 hours (the unit did get extremely hot though) and the second was to see if during these two hours the light intensity dropped or light quality changed – which it didn't really.
The Light can run out of AC power as well and we did get a power unit which both powers and charges the light so you can use it in the studio for hours – just don't hold it in your hand for too long.
Some might be wondering what is the point of the bitLighter compared to a high power high-quality conventional flashlight. Well, since we recently purchased the highly acclaimed Nitecore MH23 tactical flashlight for our own (non-photographic) uses, we can actually provide a pretty good perspective.
The Nitecore MH23 CRI results – should not be used for any color critical shoots
While both units can be charged via AC (the Nitecore charges via USB), only the bitLighter is designed to work continuously plugged in. On the flip side the Nitecore, while providing about the same output on paper (in practice it is actually even more powerful measuring about 12,500lux at 1m on our testing although it will drop in power after a while) is much smaller and lighter and so more comfortable to hold for long periods of time (although it also gets extremely hot at max power after a while).
Good build quality – all-metal housing
But really the biggest difference is the quality of the light. The CRI of the Nitecore is just atrocious with a CRI of 68 so this is not really a light you would like to use for any true photographic applications where color is important.
One more difference has to do with accessories. Conventional flashlights don't really come with any light shaping accessories as these are not really required for their normal use. Our bitLighter came with two optional accessories which we found to be very useful – barn doors and a snoot. The connector of the barn doors to the light was 3D printed but it fits well and the doors themselves are made of metal and work very well and allow you to create fairly thin light streaks. The snoot was 3D printed as well and can pinpoint the light to a spot.
There are some changes as well as features that we would like to see integrated in a future version of this light. First, it would be nice if a 1/4″ 20 connector would be part of the light instead of the included clamp for connecting to tripods, light stands and arms. It would also be nice if there was a more sleek way of connecting colored gels and other accessories (magnets/threads etc.). Also missing is some sort of real battery indicator for the light and we would consider using a smaller battery, making the light itself smaller and less cumbersome.
More useful than you might think
As for pricing, the bitLighter cost just under $250 with every additional head selling for an extra $50 and the barn doors selling for $44 (some of the bitLighter models are also available on Amazon although pricing fluctuates).
You can check out more LensVid exclusive articles and reviews on the following link.