Today we conclude our Photokina experience with one final video which looks at several products that we didn't really have a chance to mention on our other videos and a look at the behind the scenes of our coverage of the show and the gear that we used.
We start this short BTS video with a mention from our favorite video in the show – our talk with  Mr. Kazuto Yamaki – the CEO of Sigma and his (3'rd) reason to continue making cameras (and sensors) – he is really an honest (and funny) manager who we had a great time talking to.
Here are a few extra things that caught our eye during the show which didn't get into any of our other videos. First you have this special robot camera that can move on its own and shoot products automatically – pretty cool actually.
We had a quick chance to play with the new Tamron 150-600mm G2 lens – it was very impressive and seem to be improved in almost every respect compared to the G1 which we tested about a year or so ago – both in terms of build quality, image stabilization and from the little that we could see also in terms of focusing and image quality. We also caught a glimpse of the new Tamron USB adaptor – similar to that Sigma has.
The new Tamron 150-600mm G2 – impressive upgrade
Next we found this pretty boring stand on the Canon booth which was showing a 5D-like prototype camera with a whooping 120MP sensor shooting a bunch of boring things – which shows you apart of what Canon is currently working on.
Next to it in the booth you also had a huge Canon cinema camera which can shoot in 8K looking at another bunch of boring stationary stuff.
The Canon 8K prototype video camera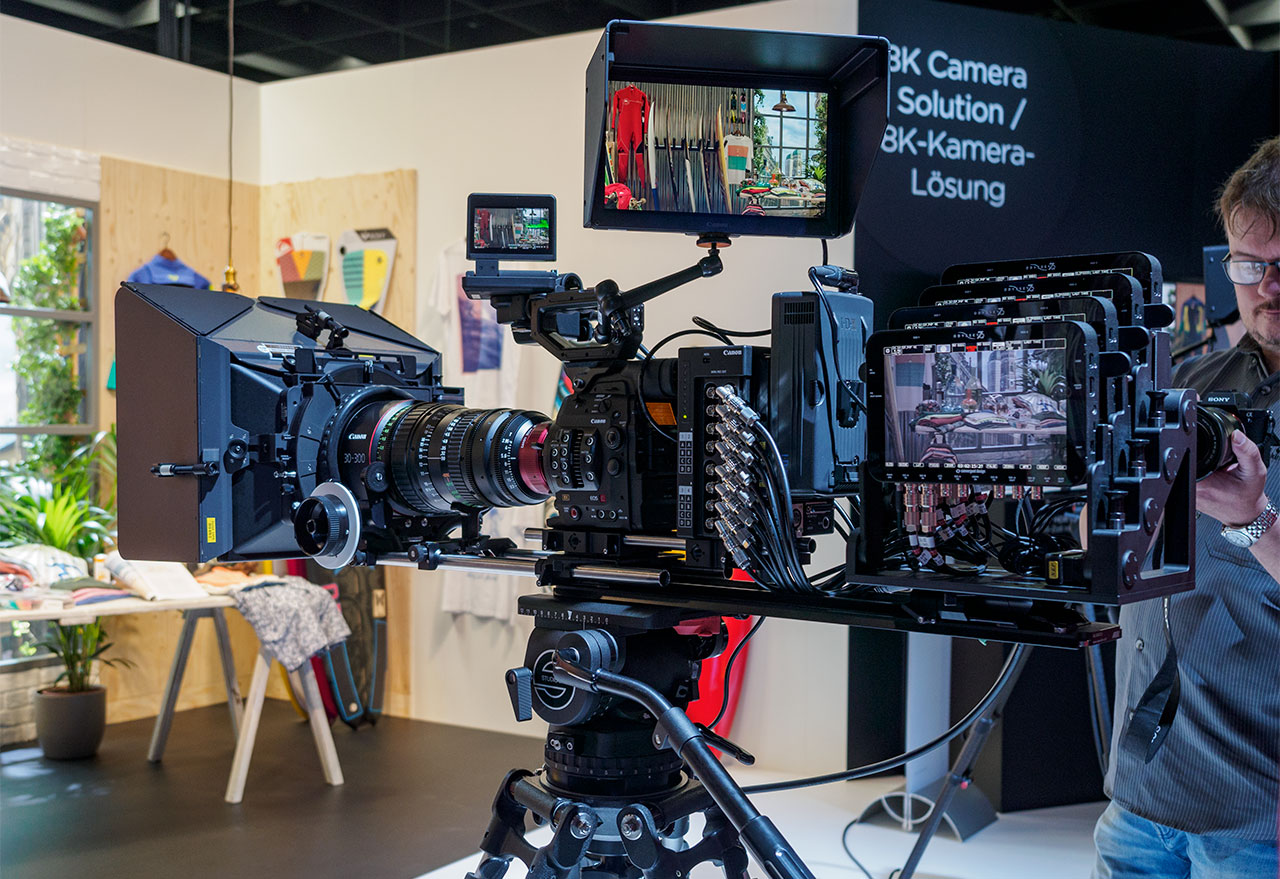 We also had a quick look at the new Syrp Slingshot device which can help you take videos and timelapses across long distances with this interesting looking cart and cable system.
Another video related product we encountered for the first time was a tiny lightweight jib made by a German company called StabilMove which seemed to work really well and was really portable.
There was a lot of photographic art on Photokina as always and although this wasn't why we came, it was fun to stop by and take a look whenever we had time.
This time around there was no birds of prey show which was one of the most interesting non photographic events during the show in the past – instead we got this bizarre dance show…. well…
For Photokina we actually took with us way too much gear. This meant that we had to spend quite a bit of time setting up before each interview as you can see with this behind the scenes look at our interview with Canon (for the Sigma CEO interview we actually used 4 different cameras from different angles).
You can see some of the gear that we took to the show every day with us including two light Gitzo tripods and the new Manfrotto monopod, Lykos lights which proved extremely handy and a slider which we didn't really use but we will review and as we noted no less than four cameras including the Sony A6300 which was our main video camera, the Nikon D500 which we shall review soon, the RX100 and Olympus OM-D5 along with about a dozen lenses including the sigma 50-100mm f/1.8, Sigma 30mm and Sigma 19mm plus the new 35mm f/1.2 Kerlee lens and many many other accessories.
We will be talking specifically about sound recording and well as hard drives and backing up during the show on two upcoming videos so stay tuned for that.
We can't wait for Photokina 2018 but in the meantime we will continue with all of our review series here on LensVid – don't forget to subscribe – see you next time.
This video is the last of our very extensive coverage of Photokina 2016 with almost 20 interviews, hands ons and videos that we took during the show and you can find them all on our special channel on Youtube and on this link on LensVid.