Today we are taking a look at the third CFexpress Type A memory card on the market released by Delkin. We have already reviewed the Prograde and Sony cards in late 2021 and it will be interesting to see how well the new card will perform in comparison.
Delkin released not one but two versions of its CFexpress Type A – a Black and Green. Both come in two capacities – 80GB and 160GB, just like the Sony and Prograde cards. The Black version has a 48h replacement guarantee and a serial number for management which the Green version doesn't have, other than that they are identical.
3 different CFexpress Type A cards head to head
Stills Performance
For our stills shooting test, we used the Sony A1 – the only camera that can currently unleash its full high-speed potential using a CFexpress Type A card.
We performed the test using our Sony 20mm f/1.8 lens with a 1/2000 shutter speed in MF mode with electronic shutter, High+ drive mode (30fps) shooting compressed RAW files, and here are the results for a 10 sec burst with all 3 of the cards as well as the Prograde SD UHS-II 128GB Card V90 card:
Sony CFexpress A – 229
Prograde CFexpress A – 219 images.
Delkin CFexpress A – 229 images.
Prograde SD UHS-II – 171 images.
The Sony and Delkin got an identical number of shots while the Prograde CFexpress Type A was marginally slower (mind you most users will never notice this difference). The SD card can't really keep up.
When it comes to buffer clearing, we got the following results:
Sony CFexpress A – 126 images in 12 seconds.
Prograde CFexpress A – 125 images in 13 seconds.
Delkin CFexpress A – 128 images in 12 seconds.
Prograde SD UHS-II – 129 images in 36 seconds.
As we can see the fast SD card is 3 times slower when clearing the buffer while all 3 CFexpress Type A cards seem to perform basically the same.
Video Shooting
As we noted in our previous review, both the A1 and the A7S III can shoot in almost any type of video format and setting using either V60 or V90 SD cards.
On the Sony A1, there are only two types of S&Q settings where you must use a CFexpress Type A cards and these are both XAVC S-I 4K 120p and 1080p 240p. Trying to shoot in both these modes using even our fastest V90 card resulted in the following massage: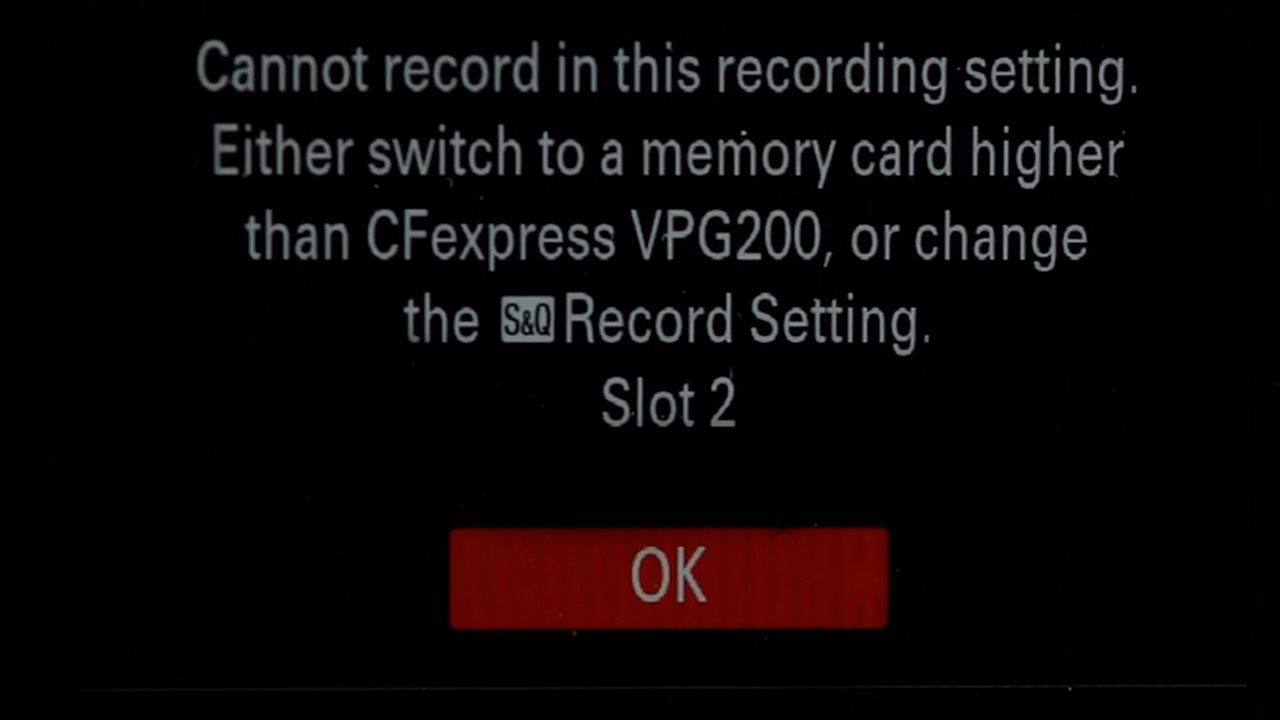 The Delkin CFexpress Type A card seems to work well in video on all modes, just like the two other cards although of course, only long-term use will tell if there are any apparent inconsistencies with dropped frames or any other issues.
Computer file transfer
We used our main studio computer with the Sony CFexpress A card reader and transferred around 120GB of videos and stills to and back from the computer and here are the results that we got:
Sony CFexpress A – 236MB/s write and 398MB/s read.
Prograde CFexpress A – 143MB/s write and 261MB/s read.
Delkin CFexpress A – 290MB/s write and 375MB/s read.
Prograde SD UHS-II – 137MB/s write and  251MB/s read.
Conclusion
As we have seen, the performance of all the existing CFexpress Type A cards seems to be pretty much identical in camera although in our test we have seen differences when offloading to a computer. For many users though the real differences are going to be in things like warranty and long-term reliability which is difficult to test without a large enough sample and of course pricing.
The Delkin CFexpress Type A 160GB card
Pricing
The Achilles heel of CFexpress Type A cards is still pricing which is higher for the same capacities compared to the faster and more common CFexpress Type B cards.
The Delkin Black sells for $365 ($355 for the Green version) a little lower compared to the Sony cards which run for $400. The Prograde Cobalt was originally on sale for $330 (but now seems to go for the same price as the Delkin).
You can check out more LensVid exclusive articles and reviews on the following link.