As part of an upcoming video on creating the perfect rig for the Sony A7 IV, we had a chance to play with the new SmallRig HawkLock quick release system for small accessories.
HawkLock Quick Release System
Over the years Smallrig released several quick-release products for cameras and accessories but the new HawkLock might be the most comprehensive system to date.
The system itself is very simple. It has a small plate and a base with a tiny push-down leaver. To lock the plate push it down until it clicks and to release push down the lever and hold the devices connected to the plate and grab it.
There are quite a few other similar small systems on the market including the mini-v quick release system from Lanparte that we tested several years ago. What seems to be different about the HawkLock is the eco-system that Smallrig is developing around the quick release.
At the moment you can buy the base kit with a plate, an extra plate, a dual quick release ballhead arm, a swivel and tilt adjustable Monitor Bracket QR, and a similar model with NATO clamp.
The main different variants of the new SmallRig HawkLock system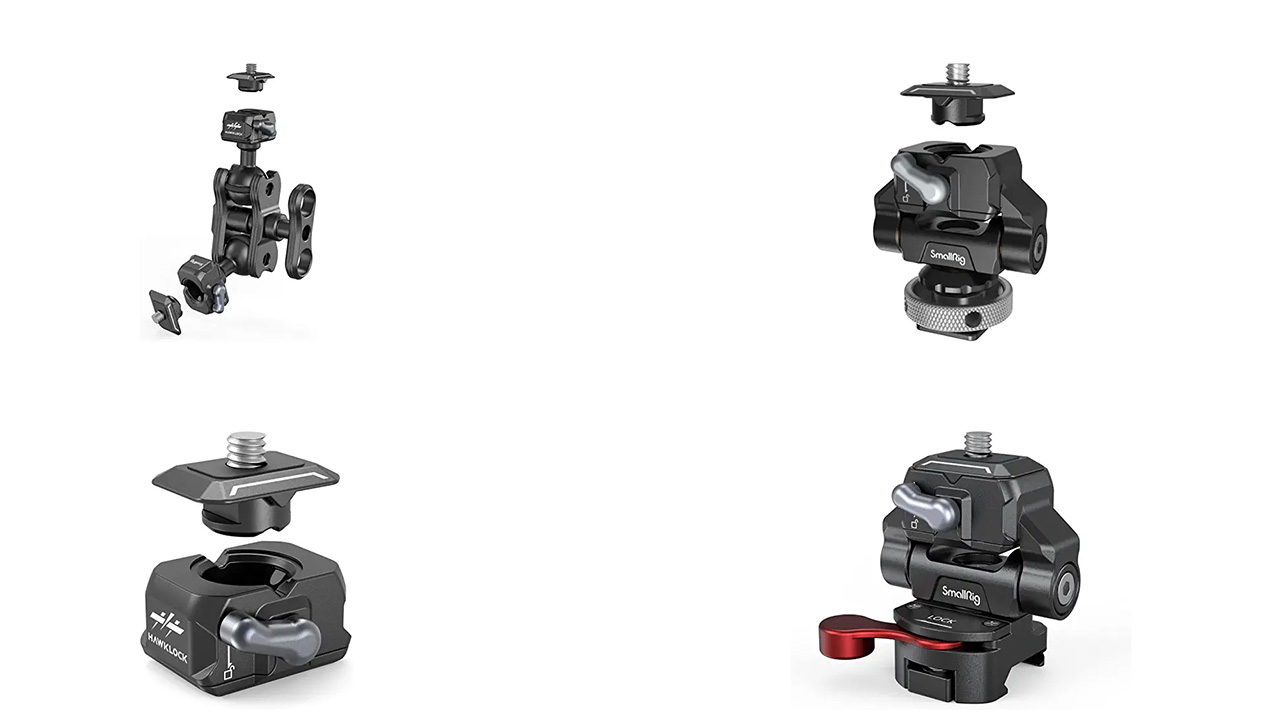 Our experience with the HawkLock QR system
So far we had a chance to use the HawkLock as part of the NATO clamp kit on a rig that we are using for the Sony A7 IV. The plate is easy to attach to an accessory although you will need an Allen key that comes in the kit. You can also easily tilt the connected device without a key and it will hold its position (at least with a 5″ monitor).
We tried the system with a number of 5″ monitors as well as a wireless HDMI transmitter (as you can see in our short video above) and it worked very well and was easy to connect and release (as well as switch between products). The only thing that we would like Smallrig to add are Arri pins to prevent twisting which seems to be a common criticism of this QR system (the plate itself can't swivel inside the base so that has been taken care of and you can always get a new plate).
It would be interesting to see what other models Smallrig will come up with next. There are many accessories that can benefit from a good quick release system for accessories and it can be useful not just for monitors and wireless transmitters but for power banks, remotes, and basically, any small-mid size photo/video gear that has a 1/4″ 20 connection.
Pricing
When it comes to pricing here are the Amazon prices at the time of writing:
You can check out more LensVid #shorts here and more LensVid exclusive articles and reviews on the following link.