Today we are testing two 135mm fast prime lenses for E-mount cameras – the Sony FE 135mm f/1.8 GM and the Samyang (Rokinon) AF 135mm f/1.8 FE.
The Sony has been around since February 2019 while the Samyang was announced in early 2022 at a significantly reduced price, but how does this reflect in our testing, let's have a look.
The Sony FE 135mm f/1.8 GM – Sony's portrait queen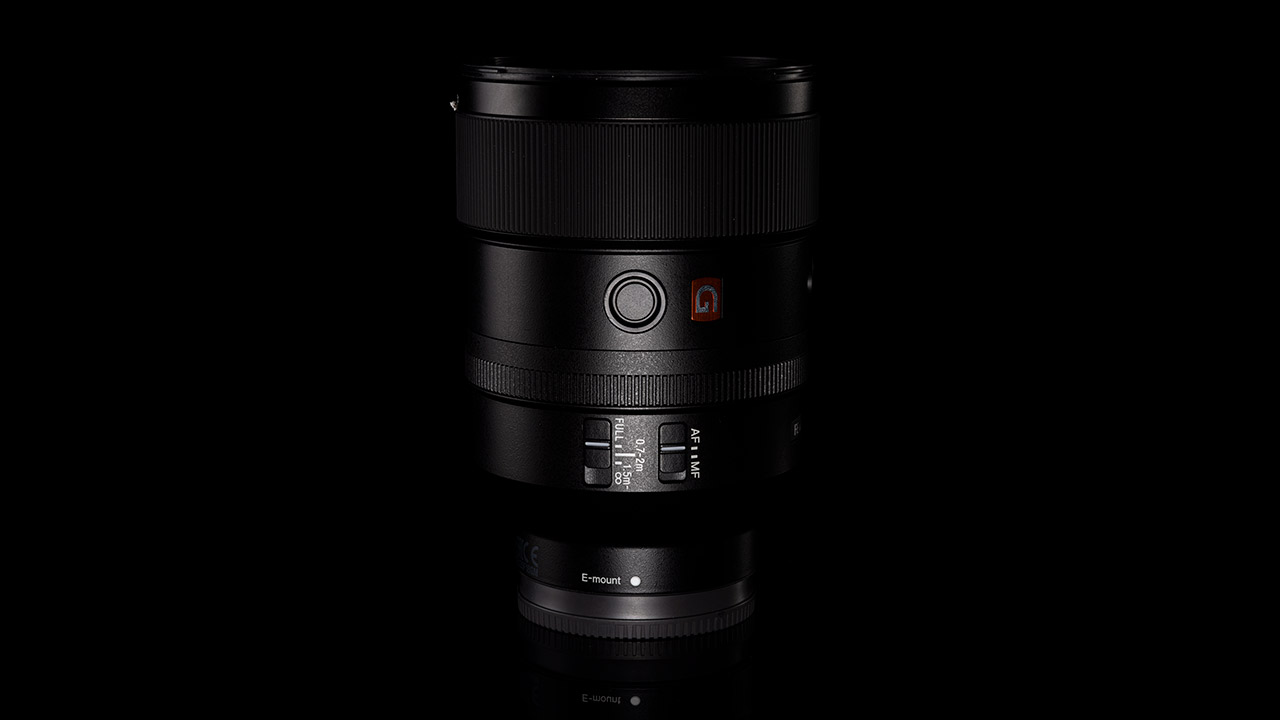 Optical Design
The Sony has 13 elements in 10 groups including one XD, one Super ED, and one ED element.
The Samyang has 13 elements in 11 groups including one U-ASP, two HR, and three ED elements.
Materials
Both lenses seem to be well made from hard plastic or composite material (with metal core). The Sony has a different slightly more robust feel similar to many other recent GM lenses.
Size and weight
The Sony is a bit heavier at almost 1KG/2.1LBS compared to just under 800g/1.8LBS of the Samyang (both without the hoods).
The two lenses are almost identical in size at 13.5cm/5.3" and the Samyang feels a hair wider at just over 8.5cm/3.3" (the Sony is closer to 8cm).
Rings
The Sony has two rings. A front fairly wide focus ring and a narrow rear aperture ring. The focus ring is smooth with very good resistance. The Aperture ring can move in clicks or smoothly and has an automatic mode which we really like.
The Samyang has a single very wide ring that can be used for focus or be programmed via the Samyang dock for controlling the aperture. It works fine but it is not as smooth as the focus ring on the Sony.
There is also a difference in texture between the Sony and Samyang – both provide a good amount of grip (the Sony might be slightly better in this respect).
Buttons and switches
The Sony is packed with buttons and switches. It has an MF/AF switch, a focus limiter with 3 modes (full, 0.7-2m, and 1.5-infinity) as well as a de-click switch on the other side. It also has two programable focus-hold buttons.
The Samyang has a custom switch that features two modes that can be set via the Samyang docking station and software to change between manual focus and AF or aperture control (we choose the first option and we actually prefer the Sony way of doing things).
The Samyang also has the same focus limiter (with essentially identical distances) and a single AF-hold button.
The Samyang AF 135mm f/1.8 FE switches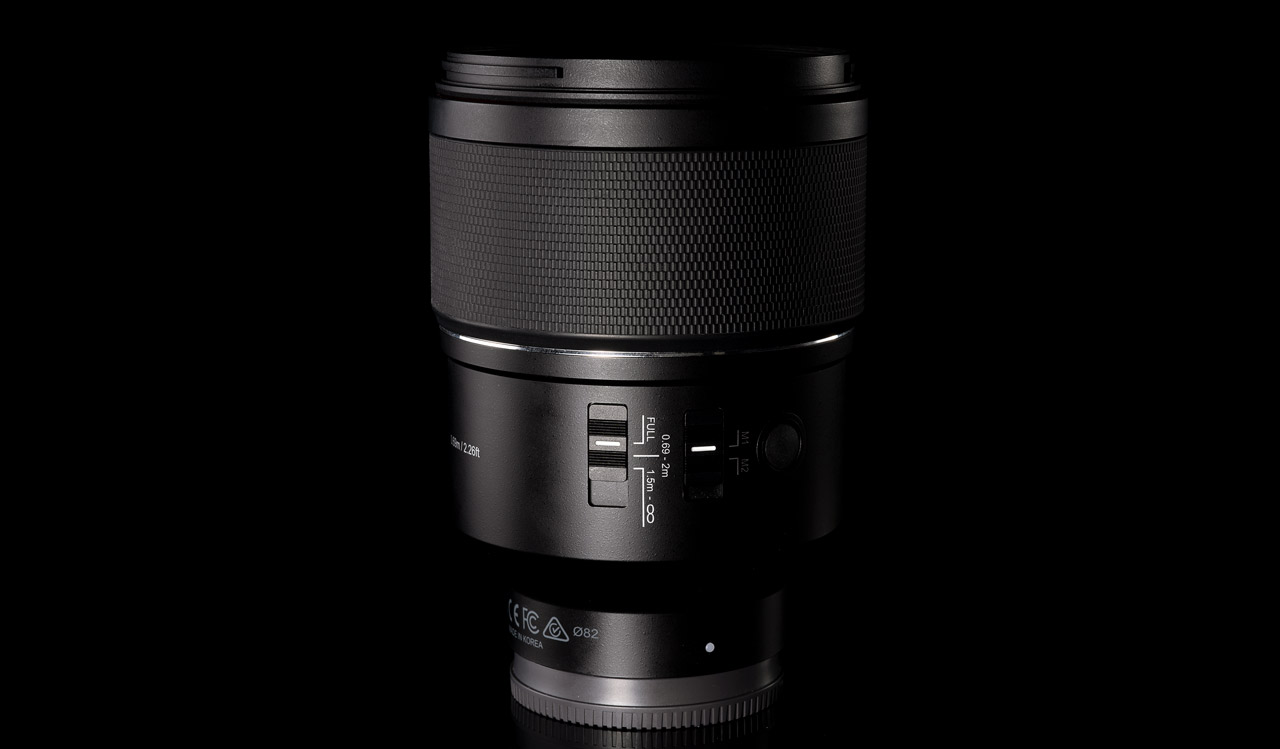 Sealing
Both lenses have weather sealing (we don't typically shoot in the rain so we can't comment on how effective these are).
Mount
Both lenses cover a full-frame sensor and come in an E-mount version only.
Hood
Both lenses come with a 7cm plastic hood. The Sony hood has black fabric inside to prevent reflections and a small release button (the Samyang has a more basic design).
Aperture
Both lenses have 11 aperture blades.
The Sony's 11 blades
Filter
Both lenses also share the same 82mm front filter thread size.
The Samyang AF 135mm f/1.8 FE – both have 82mm front filter threads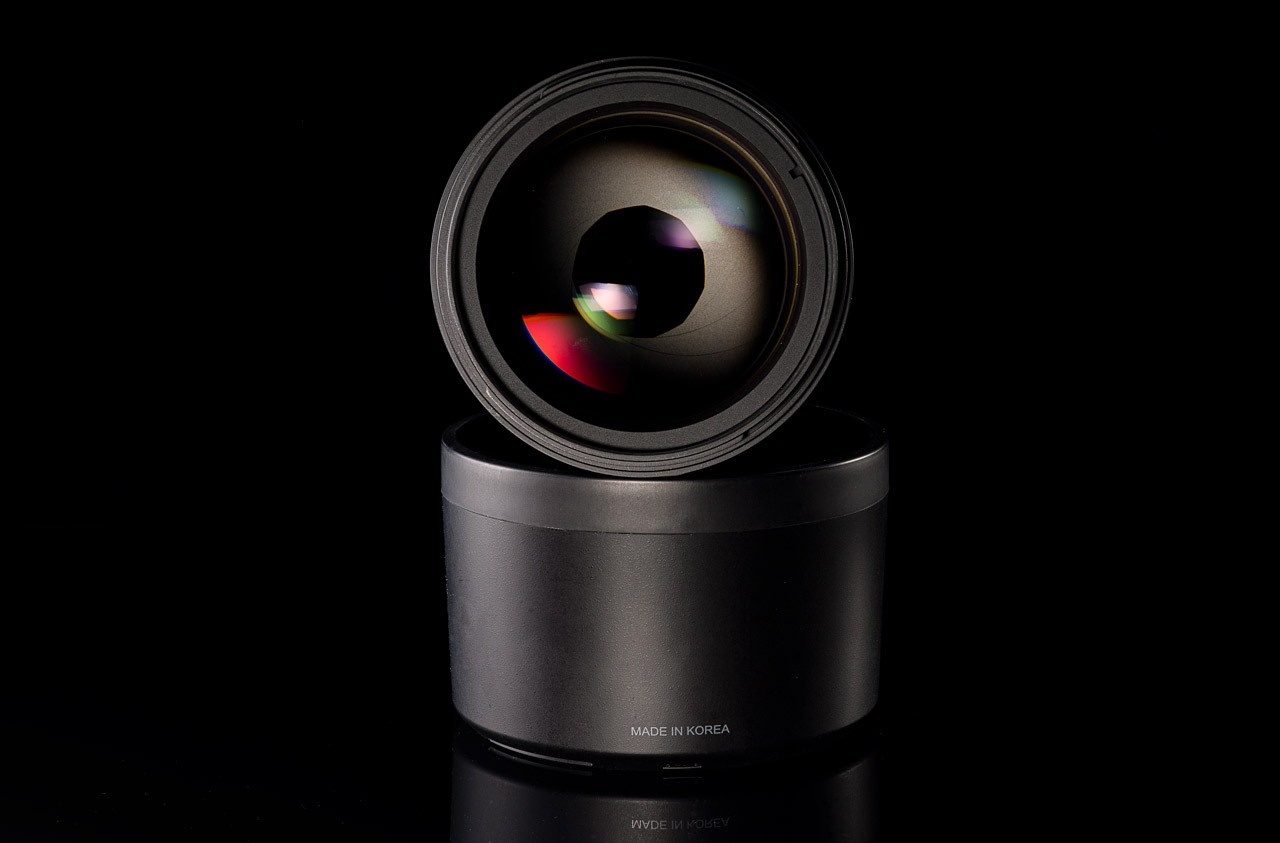 Performance
Focusing
Let's start with manual focus. The Sony has a superb manual focusing with a fantastic ring that moves super smoothly.
The Samyang focus ring on our copy of the lens doesn't seem to have the same smoothness as the Sony does. Otherwise, it works fine and does the job.
We also tested the focus throw of both lenses. The Sony has a linear focus throw (i.e., repeatable under different throw speeds) of about 90 degrees. The Samyang has no linear focus which means that the slower you turn the lens the longer the focus throw, this is not ideal for repeatable work in video. It is at least theoretically possible that Samyang will add an option in the future via firmware of the USB dock, but this is not possible at the moment.
Next, we moved to the AF test. This is where a lot of the differences between first- and third-party lenses can be found these days. We tested both lenses in stills and video shooting two targets about 3 meters apart in both lit and ultra-dim conditions (ISO 12,800).
To our surprise with our Sony A1 we could not see any visible difference in both good and poor lighting conditions and in still or video modes – both lenses performed excellently and as long as we got the square on the target both focused right away very quickly.
We tested both lenses shooting in a skateboard park with our A1 using electronic shutter at fast burst speeds and got about the same keeper rate from both lenses.
It is worth mentioning that officially the Sony 135mm GM can go up to 30fps while the Samyang can't however in our testing, we could hardly see any difference in performance and they are both exceptionally fast on the A1.
Image stabilization
Both lenses do not have image stabilization which would have made them even larger and more expensive although we would kind of like to see a fast stabilized 135mm lens by this point (the Zeiss 135mm Batis is stabilized, but it is an f/2.8 lens).
Sharpness
We tested the sharpness of both lenses using our special large professional Imatest high-end chart on our Sony A1.
Looking at the center of the frame wide open the Sony might be a hair sharper but with the aberrations, and corrections turned off it is noticeably darker. Both lenses are however very good at f/1.8 and exceptionally sharp at f/2.8.
Sony 135mm f/1.8 and f/2.8 top (left and right respectively) and Samyang-135mm (same, button) center sharpness
Moving over to the corners we would say that both lenses are equally as sharp and demonstrate excellent performance even wide open. Again, with the auto corrections turned off the Sony is visibly darker.
Sony 135mm f/1.8 and f/2.8 top (left and right respectively) and Samyang-135mm (same, button) corner sharpness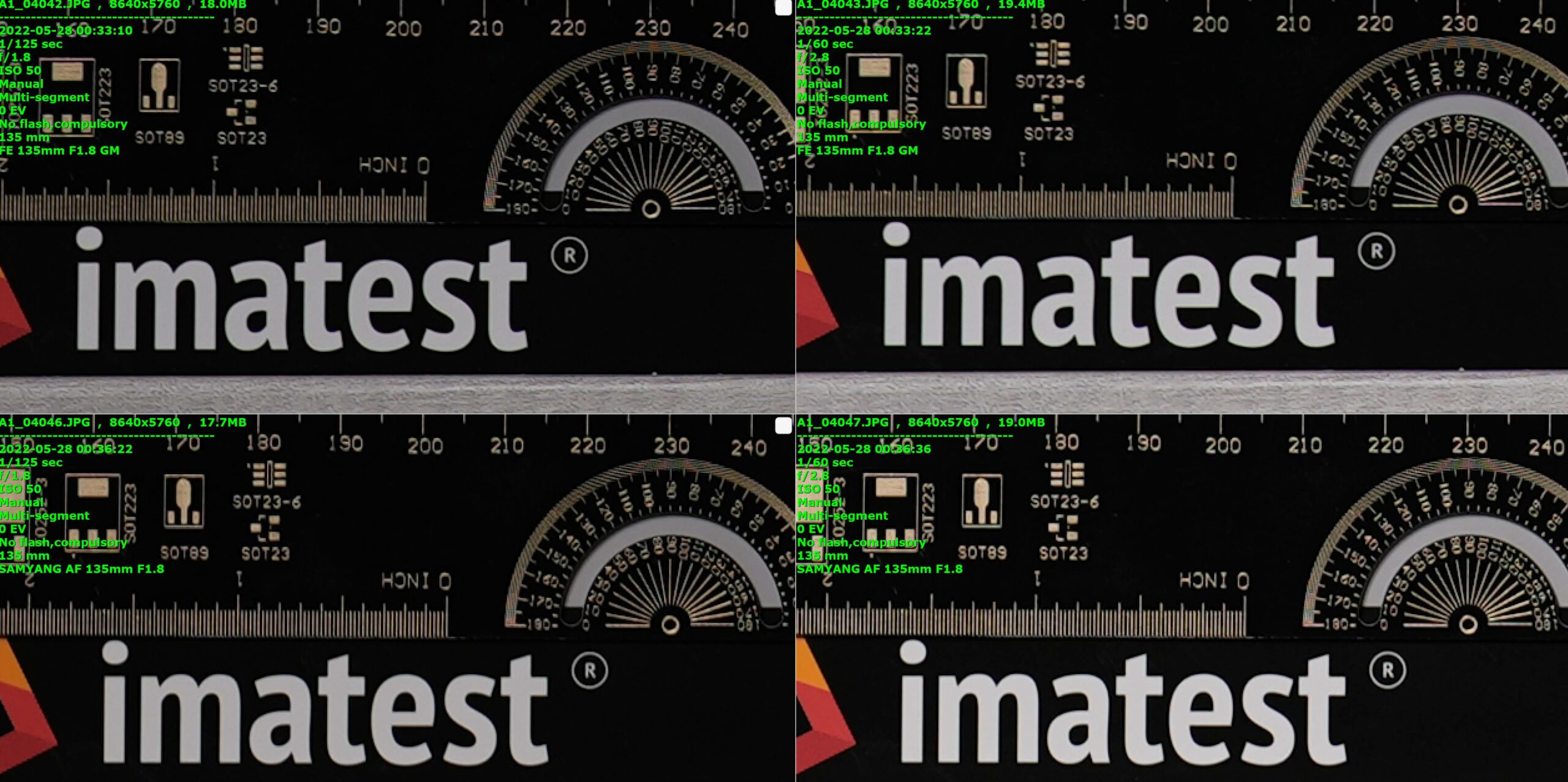 Close up performance
When it comes to close-up work both lenses are quite impressive. The Sony can focus as close as about 68cm, significantly closer than most 85mm lenses for example and the Samyang is even better at 66cm.
The macro magnification of both lenses is also pretty decent with 1:4 for the Sony and 1:4.1 for the Samyang, not macro but pretty good.
Looking at the image quality close up we will say that the Sony is maybe slightly sharper than the Samyang in the center wide open, the corners are very hard to judge because of the close-up nature of the test and the extremely shallow depth of field.
Sony 135mm f/1.8 and f/2.8 top (left and right respectively) and Samyang-135mm (same, button) close up center sharpness
Sony 135mm f/1.8 and f/2.8 top (left and right respectively) and Samyang-135mm (same, button) close up right corner sharpness
Sony 135mm f/1.8 and f/2.8 top (left and right respectively) and Samyang-135mm (same, button) close up left corner sharpness
Breathing
Both lenses seem to have a ton of breathing as you can see in our video.
We also decided to see how the Sony 135GM which has breathing compensation support will function on our A7 IV. To our surprise, it seems that the compensation, in this case, does not eliminate the breathing completely but it does seem to help (we are still waiting for this feature to arrive to our A1).
Chromatic aberrations
On our test, both lenses seem to exhibit no trace of longitudinal chromatic aberrations even wide open – impressive.
Sony 135mm f/1.8 and f/2.8 top (left and right respectively) and Samyang-135mm (same, button) chromatic aberrations
Flare
Both lenses seem to be pretty susceptible to direct front light and strong flare even with the hood so try to avoid this as much as possible (see video).
Vignette
When turning the aberrations corrections off in the camera the Sony 135mm GM actually shows a lot of darkening in the corners which clear only somewhere between f/4 and f/5.6.
Sony 135mm GM vignetter (corrections off) – top left – f/1.8, top right – f/2.8, bottom left – f/4, bottom right – f/5.6
The Samyang shows a slightly different story. Wide-open the image is very dark and we are also presented with a lot of darkening in the corners. However, at f/2.8 things clears up across the frame and in the corners and it is almost gone between f/2.8 and f/4.
Samyang AF 135mm f/1.8 FE vignetter (corrections off) – top left – f/1.8, top right – f/2.8, bottom left – f/4, bottom right – f/5.6
Barrel distortion
Both lenses present no visible pincushion or barrel distortion even with the auto-correction turned off in the camera.
Sony 135mm barrel test
Samyang 135mm barrel test
Bokeh
The Bokeh of both lenses is very good and fairly similar. In some places, the Sony bokeh balls look better and in others those of the Samyang do – so you can call this one a tie.
Sony 135mm GM @f/1.8 Bokeh
Samyang 135mm @f/1.8 Bokeh
Sample images
We used both lenses with our Sony A1 in different situations and here are a few sample images from both of them including a concert where we used the Sony 135mm from a distance of about 10-15m in very difficult lighting conditions (all images are unedited, besides cropping, unless otherwise mentioned).
General images (Sony 135mm GM):
General images (Samyang 135mm):
Concert shots with the Sony 135mm GM:
We also shot a very special fashion/beauty production recently for a high-end strobe system that we are reviewing (stay tuned for that video soon). Those are edited images but we shot with both lenses and there was really no need to add any sort of post sharpening to the images.
Sony 135mm GM @f/14
Samayng 135mm @f/14
Finally, we decided to shoot some action shots at the skate park with both lenses. We got some OK shots but we also had some misses with both lenses although this is more likely related to human error than to hardware limitations.
Sony 135mm GM @f/1.8
Samyang 135mm @f/1.8
Conclusion
While 135mm might not be as popular as 85mm for portrait work, if you have the distance, it can reward you with some fantastic results, especially with the two outstanding lenses that we tested today.
From a build quality perspective, both are very well made with an advantage to the Sony which also has a few extra features like the de-click mechanism and extra aperture ring. The Samyang on the other hand is quite a bit lighter although a hair thicker.
Looking into the performance of the two lenses we would say that despite searching very hard, both lenses seem to produce almost exactly the same results – that is to say fantastic images with very few weak spots.
When choosing between the two it boils down to how much are you willing to spend on the improved build, design, and extra features of the Sony such as the aperture ring and de-click option.
At the end of the day, you are not going to go wrong with either of these two lenses.
Which 135mm f/1.8 lens to choose?
Pricing
When it comes to pricing, there is a big difference between the two lenses. The Samyang currently sells for just under $1000 while the Sony sells for $2100.
You can check out more LensVid exclusive articles and reviews on the following link.