Today we are going to take a look at the Ulanzi G9-5 metal cage for the GoPro 9 and 10 models alongside several interesting accessories by the company.
Ulanzi G9-5 Metal Cage for GoPro 9/10
We've already reviewed a number of Ulanzi products (see our Live Broadcast Multi Boom Arm and the MT-35 Panoramic Octopus Tripod) and today we're looking at a metal GoPro cage for Hero 9 and 10. This Ulanzi cage is a unibody design with a fast-release backplate.
The Ulanzi G9-5 Metal Cage for GoPro 9/10 with the power handle
It features a door with a charging port cutout. There are integrated cold shoe mounts on the top and left side of the cage. On the bottom, there is a 1/4'' mount. The backplate slides in and out and locks into place.
In order to insert the GoPro, take off the side door first. With the camera in place, lock it in with the backplate. Slide the side door into place.
For an easier grip, Ulanzi offers this 6800 mAh power bank (the Ulanzi BG-2 6800mAh Powerbank Handgrip) with an integrated 1/4'' screw on top and a 1/4'' mount on the bottom. This power bank grip features a USB-c and a USB-a port. With the cage's charging door, this becomes a very practical setup with an easy grip and plenty of battery.
Another useful GoPro accessory from Ulanzi is a replacement metal charging door with an integrated 1/4'' mount and a cold shoe mount (Ulanzi G9-2 Metal Battery Door for GoPro 9/10). This door fits the Hero 9 and 10. It has a spring latch on one end and a hook on the other. The installation is very simple, and it lets you charge the battery and offers an additional mount to secure the camera with a clamp, for example.
Another use for an open port that this Ulanzi door provides, is GoPro's microphone adapter. It's great for vlogging since it allows to add a microphone to the GoPro to improve the audio quality.
This cage is geared for vlogging since it can carry your whole setup. The cage's top cold shoe mount is perfect for a small microphone, but when used with a dead cat, it'll be in the shot as you move the rig around. To avoid this, Ulanzi includes a riser for the microphone.
It's a metal piece with a cold shoe mount on the top and a locking foot on the bottom. Slide it into the cage's mount, and then mount the microphone on top. This way, it'll stay out of the shot.
Another useful feature of this Ulanzi cage is the microphone adapter holder. Just connect the adapter and slide it into the space underneath the cage. The cables are tucked away neatly, and you can still use the Ulanzi power bank grip to hold this rig.
This adapter has a microphone jack and a charging port, so you can have clean audio and plenty of battery at the same time. The other cold shoe mount can hold a small video light. Having a fill light on a vlogging setup can be really helpful. You can see the difference with and without a fill light in our video.
One more useful feature of the Ulanzi cage is a filter mount. This accessory attaches to the front of the cage with three screws included in the kit. The mount has a 49mm front thread to install the filter.  We didn't find this useful, since all of our filters are much bigger, and we use specialized snap-on filters on the GoPro.
More accessories
Another accessory that Ulanzi offers that is great for this setup is a tiny tube light (Ulanzi Compact Magnetic RGB LED Tube Light). It's a 2000 mAh battery RGB light with effects and can be powered through USB-C. This is a great addition to your kit, but the only problem is the very dim screen.
The Ulanzi GoPro cage, power handle, and mini LED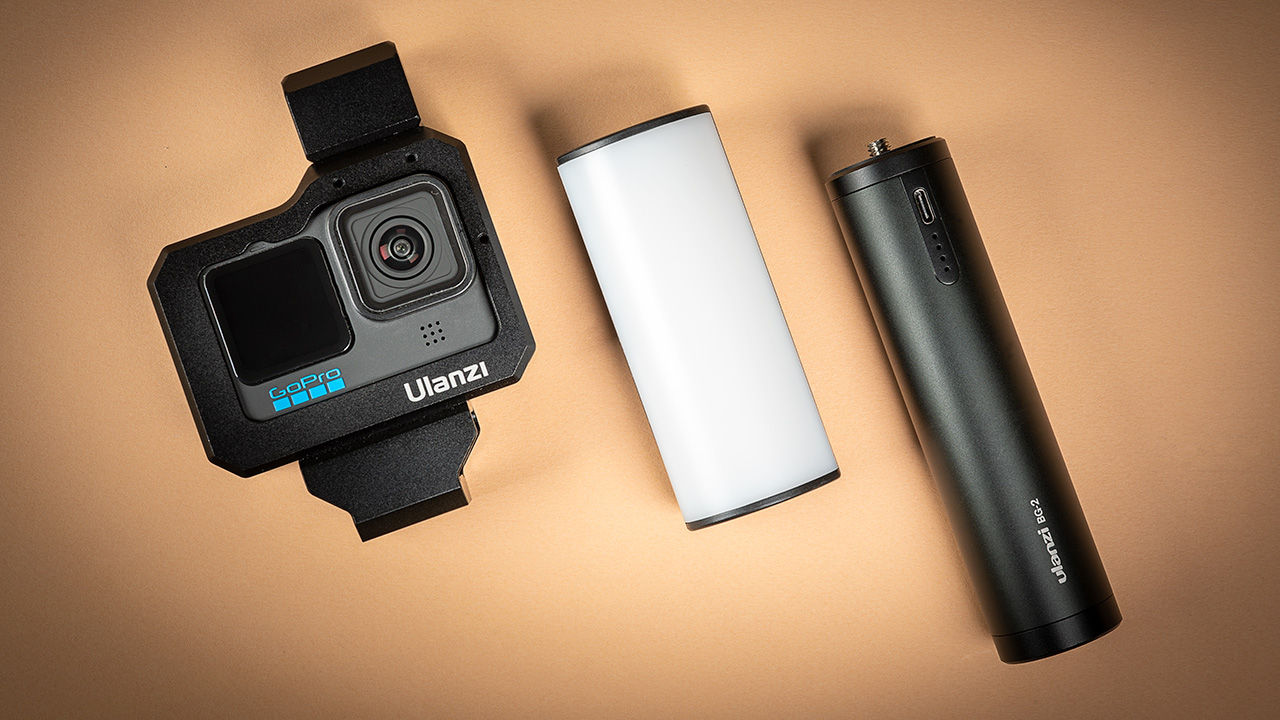 The color temperature range of this Ulanzi I-Light is from 2500K to 9000K. It features HSI mode and 20 different effects.
We tested the output of the Ulazi tube light with our Sekonic C800 at 3200K and 5600K from 30 and 60cm away, and these are the results we got:
3200K from 30cm – 480lux and 129lux at 60cm:
5600K from 30cm – 532lux and 144lux from 60cm:
This is a versatile little light with mounting holes on both ends, so you can use it as part of the Ulanzi vlogging setup.
This final accessory we got from Ulanzi this time around isn't part of this setup, but can also come in handy when vlogging. This wide-angle lens (Ulanzi WL-2 Wide Angle Lens/Micro Lens) increases the frame by about 1.5x. It has a 40.5mm diameter thread, and it's designed for Sony non-interchangeable lens cameras. We tried it on our Sony a6500 with a kit lens and you can see a few shots in our video above.
The Ulanzi WL-2 Wide Angle Lens/Micro Lens
Pricing
As for pricing, you can put together this Ulanzi GoPro rig with the G-5 metal cage, the BG-2 power bank grip, and the I-Light for just over $100.  The multifunctional battery door for GoPro Hero 9 and 10 is $16 (or $20 on Amazon). And the Wide-angle add-on lens costs $43 (or $49 on Amazon).
You can check out more LensVid exclusive articles and reviews on the following link.