Today we are taking a look at an 85mm macro lens with a twist from a relatively new Chinese manufacturer called the Astrhori 85mm f/2.8 Macro Tilt lens.
About AstrHori
If this is the first time you heard the name Astrhori it is hard to blame you. The Shenzhen-based manufacturer was founded in early 2018 but since then it already accumulated an impressive line of 15 manual focus lenses and if some recent leaks online are to be trusted there are several more coming in the near future including an AF lens.
The AstrHori 85mm Tilt Lens
Optical Design
The lens has 11 elements in 8 groups, including two extra-low dispersion elements.
Materials
The lens is made from metal and feels quite substantial in the hand.
Size and weight
The lens measures around 12cm (4.5″) long and the weight seems to confirm our feelings tipping the scale at just over 730g (25.8oz).
Rings
The lens has an average-width focus ring and a slightly narrower aperture ring in the front. Both rings do not provide enough texture for gripping in our opinion and the aperture ring is slightly thicker for some reason making it the first thing you grab instead of the focus rings in lots of cases.
One other strange design choice is the click-less aperture ring. This lens is not primarily designed for video shooting and we see no reason why the aperture lacks this functionality, especially since this is a fully manual lens with no camera indication of aperture (so you have no way of knowing if you are shooting in f/2.8, f/2.9 or f/3 if the ring moved a little).
The focus ring has its own quirks which we shall discuss in a moment.
Not enough grip – The AstrHori 85mm rings
Buttons and switches
The lens has three tiny knobs that have to do with the tilt mechanism which we shall discuss later on in this review. Other than that, there are no buttons or switches of any kind on the lens.
Sealing
The lens does not seem to have any weather sealing.
Mount
The lens comes in various mounts including Canon RF, Fujifilm X, L mount, Nikon Z and in our case Sony E mount.
Hood
Our lens sample did not come with a hood.
Aperture
The lens has a 12-blade aperture diaphragm. We will see later on how its bokeh looks.
Filter
The lens has a 55mm front filter thread.
Performance
Focusing
This lens is fully manual so no data is communicated to the camera and there is no Exif information for the lens. The focus ring is unbelievably delicate, probably more than any other lens that we have tested which can be a challenge to use especially when shooting close up. It has hard stops and a focus throw of around 100 degrees or so.
Tilt functionality
On the rear of the lens, there are three small metal knobs that are not exactly easy to turn due to their size and texture. To be fair small uncomfortable knobs close to the camera are a design limitation of all of the tilt/shift lenses we ever used, but on this lens, they feel extra hard to work with.
On the right you have the tilt lock knob, on the left, you have the knob for changing the tilt angle from -8 degrees to +8 degrees. This is a little less tilt than most other telephoto tilt/shift lenses on the market (these usually go between 8.5-10 degrees). You can leave the locking knob open and the lens will not change the tilt and you can change the tilt with your hand as well which we often do.
The third knob which is super tiny and very close to the camera and hence very difficult to operate allows for a 360 turn of the lens with soft clicks every 30 degrees.
Before we look at what 8 degrees of tilt gives you there is one important drawback that needs to be stated. While this is a full-frame lens, it does not function as a full-frame tilt lens. Meaning that if you tilt the lens in full frame mode, you will see very clear dark edges to your frame. We also tested the lens darkening in APS-C mode and we will get to it in a moment.
The small tilt knob and tiny rotation knob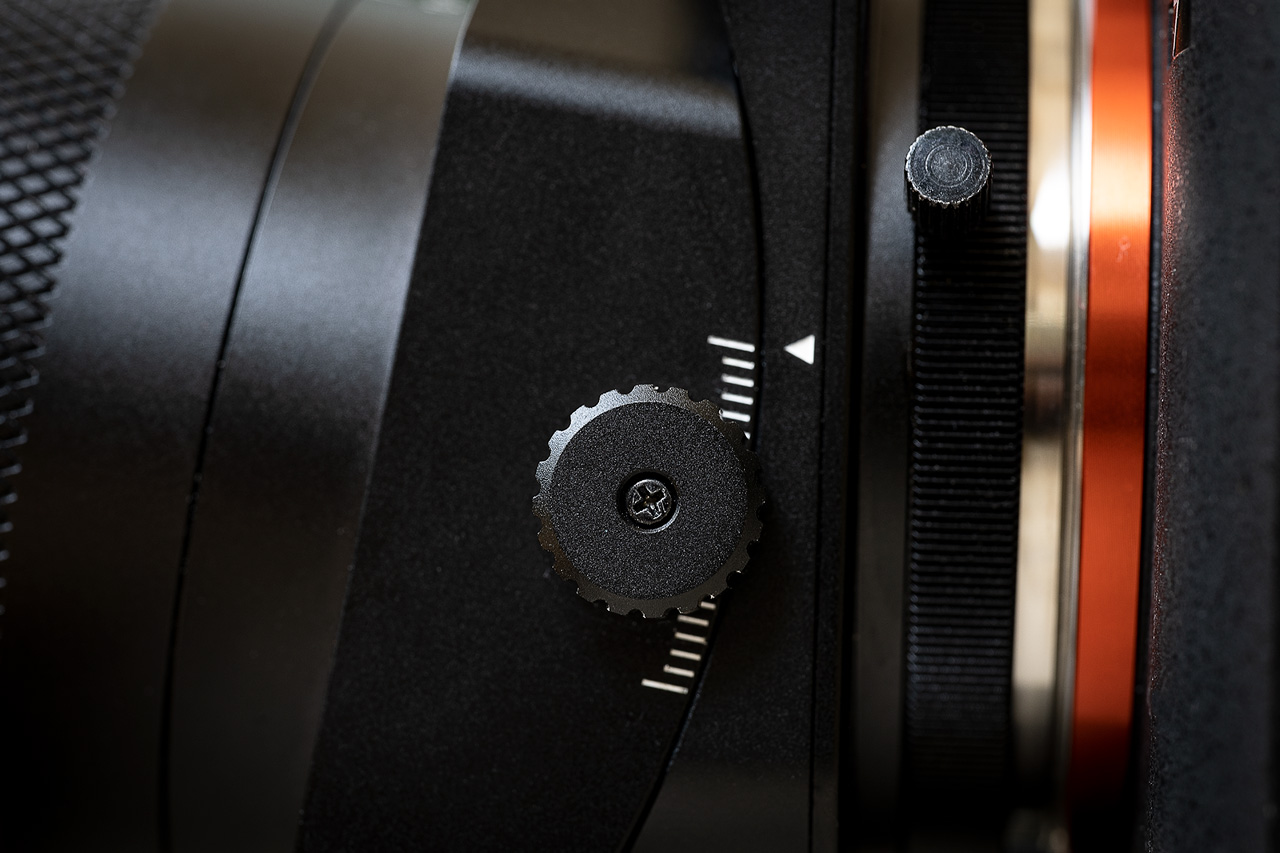 Granted this limitation is clearly stated in the marketing material and this lens is sold as an APS-C tilt lens and you should use it as such. We would certainly like to see a full-frame tilt version of the lens in the future but this will probably come at an added cost and extra size/weight.
You can see a few examples we shot with and without the tilt which demonstrates the effect 8 degrees of up/down or side tilt has on an image.
APS-C-horizontal tilt
APS-C no tilt
Full frame no tilt
Image stabilization
The lens has no image stabilization.
Sharpness
We tested the sharpness of the lens using our special large professional Imatest high-end chart on our Sony A1.
In the center of the frame the image is pretty sharp even wide open but with a lot of purple fringing, getting a significantly cleaner image is only achieved between f/5.6 and f/8.
Sharpness test (center of frame) – f/2.8 top left, f/4 top right, f/5.6, bottom left, f/8 bottom right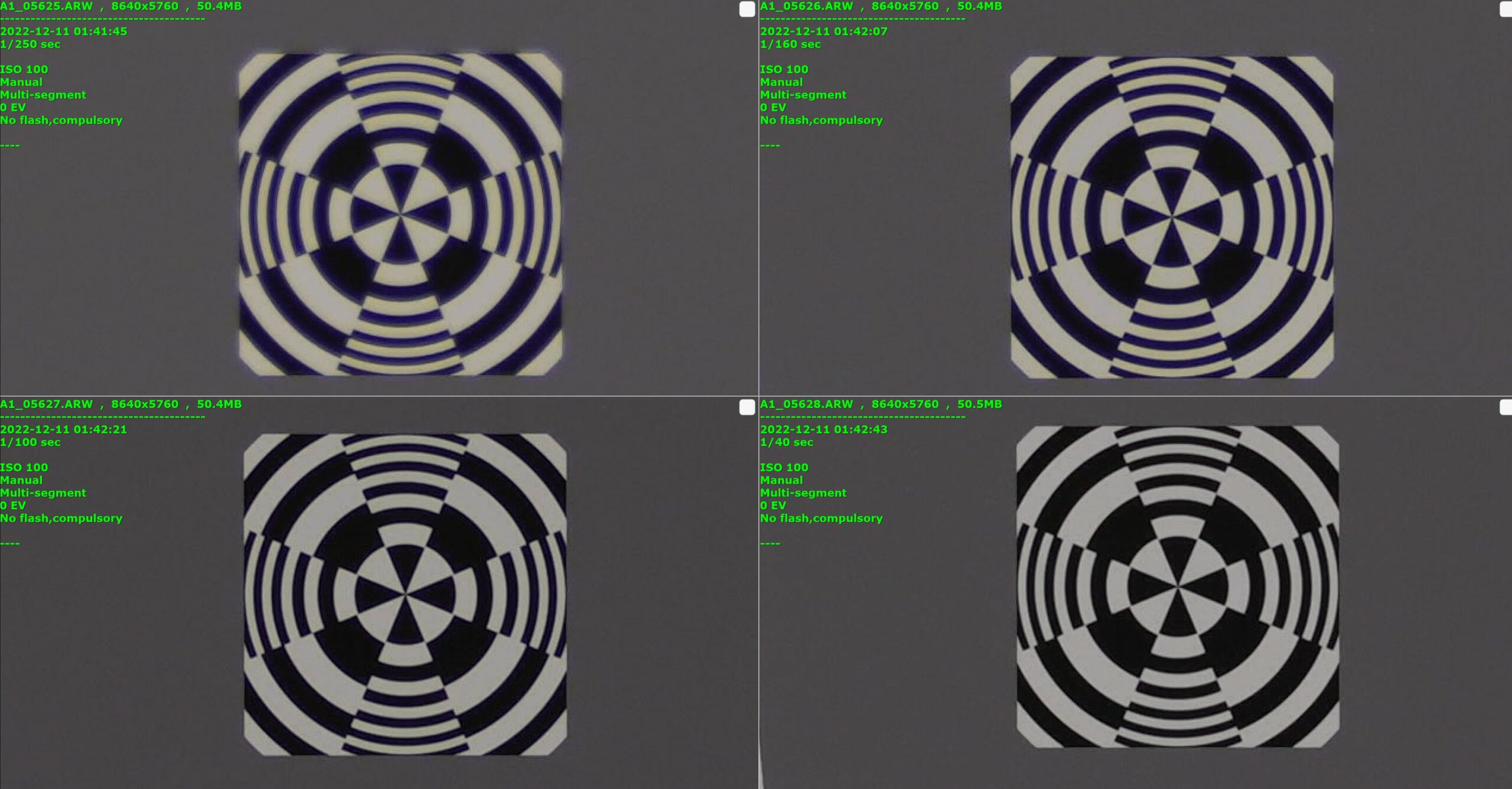 In the corners, image quality isn't great wide open and it only gets sharp at around f/8.
Sharpness test (corner of frame) – f/2.8 top left, f/4 top right, f/5.6, bottom left, f/8 bottom right
Close up performance
The lens has a full macro capability with 1:1 magnification at a minimum official close-up distance of 25cm covering a full-frame sensor and this seems to hold true in our testing.
We also tested the close-up sharpness of the lens and as you can see in our results sharpness is good even wide open in the center and improves around f/5.6 although with lots of CA which we shall address in a moment.
Close up sharpness test (center of frame) – f/2.8 top left, f/4 top right, f/5.6, bottom left, f/8 bottom right
In the corners, you will see a much bigger improvement around f/5.6 and even more so at f/8.
Close up sharpness test (corner of frame) – f/2.8 top left, f/4 top right, f/5.6, bottom left, f/8 bottom right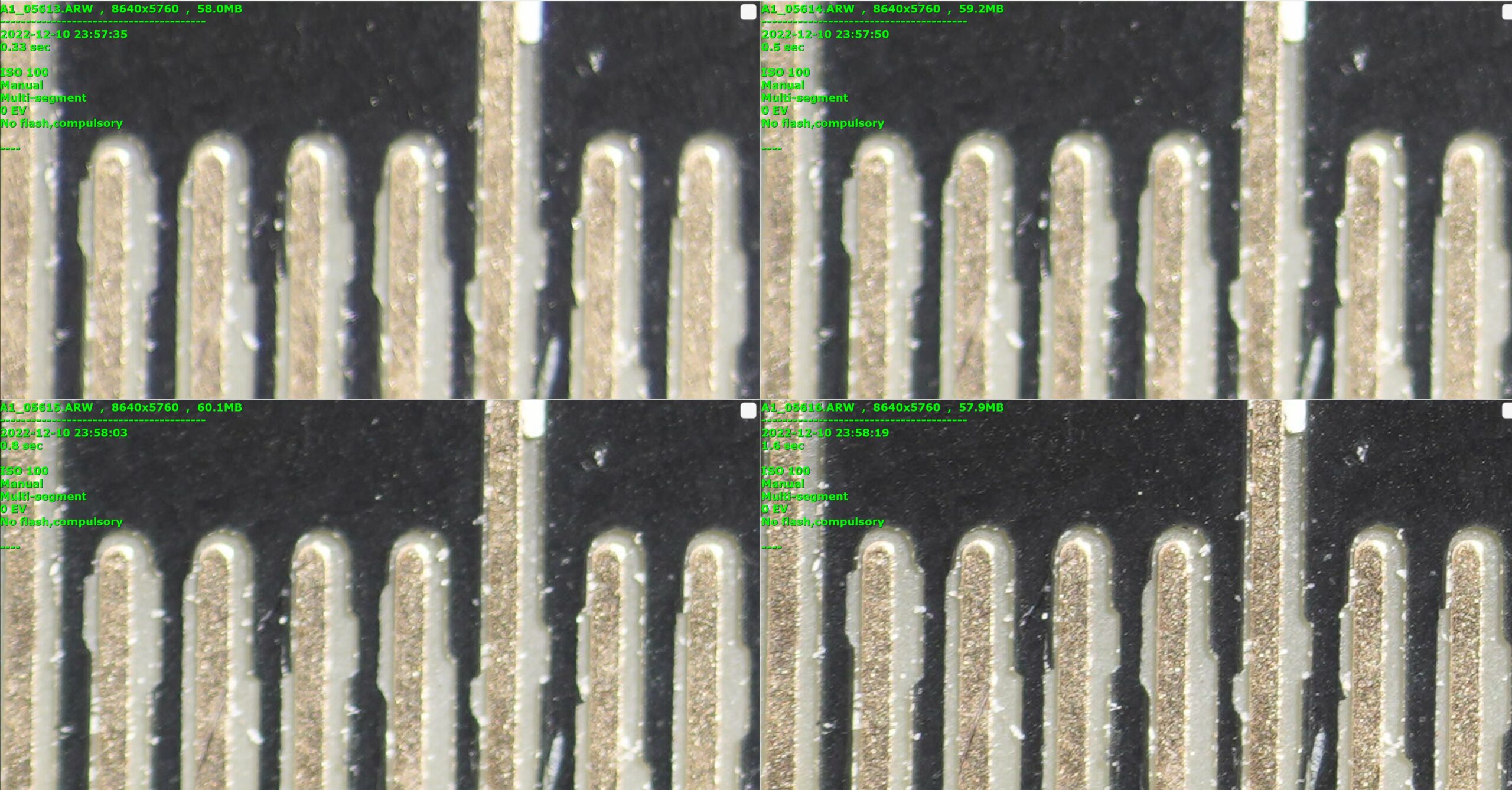 Breathing
Just like most macro lenses the AstrHori displays a great deal of breathing.
Chromatic aberrations
On our test, it seems that the lens has very visible longitudinal chromatic aberrations at least until f/4 which seems to clear up around f/5.6.
CA test (center of frame) – f/2.8 top left, f/4 top right, f/5.6, bottom left, f/8 bottom right
Flare
The lens has a surprisingly low level of flare with a small amount of green and blue when faced with a strong direct light source.
Testing the lens in the sun on the other hand resulted in some very pronounced flaring when faced with front light (you can see this in our video).
Vignette
We tested the corner darkening of the lens in full frame mode without any tilting and you can see quite a bit of darkening wide open which improves between f/4-f/5.6 but does not clear up even at f/8.
Vignette – FF test – f/2.8 top left, f/4 top right, f/5.6, bottom left, f/8 bottom right
When it comes to edge darkening in tilt mode, as we noted before full frame shots are basically unusable but even on APS-C there is a very significant darkening on the edge of the frame. There is certainly a reason why quality full-frame tilt-shift lenses are so expensive.
Tilt darkening test – top – left/right 8-degree tilt (FF mode); bottom – left/right 8-degree tilt (APS-C mode)
Barrel distortion
The lens has a minuscule amount of pincushion distortion.
A tiny bit of uneven pincushion distortion (see lower left corner)
Bokeh
Looking at the bokeh balls you can see that they have no onion rings but they are not particularly round even close to the center of the frame.
Bokeh test – f/2.8 top left, f/4 top right, f/5.6, bottom left, f/8 bottom right
Conclusion
The Astrhori 85mm tilt lens is an interesting product with relatively little competition in its category.
The lens has many limitations, these start with the very cumbersome tilt-controlling knobs, a huge amount of CA, and less than staller image quality in the corners. Its lack of full frame tilt support is also not something we like and the high degree of darkening in the edge even in APS-C mode when fully tilting the lens is not helping.
While it seems that we have quite a bit of criticism about several of the design and performance aspects of this lens, and we do, it is important to keep things in perspective as we are talking about a fairly new manufacturer and a lens that is very affordable for what it is.
If anything, testing this lens makes us want to see what Astrhori will design next and how its lenses will evolve over time.
Pricing
When it comes to pricing the lens currently sells for just under $330 on Amazon.
You can check out more LensVid exclusive articles and reviews on the following link.