Today we are taking a look at two V-mount batteries and a compact charger from the German manufacturer Bebob.
We have been testing V-mount batteries here on LensVid for a few years now. Our use case has been a bit different than that of some users. We don't run pro video cameras that use V-mounts for direct power, instead, we are interested in V-mount batteries as small but powerful power sources for our Sony mirrorless rigs, monitors as well as some lights which we shall discuss later on in this review.
Bebob is a German manufacturer based in Munich that has been in the professional video battery business since the mid-1990s and in recent years has been focusing on providing batteries that are said to be virtually unbreakable with the option to send them for cell replacement in case they do somehow break or wear out. They also have a unique feature called Twist D-Tap which allows a user to connect a d-dap cable from both sides saving time, confusion and mishaps.
The two Bebob Mini V-Mount Batteries and compact charger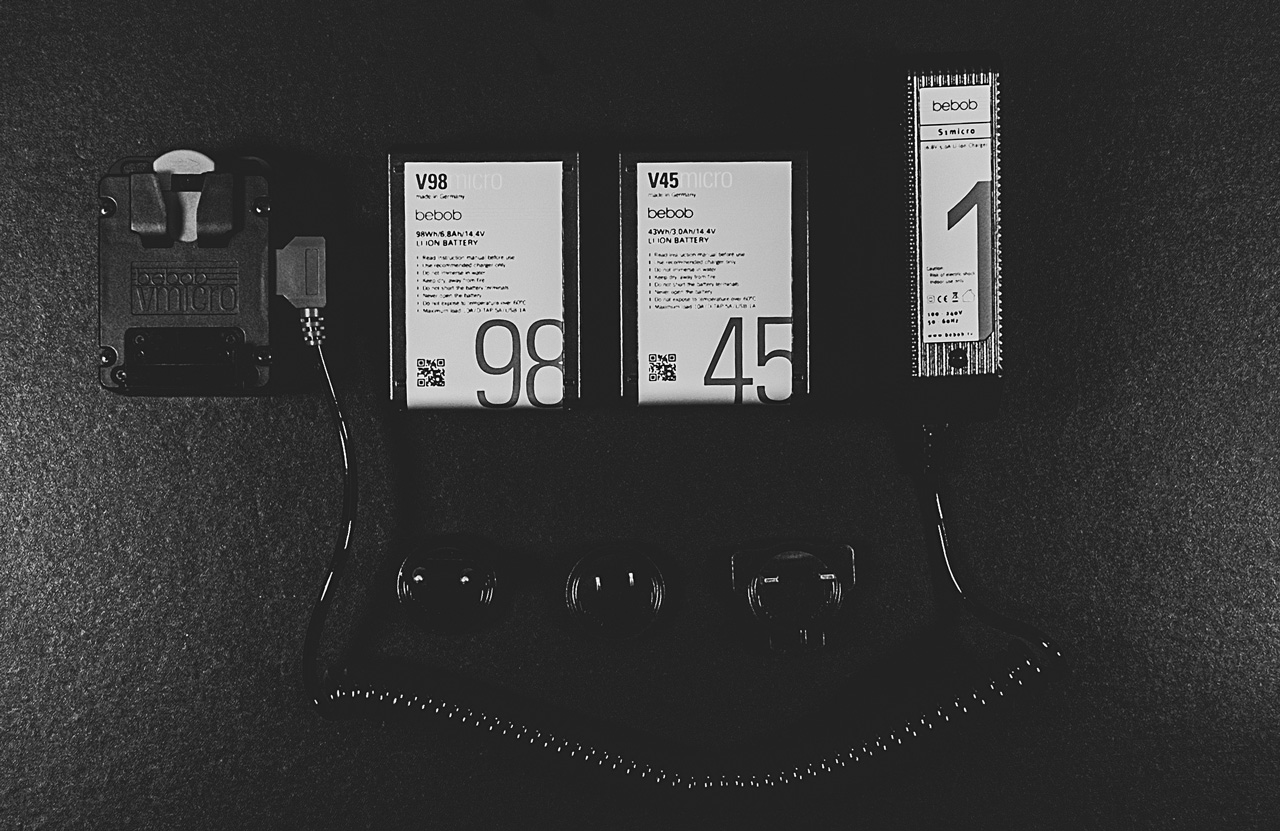 A closer  look at the Bebob Mini V-Mount
We got two of Bebob's smallest and lightest V-mount batteries for testing as well as a new small and light portable charger which we have tested together.
In terms of size, both the 98Wh and the 45Wh are very compact. Although they are still a little larger than the Hawk-Woods batteries that we have tested. Both offer 10A of power as well as a single D-tap (2.5A) and a USB-A 5V connection with a door for protection. In addition, both batteries have charging indicator lights and a tiny flashlight on the back that can be useful in some situations when you need a small light in the dark.
We tested both batteries with our Swit 7″ monitor which supports a v-mount battery and got well over 7 hours of continuous run time with the 98Wh and just over 3 hours with the 45Wh battery.
We also used the battery with our 100W Swit S-2610 Flexible LED light and got just over one and a half hours using the 98Wh battery (the 45Wh battery worked but we would probably never use it for this task unless we really have no other option).
We also tried both batteries together with our new and super powerful Nanlite Forza 300 light (drawing 300W – review coming soon) but apparently, that light requires more power (or amperage) than the batteries can provide and it simply turned off after a few seconds so these are not the batteries that you would like to use for a high power light like that.
When it comes to the charger, the Bebob compact charger performed very well in our tests. We really liked the fact that you can use it with a very compact dual plate and charge two batteries at the same time. This is, in fact, the smallest V-mount dual charger that we know of.
It took us about 3.5 hours to charge the 98Wh battery (on its own) and just over an hour to charge the 45Wh battery which isn't blazing fast but also not too slow either.
Update: we talked to Bebob and they had a few remarks here. Their tests of the charger with the 98Wh battery show a 100% charge time closer to 2.5h but more interesting after about 1.5h the battery was already  99% charged (the last few % are typically very slow to charge on every battery so to not damage it). Another note Bebob had was that the Forza 300 needs at least 12.5A and only the 150Wh batteries (or stronger ones) will be able to provide that.
We do want to note that you need to be very precise with the way you place the batteries in the charger and it can take a few tries until you get it right.
The batteries on our Sony rig (improvements to the legs/head coming soon)
Conclusion
In our testing, the Bebob batteries and the charger worked very well. They are compact, nicely built, have some useful feature set including the USB, battery levels, and flashlight as well as the twist D-tap which is Bebob's signature proprietary technology.
These tiny batteries are great for travel (you can take them with you on carry-ons on most airlines), work really well for monitors, small to mid-size LEDs, and camera setups as well as various other uses.
As for the charger, it is very convenient to carry and relatively fast although the Hawk-Woods mini V-mount charger (the Single Channel Charger Mini V-LOK 3A Fast Charge) had about 30 min faster charging time for the same battery on our test, but on the downside that one is only a single battery charger.
Are there any drawbacks? well, they are not quite as small as the Hawk-Woods batteries we tried and it would have been amazing if they could also power more powerful lights (although this is probably beyond the capability of current battery technology).
Small and powerful – the 45/98Wh Bebob mini batteries
Bebob Pricing
As for pricing, the Bebob batteries are a little less expensive than the Hawk-Woods ones. Both companies are considered premium brands and priced accordingly compared to some of the lesser quality ones around. The Bebob batteries cost $245 for the 45Wh model, $325 for the 98Wh, and $395 for the 150Wh battery. The Bebob D-Tap Quick Charger (S1MICRO 1 Channel) sells for $130 and finally, the Bebob dual charging plate (Double Powerbase for VMicro) costs just under $240.
You can check out more LensVid exclusive articles and reviews on the following link.