Earlier today Godox introduced four sizes of parabolic Light focusing modifiers with different mounting options. True focusing parabolic modifiers are fairly rare and usually very expensive and Godox is looking to offer a more affordable option that can work with a range of light systems.
True Parabolic Modifiers
In the past we have looked at several "parabolic" light modifiers including the Pergear Loafas 35" and the huge Angler 60″ Deep Softbox, these are not real parabolic modifiers.
Earlier this year we published an in-depth article looking at the topic of parabolic modifiers which included an interesting video by professional photographer Karl Tylor on the benefits of true parabolic modifiers.
True parabolic modifiers need to come in the correct shape to really reflect the light correctly and come with a center focusing rod and light that typically faces back into the modifier and not at the subject for proper focusing.
As it happens, to create a system like this that works well and produces pleasing results is not simple and typically also not exactly affordable (although in recent years some less expensive options from Parabolix and StorbePro claim to supply a similar solution).
The Godox Parabolic 88 (notice the orange parabolic line)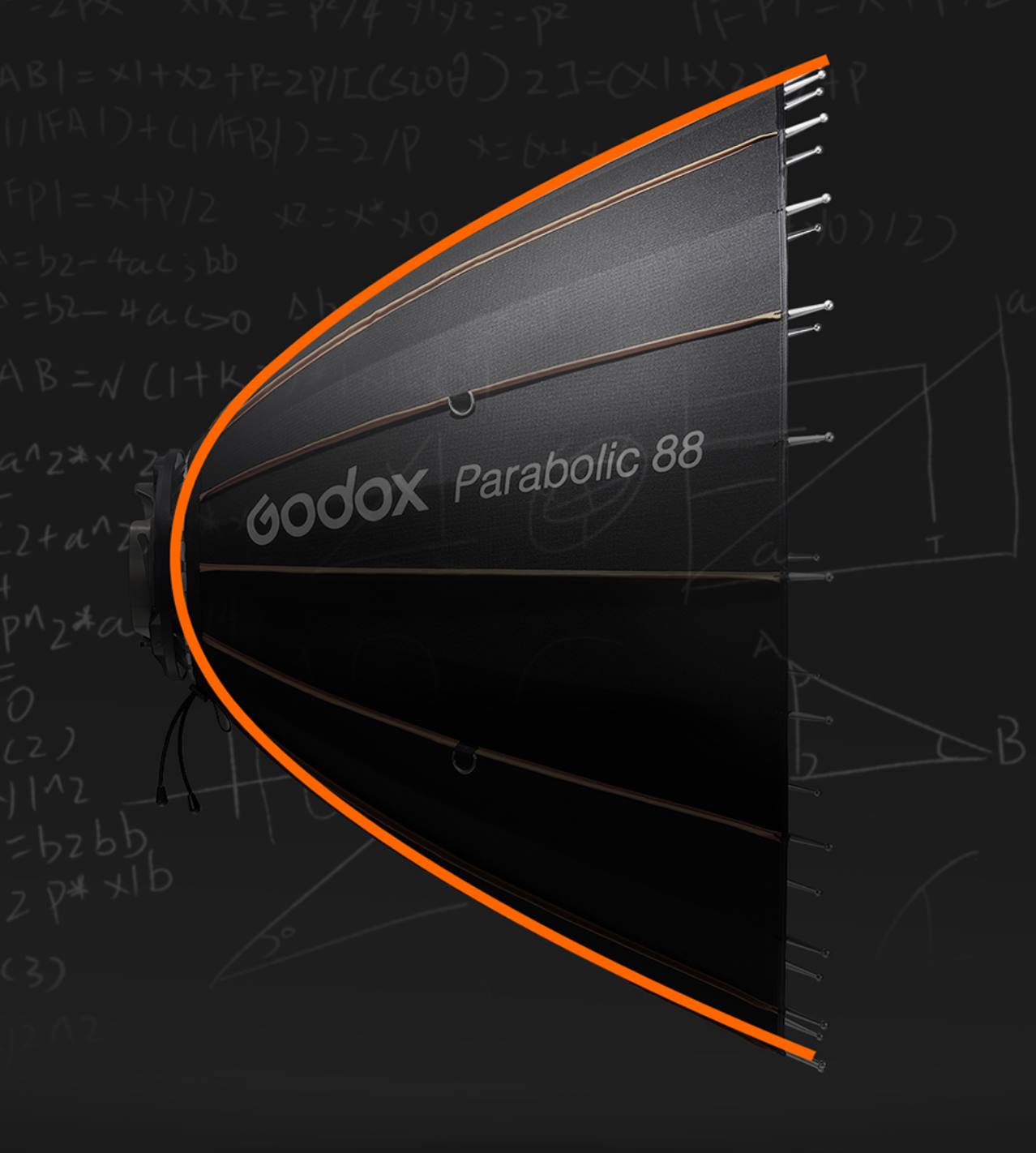 The Godox Parabolic Light Focusing System
Godox seems to go out of its way to create a true professional parabolic modifier with the new system. It uses 24 metal braces creating the parabolic shape with a push/pull mechanism, adaptors for Bowens, Godox, Broncolor, and Profoto heads, two layers of diffusion, and a grid (these last two are sold separately).
Different mounting options
The head is mounted backwards towards the diffuser and away from the target providing a reflected beam instead of a directed beam like most "parabolic" modifiers on the market do.
The system currently comes in 4 sizes – 68cm/26″, 88cm/34″, 128cm/50″, and a huge 158cm/62″.
Godox suggests that you can also use flashcards with this type of modifier although this might be counterproductive as you need a head that can shine at a very wide-angle (usually bare bulb on a flash head).
The central rod which focuses the light has markings that allow you to work more precisely and repeat specific beam angles when needed.
The Godox Parabolic Light Focusing System
Pricing
Godox suggested retail price of the four new modifiers is significantly less expensive than what companies like Broncolor have been offering for many years with the P68 Kit: going for $1200, the P88 Kit: 1499,  P128 Kit:1600, and the large  P158 Kit:$1800.
Update (March 2022): Godox published a video on its parabolic system
As always you can find more helpful photography tips on our Photography tips section and many more light-specific videos on our special lighting and modifiers subsection on LensVid.