The light that we shall be looking at today is the Ledgo LG-D600 – the first single LED source Fresnel light that we had a chance to test so far.
First off, what is Fresnel? well, Fresnel is a type of lens with a special 'stepped' surface  instead of the smooth surface of most conventional lenses. Both Canon and more recently Nikon produce Fresnel lenses, but this type of technology has been used in the lighting industry for many years. This design is smaller and lighter and helps to concentrate the light  as we will see later on in this review.
The Fresnel lens attached to the Ledgo LG-D600
So Let's take a closer look at the D600:
Build quality
The D600 is very well built, it is made from both hard plastic and metal and feels very robust.
Everything that came with the light including most of the accessories and the included bag that you get to carry the light in are very well made. The only two exceptions are the optional remote and external WIFI unit – both are accessories and seems to work well but feel pretty plasticy.
We especially liked the yoke that comes with the light – it is tall so you can tilt the light to almost any degree. It is made out of metal, has very nice and well made locking knobs plus a really cool addition that is not that common in smaller lights, a security cable – so that you can make sure that the light won't fall even if for some reason you didn't lock it well enough – really nice.
Great build quality with a tall yoke
The D600 is pretty compact at about 9 inches long or 24cm when closed down (not including the yoke which adds another 1.5 inches or just under 4cm), but it certainly has some weight to it coming down at close to 3kg or just over 100 ounces.
The unit does not have a fan and as far as we can tell is completely passive in terms of cooling with large heatsinks – which do get hot, so be careful when you touch the unit after a long time of use in full power.
Looking at the back of the unit you have a very simple interface. On/off switch, up/down and enter as well as light intensity knob (the bi-color version of this light, called LG-D600C, has another control knob). You also have a larger knob for adjusting the beam angle from 10 ° spot to 70° flood. Using this knob extends the front end of the light (which you can see in our video).
Very simple interface
Light quality and power
Like we did with the Lishuai Edge 1380AVL LED review that we published here not too long ago, we tested the D600 with our Sekonic C700 spectrometer (review coming later this year) looking at both power output and color quality.
We started by testing the D600 bare without any attachments at 100% from a distance of 1m or 3.2ft. We got a reading of just over 5600K which is great a lux reading of 1800 Lux and a very impressive 97 CRI (or Ra) with an R9 (or reds) of over 92 and the only somewhat weak point with the R12 and the hard to reproduce blues at 75.
From here on we measured the exact same values but with different attachments which you can watch on the screen and you can also find in our full written review on LensVid. You can clearly see how some of the accessories significantly reduce the output of the light although the light quality seems to remain very high throughout our testing.
To our surprise the Fresnel gives a real huge boost to the output of the light with over 5000 lux at 1m which is great, but you do need to remember that you are getting a much more focused beam.
If you want even more power on an even smaller surface, you can zoom the light all the way in – at full zoom you get an unbelievable 20,800 Lux at 1 meter which is just fantastic from such a small light.
The following are all of our results (this was a more extensive test set and the results are a little bit different from the video and the above mentioned) including color temperature, Illuminance color accuracy measurements all taken from 1m using the Sekonic C700:
D600 bare results
Color temperature – 5643K
Lux – 1840
CRI (RA) – 97
D600 Fresnel results
Color temperature – 5770K
Lux – 7010
CRI – 96.9
D600 Fresnel at 10% spot results
Color temperature – 5619K
Lux – 24,600
CRI – 97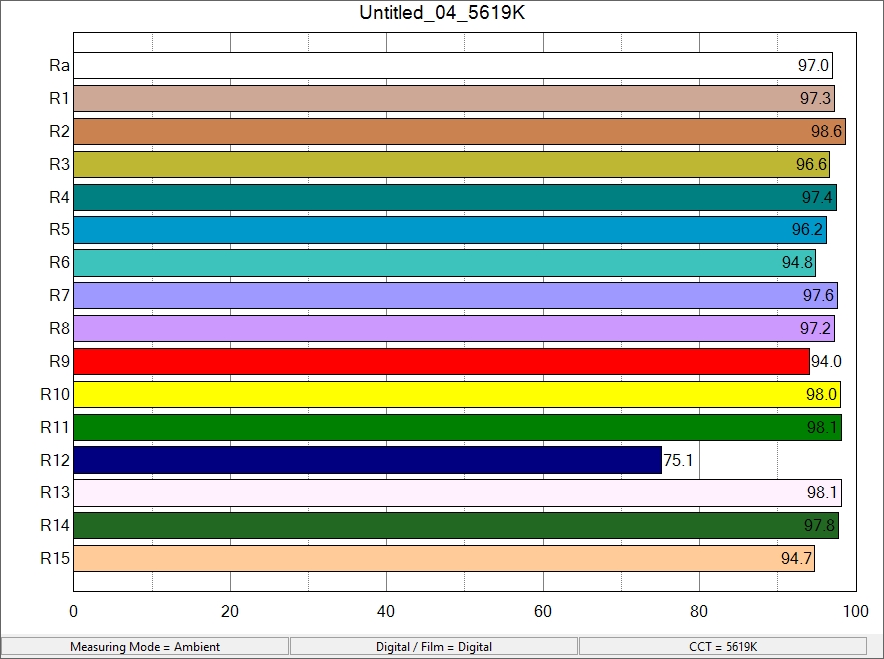 D600 White dome results
Color temperature – 5057K
Lux – 690
CRI – 96.6
D600 4800K dome results
Color temperature – 4779K
Lux – 1200
CRI – 96
D600 4000K dome results
Color temperature – 4078K
Lux – 1060
CRI – 96.1
D600 3200K dome results
Color temperature – 3186K
Lux – 878
CRI – 95.7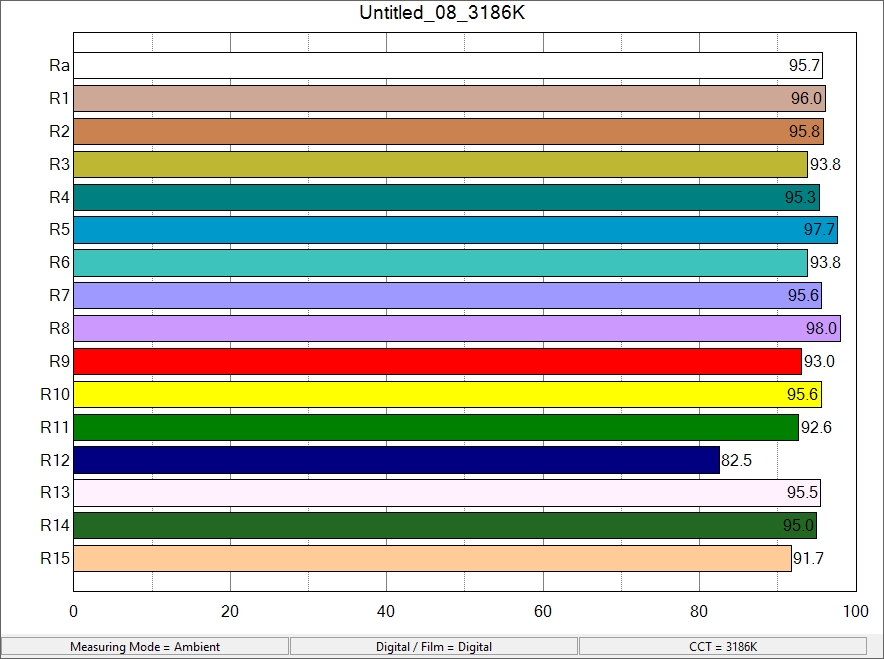 D600 Softbox results
Color temperature – 5339K
Lux – 372
CRI – 96.4
We also checked if the light has any hint of flicker at different shutter speeds and as you can see in our video, we found no problems on this front.
Using the light
We had a chance to use the light in a number of productions that we made – both for LensVid, for our vegan food channel Veggiez and for a commercial production we recently shot for a local startup company.
The light's power brick attached to the leg of a light stand
While you can definitely use this as a main light in some scenarios, especially when it can be used close to your talent or for shooting products for example, we do think that the output of this light especially without the Fresnel lens, which can't be combined with the softbox or any of the other diffusing accessories that we got with the light is more in tune with either a fill, hair or back light.
The barn doors in action – many ways to shape the light
One cool use which we will explore in more depth in an upcoming review, is using this light on a low to the ground light stand – this is really helpful if you want to light a background or products on a table for example.
The ability to control the spot/flood of the light is also very useful and it can give you a lot more power in a specific point as we have seen – we do plan on exploring this in combination with some large diffusers and reflectors in the future to see what you can get out of this combination, so stay tune for that video as well.
We got the light with a large number of accessories which you can get as a kit with the light or buy separately. Let's take a quick look at each of them:
Remote – the basic remote allows you to change the power of the light by 1% or 10% increments. It uses 3 AAA batteries, has a decent range but is a bit plasticy as we mentioned and strangely enough it doesn't seem to allow you to turn the light on or off although it has a power button (besides the remote power switch on the side).
Wifi module – this module will allow you to control the D600 as well as other similar units from a large distance using an app. Currently this is an iOS only app so we could not test it but we are waiting for an upcoming Android version to see how well it works. This is a feature that we definitely expect to see on all pro lights in 2017, but sadly it is still rare.
Softbox with egg crate – the Ledgo softbox for the D600 is a really nice foldable unit of about 55cm by 55cm (21 inch squared) which is very well made. The only thing that we found to be strange is that you can't use it with the Fresnel lens and to connect it to the light. To use the softbox you need an adaptor (which we got) and it connects to the light only with pressure (we would prefer a different connecting method and one which would allow the use of the Fresnel lens). We also got an egg create which can help focus the light a bit more and we hope to try it out soon.
Power brick and v-mount adaptor – We got the unit with both a power brick and a v-mount adaptor. Both connect to the light with a 4 pin XLR cable (we would actually prefer the more common and more robust 3-pin XLR). The v-mount adaptor feels a bit too placticy but both units come with a really nice locking mechanism which allows you to connect them to a light stand which you can see in one of the images above (although we would like to see a version which connects to a thicker stand or even a C-stnd).
Diffusion hoods – we got 4 of them, one white and 3 warmer ones – these all clip into the built in mount and they do change the color and the output you get from the light (see the numbers in the previous section). In this case again – there is no way we know of using these hoods with the Fresnel lens which is a shame.
Large number of accessories (most are optional)
Conclusion
So let's conclude this extensive review of the Ledgo LG-D600. We really like this unit – it is very well built, super simple to set up and use, has fantastic color accuracy and plenty of useful accessories that you can get for it.
The only real drawback, besides the Android controlling app which isn't yet ready at the time of this review is the output of the unit. If you want to use it as a main light it is possible but for very specific applications and for the most part only with the Fresnel lens attached which as far as we know can't accept other accessories.
We tested the 60w version of this light but there are also a small 30w and larger 120, 300 and even a huge 450 watt versions which should be more appropriate for use as a main lights and if they perform in a similar way with the same color quality as this unit – than we can highly recommend them for the task.
Finally – pricing. The Ledgo LG-D600 is pretty competitively priced at around $600, the larger versions can get significantly more expensive with the 120W selling for almost $1300.
You can check out more LensVid exclusive articles and reviews on the following link.