Today we are going to take a look at one of the most useful accessories that we had in our possession in 2017, one which we have been using extensively here on LensVid – the Sekonic C700 Spectrometer.
Before we dive deep into what this instrument can and can't do it is important to understand what it is. The C700 is a light/color measuring unit and is a full-spectrum color meter and can precisely measure LED, HMI, Fluorescent sources, new-style plasma lamps as well as tungsten lamps, natural light, and even electronic flashes for stills shooting.
The C700 uses a built-in CMOS sensor, not unlike the one on a digital camera, to capture and display spikes in light source output. It isn't, however, a substitute for a conventional light meter and will not give you the same readings that a digital light meter will with ISO, aperture, and shutter speed values – but Sekonic does have a very extensive line of those instruments as well and is probably the most well-known brand in the industry when it comes to light measuring for photographers and videographers.
The C700 spectrometer by Sekonic
Build quality and design
The C700 is a very well build, compact unit. It is about 18cm or 7 inches long over 7cm or 2.5 inches wide and is about 2.5cm or about 1 inch thick not including the receptor part itself. The unit weighs close to 300 grams or just over 11 ounces and is very portable (it even comes with a nice belt pouch).
Looking at the unit – on the left, you have the on/off button as well as a memory button which allows you to save the last 10 measurements. On the right side, you have the measure button which takes a reading and on the lower part of the device you have a mini USB port for connecting the unit to a computer to view the results (the cable isn't supplied mind you but we had an old spare one – we think that Sekonic should have gone for the more common micro USB or even USB-C and supply the cable with the unit). Next to the USB you also find the Sync terminal for connecting flashes (a function that we have yet to function with this C700).
A color meter – C700
On the front, you have the round white light receptor and a 3 state light selection ring (we shall talk about it in a second), both are rotatable. Below you have the menu button and in the center, you have the 4.3″ touch display panel.
On the back you have the battery cover – this unit is powered by 2 AA batteries and should last between a few weeks and a few months depending on the type of batteries you use and how much you use the device. You also have a 1/4″ 20 thread which is really useful and we have an RC2 plate permanently attached to the unit and we constantly use it with a monopod or tripod in our tastings.
Long battery life
C700 in our hands
We are not going to post a usage guide for the C700 here – Sekonic actually published a very useful two-part video guide (see below). Instead, we are going to share some of our experience using the unit over the past six months or so.
We used the C700 for two main tasks: the first is giving us precise measurements of the power and quality of different lights that we have been testing here on LensVid and the second is helping us get correct colors for our food channel using different lights and diffusers.
The USB and Sync terminal 
We tested quite a few lights using the C700 including the Lishuai Edge 1380AVL, the Ledgo LG D600, and the Intellytech FL-80 Flexible. For this review, we also went back and tested a few of our previous lights that we reviewed here and we still have such as the Lume Cube, Genaray LED-7500T and the BB&S Pipeline Reporter.
An example of how the test results from the computer software that comes with the C700 looks (The results are part of our Ledgo LG D600 review)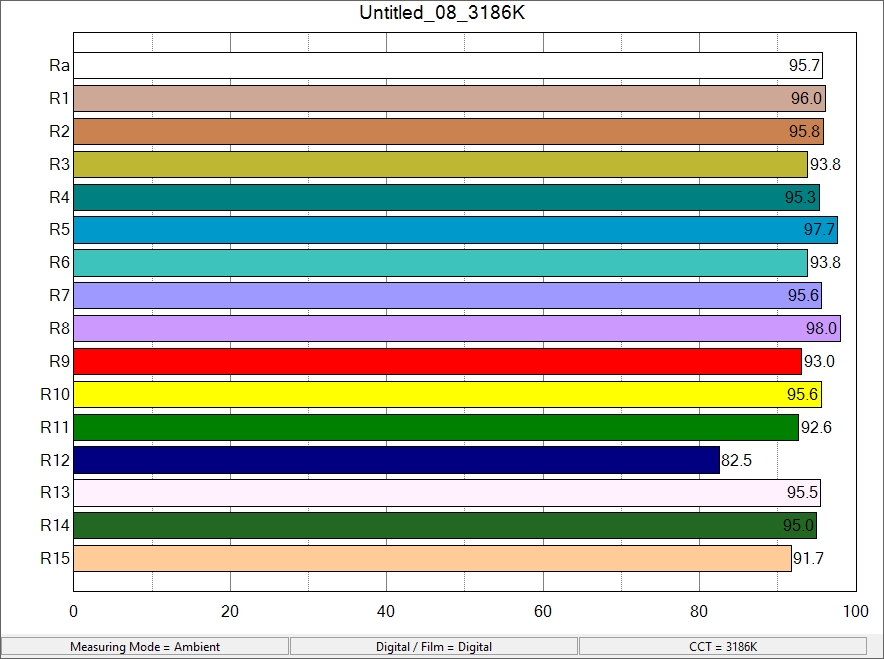 We even tested some of our LED lights around the home and studio – with very discouraging results we might add. Finally, we measured the ambient light outdoors – just for some good measure.
Using the C700 is super simple after a very quick initial setup including what Sekonic calls dark calibration (basically putting the light selection ring into calibration mode for a few seconds something that needs to be done every once in a while), all you need to do is aim the light receptor at the light source – stand at the distance you want to get a measurement from and push the measure button and a second or two later you get a result.
Dark calibration – very simple and quick
We also wanted to see if there is a way to test how accurate the C700 is – the problem is – how do you measure the accuracy of a measuring device. Well, philosophical issues aside, what we have done is talk to one of the leading food videographers here in Israel who works with big productions and large advertisers and basically lives on having spot-on accurate colors. He works with a different color meter that is basically a sensor connected to a laptop and from his experience it is one of the more accurate tools in the industry (although we have to say that working with that thing is far more cumbersome than the C700).
We both tested the Lishuai Edge 1380AVL light and got almost identical readings both in terms of colors and lux. He did note that although he never used the C700 himself before, some of his colleagues who did, mentioned that you need to be aware of possible variations in the measurements in some cases where the ambient temperature goes significantly up or down – so take it for what it is worth.
C700 – a great way to test high and low-quality light sources
Back to our testing – you can easily store up to 10 measurements and view them or compare them inside the unit or download them to the computer and using a Sekonic supplied software, to view or save them for future use (just make sure you have the mini USB cable which as we noted, isn't supplied with the C700). We posted these results on our reviews and they are pretty easy to read.
You have 9 main screens on the C700 – we mostly used the Text screen which shows you a summary of the color temperature, lux reading, and CRI as well correction gels you might need to use with the light you measured in order to reach your set target color temperature. This last one is something that we didn't use ourselves so far but is possibly one of the biggest selling points of this unit and if you are working a lot with corrective gels – this might be a huge time saver for you (the C700 has a large database of gels from Fujifilm, Lee, Rosco, and Kodak and we believe that more can be added through firmware updates – we actually updated the unit at least once during our use with the supplied Sekonic computer software).
The touchscreen isn't super sensitive (better use your fingernail) 
The two other screens that we used are the spectrum screen which is pretty self-explanatory (there is also a similar screen that allows you to compare spectrums between lights) and the CRI screen which is super important and gives you a breakdown of the CRI (aka Ra) based on specific colors marked as R1 through R15.
Most lighting manufacturers will only give you the total CRI of the light (say CRI 95) but this doesn't mean that all of the colors this light produces are 95% accurate – far from it. From our testing, we have learned that while a light might have a very high CRI all around, there are two specific wavelengths or colors which are hard to reproduce and these are R9 or reds and R12 or blues. Even very high-quality lights can find it difficult to get both of these significantly above 90 which can be a problem in many instances where color accuracy is paramount (food photography and fashion are two good examples).
We are obliged to mention that one type of measurement is currently missing from the C700 and that is TLCI (see videos on this subject at the end of this review) but we did talk to Sekonic about that and there is at least a theoretical possibility that they will add this in a future firmware update although if this is critical for you we would not necessarily count on that.
No TLCI reading (we are still hoping Sekonic will add this in firmware)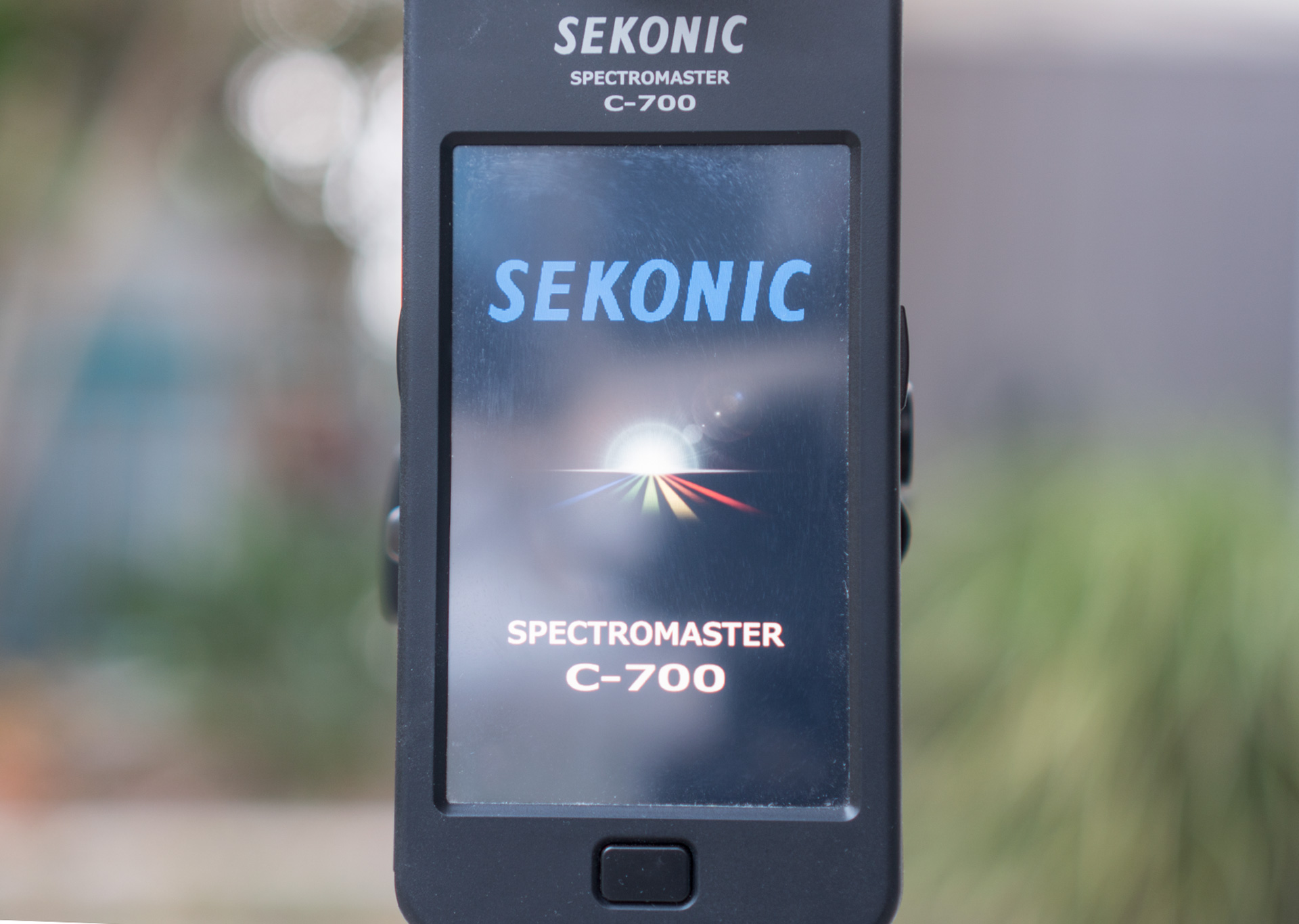 The battery life of the C700 is great (we used two Eneloop pro batteries), the screen is easy to read even outdoors (to a degree at least) and the unit is super simple to operate with the touch screen although Sekonic suggests that if the screen does not register your clicks you might want to use your fingernail instead of your finger which can work better at times (you can see quite a few missed clicks in the video).
Conclusion
The C700 is an outstanding piece of Japanese technology. There aren't too many standalone portable spectrometers on the market and in our testing the C700 proved to be well made, simple to use even without too much background knowledge, accurate (at least from our nonscientific cooperative testing), and full of features.
For us the C700 is indispensable. It made all of our light testings here on LensVid much more accurate and consistent and they can now be easily compared so that you can see how each light that we test perform compared to previous lights. This is also why we are hoping that Sekonic will let us keep this unit for all our feature lighting reviews (at least two of them are coming in the next few weeks).
C700 – Rotating head
Of course, reviewing lights is probably not the reason why most of you are interested in this unit and why you might be reading this review. The C700 can do much more – especially when it comes to its ability to easily get accurate colors from every light using gels and working and mixing a broad range of different types of light sources on set – something which is simply invaluable for many professionals.
There is almost nothing missing from this unit. Besides the mini USB cable (which you probably have or can easily attain) the only possible thing which this unit does not have at the moment is a TLCI reading, but as we have mentioned – this is something that Sekonic is aware of and might decide to add in the future.
Finally, we want to address the price of the C700. This is a professional measuring device and it isn't cheap. At $1500 this is a high-end unit aimed at the truly professionals segment of the market, those who make their living from having the best and most precise lights and colors.
It would have been great if this unit was selling for $300 or even $500 and in this case, we could easily recommend it to most videographers since we know that it can tremendously help anybody who cares about lighting and accurate colors, but at the current price, this is going to stay a specialized tool for higher-end videographers (and possibly some photographers) as well as lighting technicians and even a few lighting experts working for lighting companies (we actually know of several LED manufacturers who own C700 units and work with them on a regular basis).
Some useful extra videos on the C700
Official Sekonic C700 guide part 1
C700 guide part 2
Sekonic L-858D light meter for Photographers
CRI or TLCI – a video by Bart Johnson 
Curtis Judd on LED Light Color Quality with the Sekonic C700
You can check out more LensVid exclusive articles and reviews on the following link.