Today we are taking a look at Godox's most recent small LED – the tiny ML60. Despite its size, this little guy packs quite a punch, and, as we shall see later in this review, is extremely versatile when it comes to power and accessories.
Background – Early days of affordable COB LEDs
Godox entered the COB LED business a few years back and had a very successful series of inexpensive lights that began with the SL-60, which we have in the studio and still use as our fixed main light for all our intros and outros we shoot for LensVid.
When it was introduced around 5 years ago, the SL-60 was a very attractive offer at 60W with a decent (although now relatively mediocre) colors, simple but effective build, straightforward control, and of course an enticing price tag of under $150 or so (at the moment you can find it for even less, with the Tungsten version as low as $100).
As good as the SL-60 was for its time (and for its current price even today), it has quite a few drawbacks and limitations that you should be aware of. It isn't particularly small and its build quality is fairly plastic-y. There have been complaints about its fan being too loud, including some DIY attempts online to replace or fix it (we've never had any issues with our unit). And for users on-the-go, its only real power option is AC, which makes it basically a studio-only light.
The Godox ML-60 LED COB
ML-60 – technology evolution
We see the ML-60 as the logical evolution of the SL-60 (although we are not really sure that this is how Godox looks at it). It basically solves and improves each one of the limitations and drawbacks that we have mentioned, and although it does that for almost twice the cost of the original model, it is still considered an affordable COB for what you are getting.
Just like the original SL-60W, the ML-60 is a 5600K, 60W LED. However it is significantly smaller and lighter, much better built, uses the smaller and newer Godox mount (although it can take Bowens accessories with an optional adapter), it has a fan that is barely audible even at 100% power at close range. For many users, its biggest advantage is its dual power options, which include AC (via a power brick), but also a special (optional) Sony NP-F style dual adaptor which connects to the Light's handle and makes it a true portable light.
The ML-60 also has better official CRI and TLCI numbers, eight built-in effects, and can be used both handheld or, like most lights, on a light stand.
ML-60, smaller size but higher power
Build and design
As we mentioned, the ML60 is a very small light, measuring only 14cm/5.5″ long and has a diameter of about 8.7cm/3.4″. It is a little front heavy, weighing in at just under 800g/28oz, and feels pretty solid in the hand with what seems like metal and hard plastic mix of materials.
The design of the light is very basic. The ML-60 has a 1/4″ 20 thread on the bottom, a small screen on the back, and touch clickable knobs, plus a power button. It also has a proprietary DC connector and a fan which you can see through the lower and upper grills.
Our test unit came in a very nice small carrying case, remote,  protective cap, power brick with a cute tiny v-mount holder, a hand-held grip, and a reflector.
We also got a bunch of accessories including the AD-S60S softbox, which uses a Godox mount that is very well made and easy to connect with an umbrella style center rod that is super easy to close for storage, and the very interesting double L-mount battery power unit which connects to the handle for on-the-go use.
The small dual L-mount battery holder – we would like to see a V-mount version as well
The handle that came with the unit is also very well thought out. It has a knob for the 1/4″ 20 screw that attaches to the light and also anti-rotation plastic parts and even an umbrella holder if you want to use on — really cool.
One other part that the handle has are 3 metal connectors for the dual L-mount battery plate. This is very convenient, although it can get in the way of using the light at a low angle. It comes with two twist-lock power cables, a short one and a longer one if you want to connect it to the stand or clip it to your belt (yes it even has a belt clip!).  The plate also has a button that shows the remaining power of each battery, which is another nice touch.
Everything we got for this review and the nice small case of the ML-60
The remote is identical to the one that came with our SL-60W. We are not big fans of this, as there is no way to turn the light on with it, and it has a delay and is not very quick to change power up or down. We would really like to see a better remote design from Godox in the future (the ML-60 also has no app control unlike some of their bigger LED lights so keep this in mind).
The Godox RC-A6 remote – could be improved
The Godox mount and the included reflector work very well, actually much better than a Bowens mount, and is more secure. We really hope that Godox will extend the number of light modifiers it offers for this mount.
The light has 8 different effects options. We personally don't find them all that super useful for what we shoot, but it is always nice to have. You can also change the channel and group if you are using several of these lights and want to control them from the remote.
Performance                                                                    
We tested the light using our fantastic Sekonic C-800 spectrometer (full review coming later in 2021) and we got the following results from 1m away with the Godox ML-60:
Color temperature – 5677K
LUX – Bare: 3150 lux (1m); with included reflector – 16,000 lux ; with softbox: 1420 lux (color temp 5439K).
CRI – 96.9 (R9: 96.4; R12: 73.6).
TLCI – 97.
TM-30-18 Rf – 92.
TM-30-18 Rg – 101.
Spectral Similarity Index (SSI, CIE D55/daylight) – 71.
We also tested the ML-60 with L mount batteries and got the same output readings – just make sure you have good strong batteries and lots of them.
CRI results of the ML-60 (bare)
ML-60 spectrum
TM-30-18 results for the Godox ML-60
You can see the results of the SL-60 below:
Color temperature – 5468K
LUX – Bare: 2610 Lux (1m); with included reflector – 7160 Lux.
CRI – 96.6 (R9: 88.8; R12: 75.9).
TLCI – 97.
TM-30-18 Rf – 92.
TM-30-18 Rg – 100.
Spectral Similarity Index (SSI, CIE D55/daylight) – 72.
Godox SL-60 (bare) CRI results
SL-60 spectrum
TM-30-18 results for the Godox SL-60
We really like the AD-S60S softbox. It is not just well made and easy to open and close, but also has a very even spread with no hotspot in the center. And the falloff in the corners is not too harsh for such a small unit.
We tested the light with two NP-F750 style batteries and got a run time of only about half an hour, but this is probably due to our old third-party L-mount batteries. Other reviewers, using two larger NP-975 batteries got over 1.5 hours at full power, which is certainly respectable. Just keep in mind that the light will not work with a single battery, so make sure you have plenty of charged ones.
We would love to see a v-mount plate option from Godox for this light, and we conveyed that to the company.
As for noise level. Although you can turn the fan completely off, which will cut the output in half, we don't really see a point in doing this, as it is basically inaudible at a distance of more than 30cm / 1 feet. The ML-60 also runs pretty cool even after a long runtime at 100% power, which is a nice bonus.
Conclusion
With the ML-60, Godox made a huge jump in technology in only a few years, compared to the original SL-60 model.
The unit is much smaller, more portable, much better built, and almost completely silent even at 100% power. It has more output than the older SL60 especially with the new reflector, with better color accuracy and you can use it with batteries on-the-go.
On the downside, it does cost more, has similarly limited remote, and despite its considerable output with a reflector, it is not going to overpower the sun at normal operating distances, and with the softbox, we used it you will need to be close to your subject if you want it as a key. However, for indoor use, as a portable main light, for close up work, hair, or background light, it is a very appealing option.
Using the ML-60 for some food videos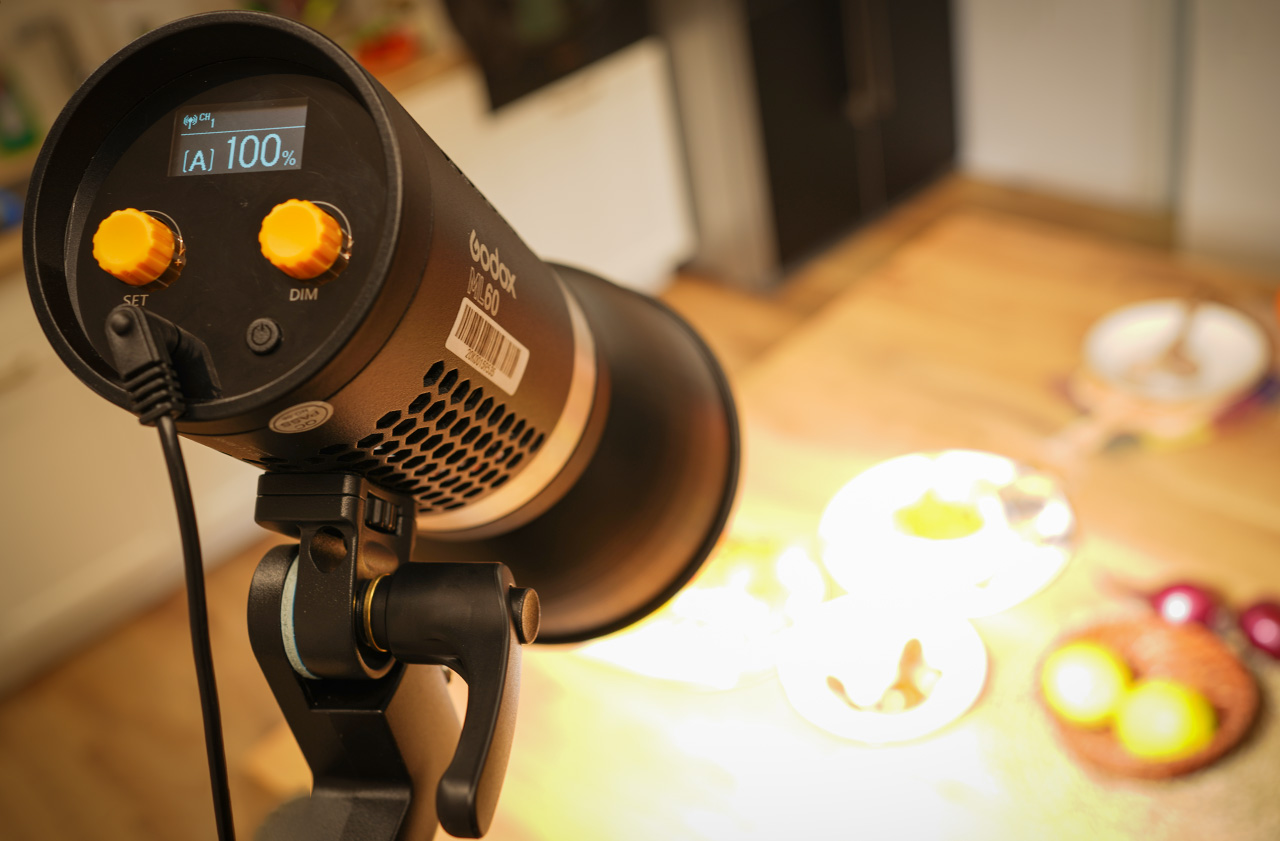 Pricing
The ML-60 sells for $270, although we were able to find it with different kits at this price, some including the L-mount power unit, two batteries and chargers, and even a Bowens adaptor and some gels. Adding the softbox to the kit will cost you another $50 or so.
If you are just looking for decent light and don't care about portability, build quality or size, but want the best deal possible, the original SL-60W is still a fantastic bang for the buck at around $130. There is a good reason why we are still using it in the studio, even when we have so many other options.
You can check out more LensVid exclusive articles and reviews on the following link.