Today we are going to take an in-depth look into the most powerful strobe system Godox created to date, the Godox P2400, and everything that it brings to the table.
We have been fortunate enough to test this incredible high-end system for several months now and we used it on several commercial productions as well as some personal projects that we organized specifically for testing the unit which you will see later on in this review.
The Godox P2400 flash pack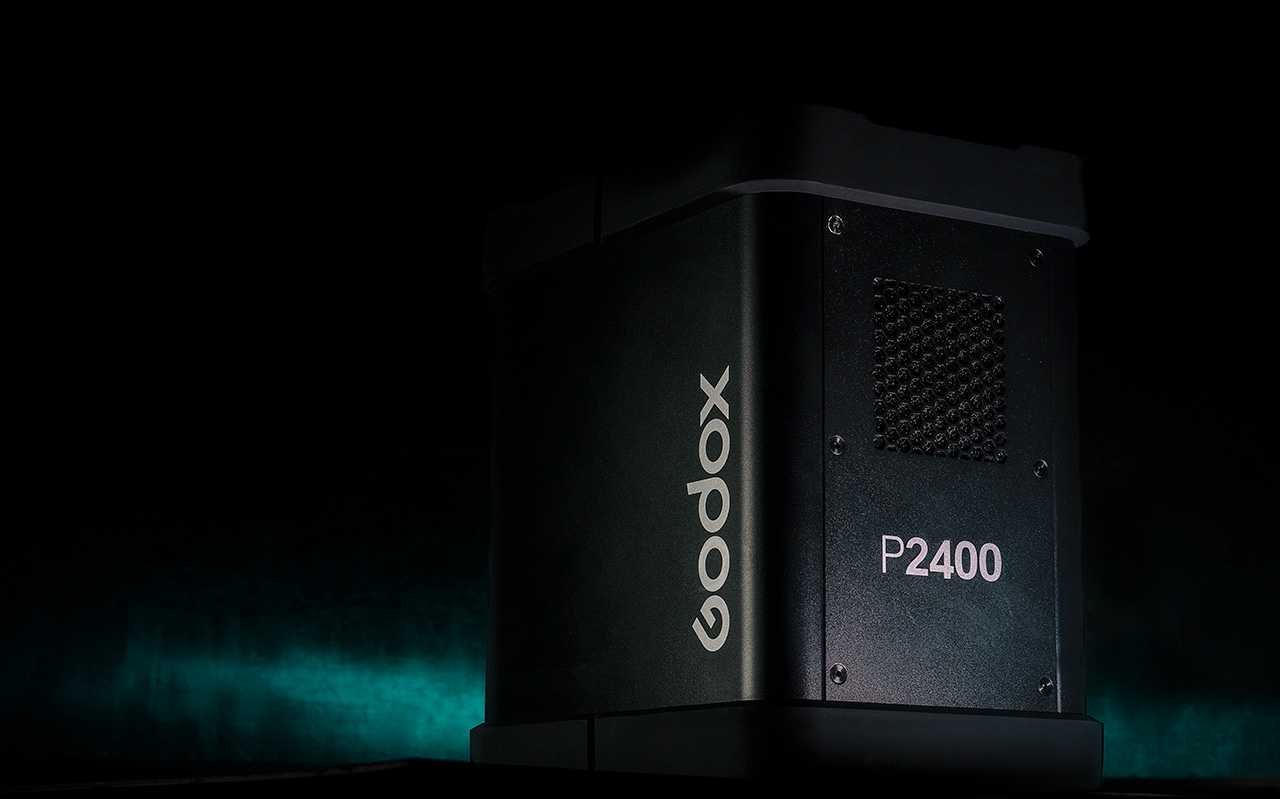 Background
Lighting power packs have been part of the professional photo industry for decades. With the introduction of more portable standalone strobes and more recently affordable battery-powered units, power packs became more of a niche product for higher-end studio photographers but they are still very much alive.
While never offering the same value for money as conventional strobe systems, for those who require a combination of the highest quality lighting system with the most amount of power and very high durability and reliability, these studio power packs are still the ideal solution.
Over the years companies such as Profoto, Broncolor, and a handful of other European and American brands were the main options for a professional high-output power pack. These units' power is usually measured in Watt Seconds (Ws) and you can find models ranging from as low as around 600Ws to many thousands of Ws although most recent high-end models cap at around 2400Ws which coincidentally is what the unit that we are reviewing today is rated for.
Unlike monolights, many power packs can power more than one flash head at the same time. It is common to find units that can power two flash heads with a single power pack (the P2400 is like that) but there are a handful of packs with room to connect 3 or even 4 heads at the same time.
Design – Power Pack
Godox designed the P2400 to be extremely rugged. Although the pack is designed to be used mainly in the studio and is not waterproof it is very robust with rubber protection and metal chassis.
We actually had the thing fall on its side a couple of times during a shoot and nothing happened to it. The pack is also quite heavy at around 11KG which made us design a DIY wheeled base for it that made it much easier to move in the studio.
All of the controls and connectors are located on the top part of the pack including the on/off switch, AC cable connector (which requires an included proprietary cable), USB-C for firmware updates, and two 3.5mm sockets for flash synching.
Next to the large top handle on the right, you have a 3.5" color screen which is very useful and clear. For each flash head, you can see the current output and modeling lamp mode and a bunch of other useful info.
The Top of the P2400
The physical controls of the P2400 are simple yet very effective. You can choose each head using the 1 and 2 buttons and using the big dial to change its output or press the All button to link both flash heads for symmetric type work.
Each head also has a modeling lamp button with three modes – off, percentage (requires long-press, default is 20%), and proportional where the modeling lamp output is proportional to the flash power.
You also have the option to turn on or off the beeps from the flash and fire a test flash from the unit. Finally, you have a dedicated menu button which we shall discuss in-depth shortly.
Each of the heads comes with around 4m/13ft of thick cable. This cable is permanently connected to the head side and can be detached from the side of the pack. We would prefer it if there was a way to detach it from both sides, but at least you can buy extension cords and we are certainly going to do that for our studio.
On a much more positive note. The P2400 supports both symmetrical and asymmetrical output to the flash heads meaning you can give each head the full 2400Ws (and zero to the other) or any ratio in between as well as set both two mimic each other's output as long as you don't exceed the 2400Ws total output giving the user a lot of flexibility to control each head independently.
Godox also shows on its website an option to connect two P2400 with a cable making it essentially a quad 4800Ws light system (sadly we didn't a chance to test this useful configuration).
Flash Head Design
Although it is possible to connect other flash heads to the P2400, at the time of the review we only had two units of the H2400P.
These heads are well made with a zoom function, Bowens mount, and a fairly robust handle although with large and front heavy light modifiers you will need to lock the handle hard to prevent sagging. You also get an umbrella holder if you want to use one.
Special features
Here are a few special features of the P2400. There are also many other aspects of this system that we shall discuss later on in this review:
Stable color temperature mode – up to 75 degrees Kelvin max change.
Powerful 60W LED modeling lamp – on each 2400Ws flash head – this one is a first for Godox. You can set this to off, percentage (1%-100%) or proportional to the output of the strobe. This might be useful if you want some light for a short BTS video or B-roll. Just remember that the 2400Ws flash heads are kind of noisy so we would not recommend using them while recording audio.
Ultra-short flash duration – As low as 1/17,800 (t.0.1). At the moment you can't really go that low with a Godox remote trigger for a reason that we will explain below but you can still use this pack to freeze almost any type of "normal" action.
Menus and control
The P2400 has 19 menu items to choose from, some are listed in quite a confusing way. We will go over them quickly here:
Color – off, Standard, and optimum which you should think of as freeze mode, standard mode, and color accurate mode.
Wireless mode – off, 2.4Ghz (regular transmitters), and 433Hz legacy transmitters.
Channel – 1-32.
ID – off and 1-99.
Socket 1 group – A-F and 0-9.
Socket 2 group – A-F and 0-9.
Receiver – off, S1, S2 (allows the flash to be used as a secondary "optic" flash with the option to take pre-flash into account).
Modeling light options – Con/Inter – either continuous modeling light or off and on after each flash.
Backlight – from -3 to 3.
Delay – off – or up 30 seconds (delays the flash).
Unites – 2 Mask, 3 ALT, 4 ALT (choose between 2, 3, or 4 masks; Explanation about masks in Godox lights).
1-ALT – off, 1 or 2 mask alternates (for head 1).
2-ALT – off 1 or 2 mask alternates (for head 2).
Step – choose the increment display method for the flash power: decimal/fraction.
Multi – off/on (stroboscopic mode, you can choose the flash frequency and times from the main screen with one or two short clicks).
Recycle – standard and max (at max when connected to a 220V power source the light can recycle as fast as 0.7 seconds at full power).
Language – change languages (English or Chinese).
Reset – full menus reset.
Times – flash counter.
Tests and notes
We did a number of tests on the P2400 and we have a number of technical notes regarding the system:
Output – 2400Ws is a tremendous amount of power, almost double the amount of all 4 of our other Godox strobes put together (2 AD400 PROs, QT400III, and an AD200 PRO). It provides so much power that it could overexpose our entire huge studio at f/5.6 with no ambient light. We have yet to use the light past 1/8, but we can certainly see other pro shooters who will go much higher with larger modifiers and bigger spaces.
Firing rate with A1 – With our Sony A1 using an electronic shutter we were able to fire about 13 images in a fast burst in Hi+ mode using the flash at 1/64 power before we got a black image and about 8 images at 1/32 power. This is only possible in freeze mode.
Misfires – While the P2400 is a real workhouse. on a few rare occasions, we did get a misfire where the flash did not fire when we pressed the shutter. Again, this was very rare and might be caused by factors that are unrelated to the flash itself.
Color consistency – We did a number of color consistency testing looking at the three different color modes (Freeze, Standard, and optimum color). In freeze mode we saw a large variation of 500 degrees Kelvin between shots even at 1/128 power, in the standard mode we saw only 150 degrees Kelvin variation between shots, and in the color mode all images aside from one showed the same temperature (and even that image was only 50 degrees Kelvin off). Keep in mind that higher flash outputs might result in greater color variation.
Power draw – we were asked by one of our readers to check the power draw of the unit and in standby mode it draws between 20-40W while a single flash at full power will go up to 1300W and two heads connected can get up to around 1600W at full power. Shooting a burst at full power can draw over 3000W from a 220v electrical infrastructure. Mind you this is actual Watts and not Watts second.
Control from the pack – We love the large color monitor on the P2400 and how clear it is but even after talking to Godox we could not find a way to change the output of the heads from the pack while using remote trigger (the trigger keeps overriding any setup that we make on the pack). If you are aware of a way of doing this please let us know in the comments.
Using the flash at 1/512 power – As far as we know this is the only Godox flash that can go as low as 1/512 power which is actually more useful than you might think in some situations and has the highest freezing power. However, the X-pro trigger is currently limited to 1/256 power so at the moment you can't really use this useful option. We hope Godox will fix this in a firmware update for the trigger soon.
Modeling light – we tested the output and quality of the LED modeling light and at 100% from a distance of 1m we got the following results (bare bulb):
Color temperature – 4811K.
Output – 2320 Lux.
CRI – 90.9 (R9 = 59 and R12 = 65).
Modeling LED Sekonic C800 test results
Based on these results we would recommend only using the LED as a last resort and just buying a proper video light if you need one. Also, keep in mind that the modeling light has a pretty warm color temperature if you are working tethered in live view.
Freezing action – Officially, the P2400 has a t0.1 of 1/17,850 second which is achieved when using the flash at 1/512 power in freeze mode (1/16,390th in the currently available 1/256 power). Robbert Dijkstra from the lighting rumors website did an in-depth test and determined that Godox's claims are accurate in this case (we didn't repeat this complex test ourselves). Just for reference pro photographer Karl Tylor mentioned on his website that for shooting high-speed motion, such as liquids, he typically recommends a flash duration of at least 1/3000th at t0.1 while shooting a model jumping, for example, can work with a slightly slower flash duration of around 1/2800th. When using the P2400 this means that you can go up to around 1/8 power in freeze mode and 1/64 power in color mode and still get 1/3000th at t0.1 – pretty impressive.
Splash shot with the Godox P2400 – 1/64 power (1/3050th @t0.1)
Close up – look at the point droplets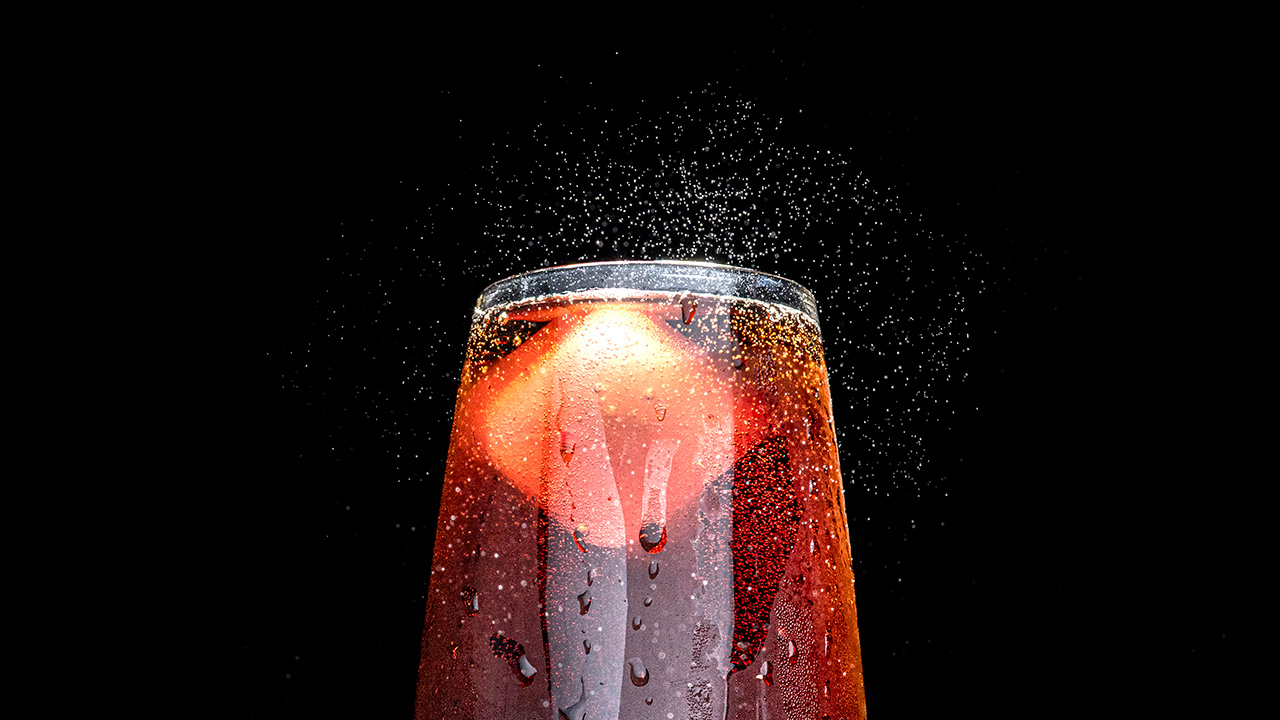 On set with the P2400
Since we see this as a one-of-a-kind review of a very high-end product, we decided to produce 3 different photoshoots that will test different aspects of the unit.
Fencing
The first shoot that we did quite early after we got the unit was of a fencing practice trying to freeze some fast action shots with our Sony A1.
The idea was great but to be honest our planning on this one was somewhat lacking. The large gym had way too much light and our initial idea to use the P2400 with reflectors was problematic, to say the least. On the one hand, we were trying to make sure we kill the ambient light in the large hall while on the other hand exposing the fencers correctly.
We tried all sorts of makeshift tricks but at the end of the day, we had to use some Photoshop magic to pull this one off and get some O.K. shots.
One thing that we certainly learned the hard way from this shoot was that with any of the color-accurate modes of the pack there is no way of keeping up with the A1, even when it was not set to high or high+ mode.
Fencing images with the Godox P2400
Poi
As part of the P2400 official release, Godox created a very unique video with photographers Luke and David Edmonson shooting a Hula hoop artist. This is a fantastically made video that you should definitely watch. As it happens, we had our own chance to work with a brilliant young Poi artist (Hila Rahimov) who also specializes in using lit Hula hoops.
Our goal was to freeze the artist but still see the movement of the Poi balls or the Hula hoop. We tried this both in our large studio and on the giant roof above our studio after sunset.
Despite being able to darken our studio completely the Poi still reflected enough light from the room to prevent us from getting a completely dark background in-camera. On the roof, things were a little better but light pollution from close-by buildings was still an issue.
However, with a little work in post, we got some pretty nice shots. In an ideal world, we would shoot this outdoors on a moonless night in a wood clearing, but this would probably require a generator or some sort of powerful electric battery (some modern EVs can now be used to power appliances so this can be an option).
Poi and lit Hula hoop shots with the P2400
 Model/beauty
Possibly our most successful of the 3 dedicated shoots that we prepared for this review was our beauty/model shoot (special thanks to our lovely model Daria Gromova). Granted this is not something that you could not necessarily do with a more conventional strobe system and we actually used two other Godox strobes for this shoot, however, this is still the type of bread-and-butter work of many professional studio photographers who are the target audience for this type of system.
As we finished the shoot, we recorded a quick BTS video where we are describing exactly how our setup looked and what lights and other gear we used, and how.
The resulting images turned out really well in our opinion and you might have seen a couple of them on our recent 135mm Sony vs. Samyang review (and we used both lenses during this shoot).
We of course also worked with the P2400 on countless other shoots and quite a few commercial productions that we had in the studio over the past few months and we have nothing but good things to say about the system and how it functioned in a commercial production environment.
A model photoshoot with the Godox P2400
Conclusion
The P2400 is a niche product aimed at a small number of high-end photographers looking for the very best flash systems modern technology can offer.
Most photographers will probably find the much more affordable Godox AD1200 PRO with its built-in battery, HSS, and TTL functions, which the P2400 lacks, to be more versatile for use in both the studio and the field.
So, who might still need the tremendous power and capability of the P2400? We can think of several potential users actually. Those who are working with super large modifiers, those who work in large spaces or require longer working distances as well as those having to freeze very fast motion, and these are just the obvious use cases.
For years the Godox brand was associated with relatively affordable products aimed at a broad segment of the market. However, in recent years the company has been evolving rapidly to new segments of the market with new offerings in audio, monitors as well as professional LED solutions.
Breaking into the high-end segment of the strobe market was just the next step for the company and the P2400 is the centerpiece of an entire ecosystem that also includes a ring flash head and new high-end true parabolic softbox series which we hope to test in the future as well.
High end flash – P2400
Pricing
The Godox P2400 with two heads sells for around $6200 which is certainly a very significant price tag although when compared to the immediate competition from Profoto and Broncolor it is actually quite competitive.
You can check out more LensVid exclusive articles and reviews on the following link.