Today we are taking a look at the NiSi 15mm f/4 lens and since we recently got our hands on the relatively new Samyang MF 14mm F2.8 MK2 (announced in May 2020) we decided to add it into the mix and do a dual review.
Please note that these lenses are not truly comparable as the Samyang was designed for DSLR cameras, it is faster and wider and there are certainly better comparable lenses to the NiSi from other manufacturers.
These include the Voigtlander Super Wide-Heliar 15mm f/4.5 lens and the Venus Optics Laowa 15mm f/2 Zero-Distortion lens, both considered excellent lenses but also quite a bit more expensive. Regardless, we believe that the following should give potential buyers enough information to make an educated decision about both of the lenses that we will be testing.
Dual ultra-wide lens reviewNiSi 15mm f/4 and Samyang 14mm f/2.8 Mark II
Build and design
Optical Design
The NiSi has an optical structure that includes 12 elements in 10 groups including one aspherical element and two ED elements.
The Samyang has the same complex optical structure as the original 14mm f/2.8 lens designed over 10 years ago with 14 elements in 10 groups including one aspherical element, 1 hybrid aspherical element, two ED elements, and no less than 3 HR elements.
In case you were wondering, both lenses have full-frame coverage (and we shall look at the actual coverage and the vignette performance later on in this review).
Materials
Both lenses are pretty well made with mostly metal design. The NiSi has a straightforward build with metal all around including the rings and hood.
The Samyang adopted a more interesting design with both metal and a special rubber micro pattern on the focus ring which does help with handling.
Size and weight
Both lenses feel pretty compact in the hand and with the NiSi weighing in at around 500g / 17.6 oz and the Samyang at just over 680g / 24oz. Both lenses are just over 10 cm long (with the hood).
Rings
Both lenses have focus and aperture rings and both seem to have a focus throw of just over 90 degrees. The NiSi and Samyang also seem to have good friction in the focus rings but as mentioned the Samyang has a rubberized coating on the ring which makes it easier to grip.
The aperture ring on the NiSi moves in one-stop clicks and feels like it has clean movement. The Samyang can move in ½ stops and feels more "clicky" although it does have a de-click mode which feels quite loose.
Buttons and switches
The NiSi as we mentioned is pretty straightforward and hence has no switches (it is a fully manual focus lens after all just like the Samyang and both do not have electronic contacts so no EXIF data etc.).
Interestingly, the Samyang has two additional "action rings" which function more like switches. The first one functions as a de-click switch for the aperture and the second and more interesting one locks the focus ring at any point to prevent accidental movement. We really like this lock and wish more MF lenses will come with this feature.
Sealing
The NiSi has no sealing that we are aware of while the Samyang does have a rubber gasket around the back of the lens.
Mount
Both lenses come in a variety of optional mounts. The NiSi can be purchased for different mirrorless bodies including Canon RF, Nikon Z, FUJIFILM X, and Sony E.
The Samyang comes in Canon EF, Canon EF-M, Nikon F, FUJIFILM X, Micro 4/3, and of course Sony E mount. We actually tested the Canon EF as the supplier ran out of the E mount variant and we used a Sigma MC-11 adaptor (which should not affect the image quality) on our A7R IV.
Hood
The NiSi has a nice metal hood which we always like to see while the Samyang has a more traditional plastic hood.
Aperture Blades
The NiSi was built around a special 10 blade design for creating really pronounced sunstars day or night (we shall see some examples later). The Samyang has a more traditional 9 blades aperture.
Filter
The NiSi has a 72mm front filter which is very good news for those who are looking to use it with an ND filter or a polarizer (NiSi itself is actually well known for its filters).
The Samyang as you might expect from a 14mm lens that has a massively concave front element can't accept regular filters. Samyang did make a special Filter Holder called SFH-14 for rectangular filters designed for the original version of this lens but we are not sure if it still works with the Mark II version and it seems hard to find nowadays (NiSi also made such a contraption by the way).
The NiSi with its 72mm front filter thread
Performance
Sharpness 
As we normally do, we tested the sharpness of both lenses using our special large professional Imatest high-end chart (from a distance of about 75cm which was still not close enough to fill the entire chart despite its huge size of almost 1.5m).
Wide-open both lenses are no extremely sharp and while the Samyang has a stop of advantage it does look sharper at both f/4 and f/5.6 both in the center but much more so in the corners.
NiSi sharpness center of the frame – top left (f/4), top right (f/5.6), bottom left (f/8), bottom right (f/11)
Samyang sharpness center of the frame – top left (f/2.8), top right (f/4), bottom left (f/5.6), bottom right (f/8)
At f/8 both lenses are fairly sharp across the frame although the NiSi does seem to exhibit some CA in the corners (more on that later).
NiSi sharpness corner of the frame – top left (f/4), top right (f/5.6), bottom left (f/8), bottom right (f/11)
Samyang sharpness corner of the frame – top left (f/2.8), top right (f/4), bottom left (f/5.6), bottom right (f/8)
Note: please disregard the white balance of the lenses in this test (the NiSi was shot at 5300K and the Samyang at 5600K).
Minimum focus distance and close up sharpness
The NiSi has an official close-up distance of 20cm and the same was also measured by us. The lens seems to be pretty sharp at that distance and improves a little when closing down to f/5.6.
The Samyang has a significantly longer minimum focus distance of 28cm officially, but we were able to focus as close as around 26-27cm in our testing. Sharpness at f/2.8 was not very high but closing down to f/4 improved considerably.
The minimum close up distance – Samyang (left), NiSi (right) 
Fun fact – do you see a NiSi product in the image above?
Close up distance sharpness – both lenses at f/4 – Samyang (left), NiSi (right) 
Breathing
Breathing is typically somewhat less of an issue with such wide lenses and the NiSi had very minor visible breathing in our test, with the Samyang having a little more visible change in the frame while focusing (you can see the test in our video).
Chromatic Aberrations
One good news regarding both lenses has to do with the lack of any visible longitudinal chromatic aberrations wide open in the center of the frame, even on the faster Samyang lens which is certainly nice to see.
The NiSi chromatic aberrations test (center of the frame) – left f/4, right (f/5.6)
The Samyang chromatic aberrations test (center of the frame) – left f/2.8, right f/4
As we noted above in the corners the NiSi does seem to suffer from CA even at f/8 (this never seems to go away completely in the corners but it is reduced at f/11).
Flare
On the plus side, the NiSi seems to have flare very well controlled and we actually really like the look of it when it does appear on the edges of the frame, it looks very cinematic.
The Samyang flare close to the edges is much more pronounced and less cool looking in our view, try to avoid getting strong light in the corners with this lens. (you can see both in our video).
Vignette
Measuring vignette with ultra-wide lenses proved a lot more difficult than we originally thought. You need a very large white flat surface that is uniformly lit and this is hard to come by.
We have actually shot this test 3 times and we are not pleased with any of the results but the last session that you can see here seems to give a decent enough representation of what you should expect from both lenses in terms of vignette performance.
NiSi vignette – top left (f/4), top right (f/5.6), bottom left (f/8), bottom right (f/11)
As you can see the Samyang has more vignette being wider and having a faster aperture than the NiSi wide open.
Samyang vignette – top left (f/2.8), top right (f/4), bottom left (f/5.6), bottom right (f/8)
However, when you compare the Samyang to the NiSi, both at f/4 the Samyang looks quite a bit better. The vignette seems to go away on the Samyang somewhere between f/5.6 and f/8 while it seems to never really go away completely with the NiSi even at f/11 (you can see some of this in the video).
Barrel distortion
The NiSi seems to have a little bit of barrel distortion but it seems to be pretty well controlled for an ultra-wide-angle lens.
The Samyang however is a very different story and it has a very pronounced barrel distortion. It can be fixed in post like we show here in Photoshop but you can lose a part of your frame in the process.
NiSi 15mm f/4 – Relatively little barrel distortion for an ultra-wide-angle lens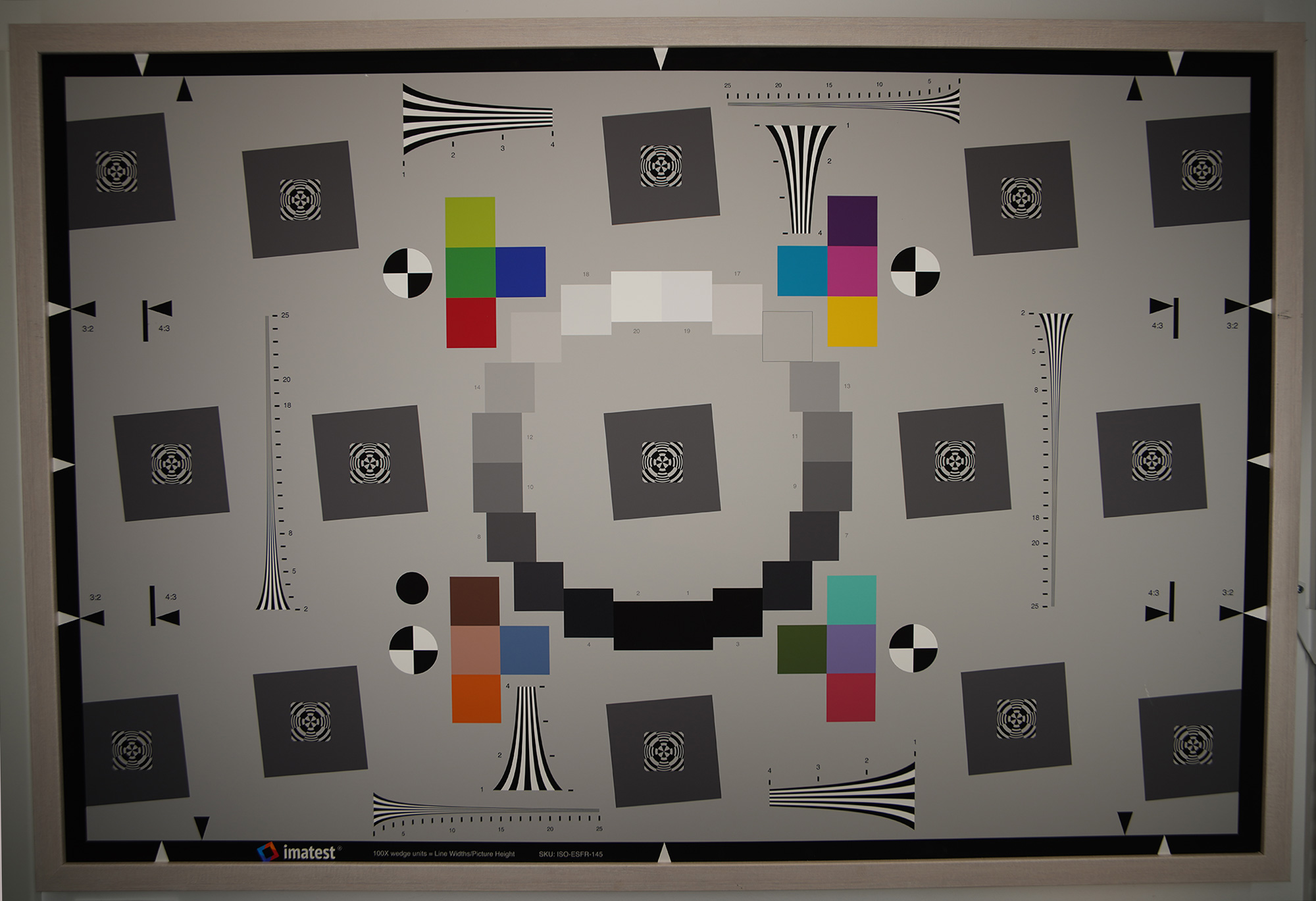 Samyang MF 14mm F2.8 MK2 – Notice the huge distortion in the middle of the frame
Bokeh & Sunstars
Ultra-wide-angle lenses are not typically the best tools for creating background separation. However, with a subject close up and a background further away you can get at least some separation even with these lenses.
The Samyang has the advantage here by being a faster f/2.8 lens compared to the NiSi. The light circles seem to remain fairly circular throughout the entire frame even near the edges on both lenses and the NiSi seems to have a bit fewer onion rings in the light circles.
We typically do not cover sunstars performance in our usual lens testings but since this is a key feature of the NiSi lens we really wanted to test this and you can see that even at f/8 you are getting very clear sunstars (more examples in a moment) while the Samyang can't really produce them clearly in f/11.
NiSi Sunstars and bokeh (left) and Samyang (right) at f/8
Sample images
All the sample images below were taken using the Sony A7R IV without any modifications aside from cropping/rotating (please note that we had the NiSi for a longer time hence why all the samples were taken with it).
Sample images at night – NiSi @f/8 – full image (resized to 3000×2000 pixels)
Sample images at night – Samyang @f/8 – full image (resized to 3000×2000 pixels)
Sample image 200% center – NiSi @f/8 
Sample image 200% center – Samyang @f/8 
Sample image 200% side of the frame – NiSi @f/8 
Sample image 200% side of the frame – Samyang @f/8
Conclusion
This has been an interesting dual review and it has been a long time since we tested an ultra-wide lens here on LensVid.
Both lenses are quite capable each with its own strengths and weaknesses as we have seen.
If we have to summarize our findings about the NiSi lens, we will say that as the lens of the first still for the company it has done well – it has a simple but solid build, good close-up performance, practically zero breathing, extremely cinematic flare behavior, very low barrel distortion and of course those great sunstars.
The lens does have a few drawbacks that you need to be aware of – it is not very fast nor it is sharp wide open and does exhibit some CA in the corners. The lens also seems to show more vignette than we would care for even when closed down.
We think that this lens can usher the start of a new and capable lens player in the market, much like Venus Optics was a few years back, and we are certainly hoping to see more lenses from the company very soon.
The NiSi 15mm f/4 lens with the Samyang 14mm f/2.8 MKII in the background
When it comes to the Samyang 14mm f/2.8 MKII we get something a bit different. The original lens formula that was so successful a decade ago is still here and it has a good optical performance especially when it comes to sharpness (although the NiSi does have a better close-up performance as we have seen). Sadly, it keeps the same horrendous barrel distortion and its flare handling is not as nice as that of the NiSi.
At the end of the day, Samyang is a very strong all-around competitor with a new external design and some nice and useful features.
Pricing
Pricing is where things start to get interesting. While both lenses are less expensive than some of the competition that we mentioned at the start of this review, the NiSi sells for $580 while the Samyang sells for just under $350.
You can check out more LensVid exclusive articles and reviews on the following link.