SmallRig offers what seems like countless options of accessories for rigging your camera. Today, we'll take a look at some of their newest accessories including a new SmallRig A7 IV Cage with a side handle, HDMI cable clamp, top quick-release mount, and a V-mount battery adapter, a Bluetooth remote, and a follow focus.
Please keep in mind this isn't a full review of each and every one of these products. The goal of this article and video is more to demonstrate some of these products and how we use them and set them up together in a few different ways to work with our gear and for our particular uses.
a7 iv/a7s iii/a7r iv/a1 Cage (PART 3667)
The cage is sold as a Sony A7 IV accessory, but it also fits other Sony bodies (including the A7S III, A7R IV, and A1). There are some standard cage features, like plenty of ¼'' and ⅜'' mounts on both sides and top, a cold-shoe mount, multiple strap slots, and a magnetic tool holder on the bottom.
Some advanced features that SmallRig added to this cage include a Nato Rail on the left side and an integrated Arca Swiss plate with DJI Ronin mounts on the bottom of the cage. To provide a way to swap the battery with the cage on, there is a small latch that opens up.
The SmallRig A7 IV cage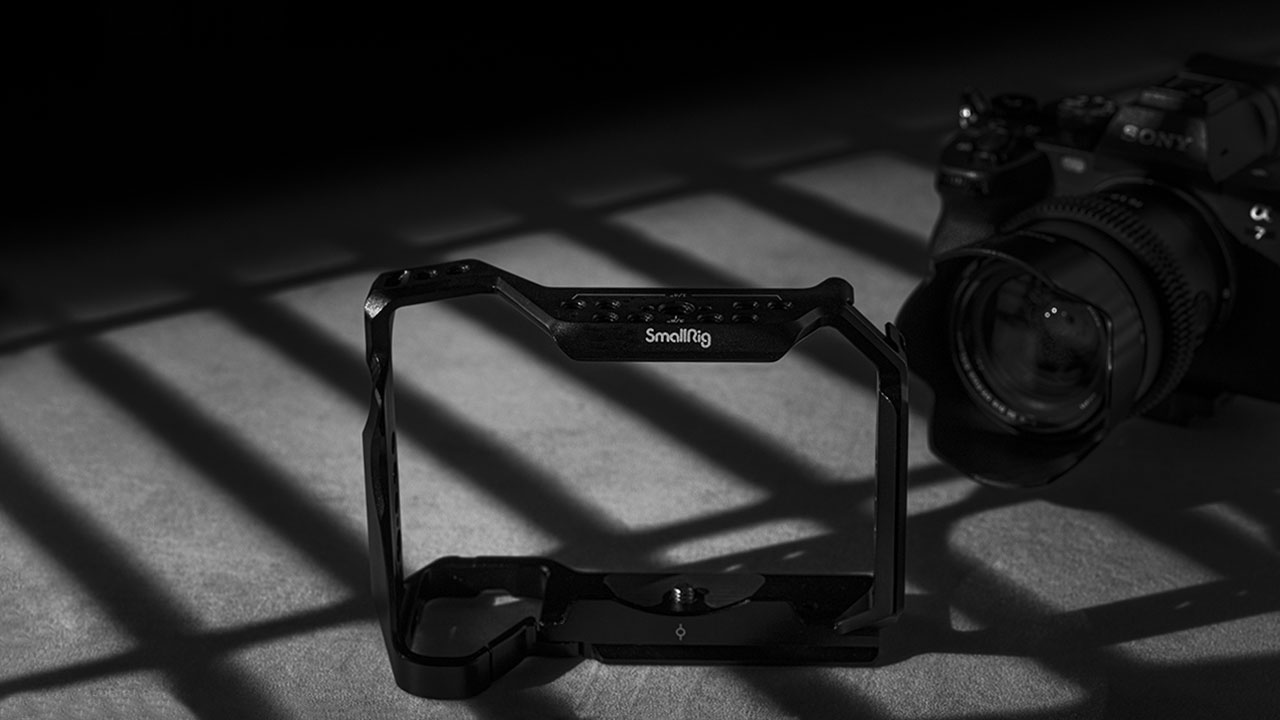 There is also a secondary mounting point to prevent the camera body from moving around inside the cage. This tiny screw connects through the strap eyelet. (There is a swappable connector for the A7Siii in the kit) While this is an important improvement, you really have to make sure you don't lose this tiny screw.
Another welcome addition from SmallRig is an HDMI cable clamp. The cage comes with mounting guides for this accessory to prevent it from twisting. We feel that this could be a little smaller since it's kind of hard to install when the handle is on.
The Smallrig A7 IV cage as part of our full stationary rig
HawkLock quick release with NATO rail (part 3601)
We recently covered the new SmallRig HawkLock quick-release system (see here) which allows you to easily swap out your monitor, mic, or other accessories. Our version connects to a Nato Rail (you can see other versions below) and features a tension tilt mechanism and lever release.
The tiny quick release plate simply pops into place and the lever locks it in position. The only thing that's missing here are Arri pins that will prevent the monitor from twisting.
Smallrig different HawkLock connectors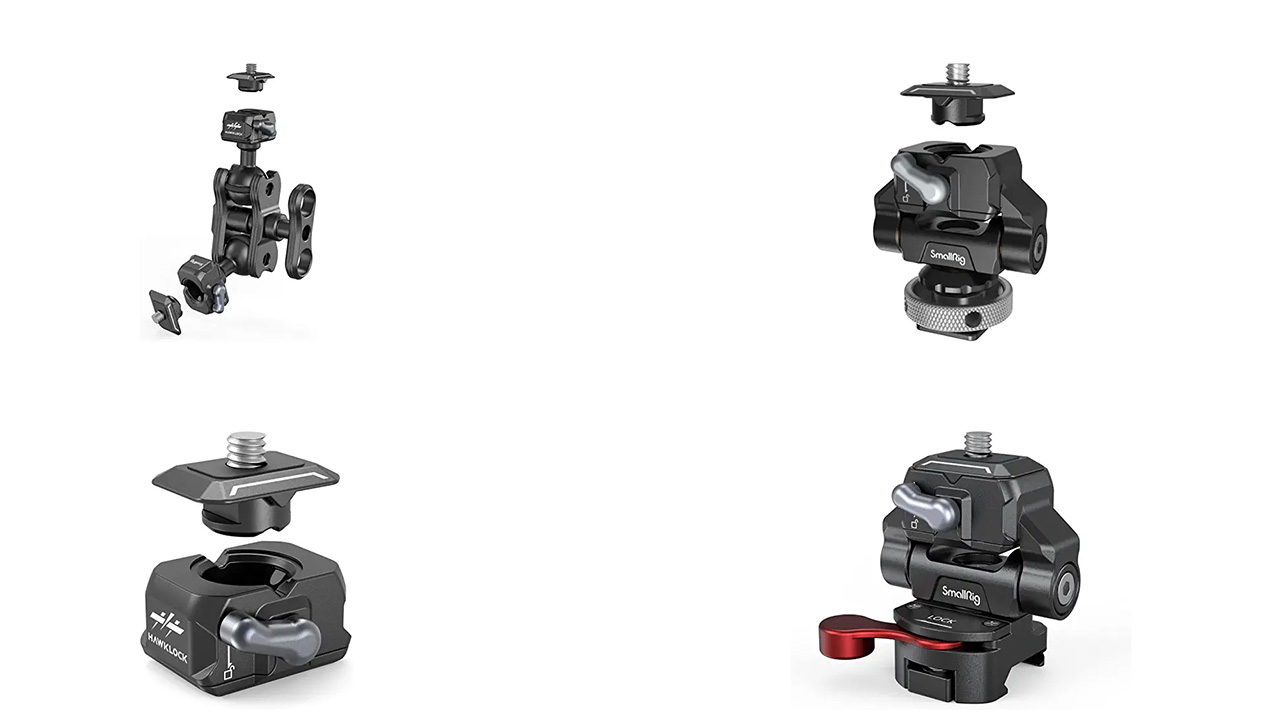 SmallRig Aluminum Universal Side Handle  (part 2425)
The rubberized grip side handle features ¼'' mounts and a cold-shoe on top, plus a strap slot on the bottom. Also stashed inside the handle is an Allen key with a magnetic holder.
To connect the handle to the cage, there are two thumbscrews that are really close together, and make it kind of difficult to install. SmallRig has a Nato Rail version of this handle, but it doesn't look like it would work with the cable clamp.
The bracket that attaches the handle to the cage is removable so that you can place it on either side of the cage. It also means that you can adjust the height positioning so that the camera can sit flat on the table.
The only thing we feel that could make this handle better is a tilt mechanism. That should be an easy addition, just by changing the connector bracket.
The SmallRig a7 iv cage with dual side handles
V-mount battery plate adapter/arm (part 3204)
The V-mount battery adapter is an elegant solution, allowing to power multiple accessories from a single battery. The power output options here include D-tap, DC, and USB-a. There is also an on/off button that cuts power to all the accessories at the same time.
The SmallRig V Mount Battery Adapter Plate with Adjustable Arm – back
This adapter installs onto rails and comes with a positioning arm with a tension lock. We tried it with a 90wh battery, and the arm had no problem holding up the weight.
The SmallRig V Mount Battery Plate – side
mini Follow Focus (part 3010)
Another important accessory for a rail-supported rig is a follow focus. The SmallRig follow focus is compact enough to work with a short lens. It features hard stops that are designed not to rattle when they are released.
SmallRig Wireless Remote Control for Select Sony Cameras (part 2924)
Our last accessory on this list is a tiny Bluetooth remote for Sony cameras. It's a very simple design in a plastic enclosure. It runs off of a coin battery and features an on/off switch and a single button to start and stop recording.
While the idea is great, we feel the design needs work. In our experience, button batteries are always a hassle to work with. Since there is no battery status, you never know when they run out.
The other problem with this design is a single-point mount which means the accessory will rotate easily. Granted, SmallRig provides a velcro strap to help secure the remote.
Other than that, the remote pairs easily to the camera and does the job.
The SmallRig Wireless Remote Control
Conclusion
In conclusion, SmallRig products are a great help in rigging your camera. There are plenty of options to secure your accessories and let you focus on the shoot.
Pricing
As for pricing, the total of the products we reviewed here comes out to around $465. Here is the breakdown of all of the products that we covered in this article on the SmallRig store and on Amazon:
You can check out more LensVid exclusive articles and reviews on the following link.