Today we are taking a look at a very compact and portable gimbal – the Zhiyun Crane M3 which includes a number of innovative features that we have not seen on any gimbal so far.
Over the last couple of years, Zhiyun has been quite competitive with their gimbals of all calibers, from phone to heavy rig units. With the release of the Crane M3, Zhiyun introduced a new category of gimbals that are supposedly strong enough to carry a fairly heavy setup with a full-frame camera (more on this later) but are compact and lightweight with lots of features designed mostly for vloggers and content creators on the go.
Zhiyun Crane M3 kit
Zhiyun ships the Crane M3 in a stylish white canvas carrying bag. Included in the pro kit that we got are a shotgun mic, an extension with mic jack, and a phone clamp. As well as the gimbal itself, cables and a really nice white bag.
The Zhiyun Crane M3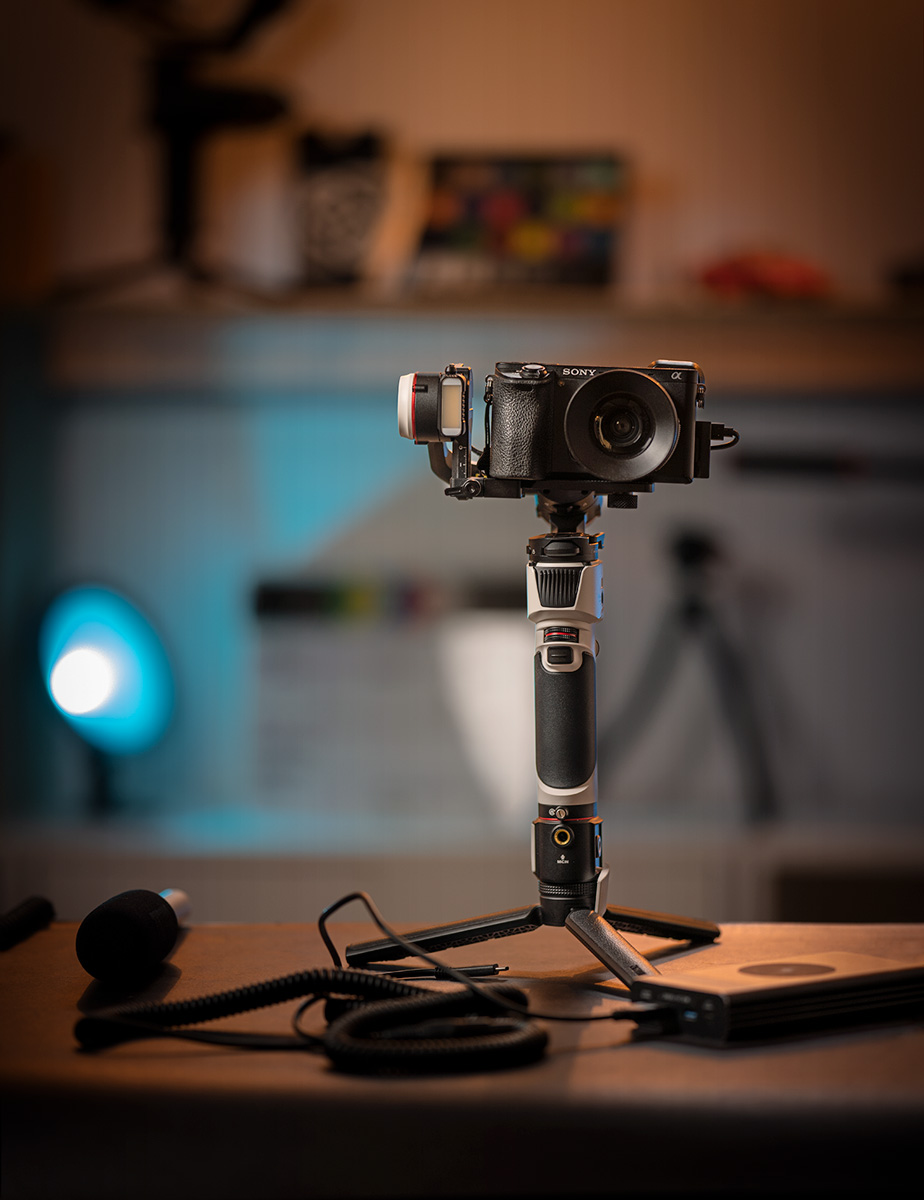 Features
The most prominent feature of this gimbal is its ergonomic design that includes the touch screen that allows to quickly access modes and settings. There is an adjustment wheel above the front trigger that can be customized for adjusting settings for selected camera models.
The minimalist quick-release plate is a new design with a failsafe mechanism. It's an interesting design, but it covers up the camera's battery door. Zhiyun does offer release plates that are specific to some camera models.
Specs
The Crane M3 is a very lightweight unit in an aluminum and hard plastic body. It features a ¼'' mount on the left side. Because of the gimbal's reduced size, there isn't much room for bigger camera bodies.
There is an integrated battery with a quick charge USB-c port with charge-while-in-use capability, so you don't have to worry about the gimbal running out of power.
Zhiyun also included Bluetooth control in such a tiny gimbal body, allowing you to control movement with the ZYplay app. This is the same app that controls Zhiyun's bigger gimbals, and allows camera control and mimic mode.
Controls
The ergonomics of this gimbal are pretty good. Since the unit is very light, you can hold it with one hand and still reach all the controls. On the front of the gimbal handle are the standard trigger to reposition the gimbal head and change to selfie mode.
Holding down the trigger activates the Go Mode, in which the motors react a lot faster to gimbal movements. Since these motors are powerful enough even for a heavier setup, we found that Go mode with a smaller camera can eliminate a lot of up and down motion during walking or running.
There are two buttons next to the joystick. Clicking the M button changes modes and a long press sends the gimbal into sleep mode. The red button is for video and photo capture. Single press starts and stops video recording. Double pressing the red button takes a still image.
The M3 rear monitor
Innovations
There are a number of innovations that come with the Crane M3. One of them is an onboard light. There is a dedicated control wheel to turn the light on and off and adjust brightness and color temperature, from 3600K to 5400K. Conveniently, these settings appear on the screen when you make adjustments with the wheel.
Having an integrated light is actually very useful since it keeps the setup really small.
Another couple of innovations that come with this gimbal work through an expansion base. It's an aluminum base that attaches to the bottom of the gimbal handle with a quick-release mount and features an extra ¼'' mount and a 6.5mm mic jack.
The shotgun mic that comes with the pro kit of the Crane M3 is an all-metal body powered by a AA battery. Zhiyun includes a long coiled XLR cable to connect the mic to this expansion bay. Unfortunately, we weren't able to work with it, since connecting the mic produced noise in the video.
Apparently, there's some interference with the audio when using a camera control cable connected from the gimbal to the camera, so Zhiyun offers a Bluetooth wireless camera control unit that connects inside the expansion base and sends a signal to another dongle that's supposed to connect to the camera.
Because this is a feature available only on specific model cameras that we don't have, we weren't able to test it.
The light control wheel
Conclusion
In conclusion, we feel like this is an interesting device with a lot of smart solutions that still need some work. Zhiyun's innovations could lead to some big additions to gimbals with smaller form factors and larger payload capacity.
Best for APS-C cameras
Pricing
As for pricing, at the time of this video, the pro kit is selling with a $100 discount for $550, and the gimbal alone is only $310.
You can check out more LensVid exclusive articles and reviews on the following link.