Today we are looking at the Sigma FP camera released in late 2019. As we have noted this isn't going to be a review but more of a list of notes based on our limited experience with the camera from our perspective.
Please see the 2021 update at the end of this article!
Before we start let us just mention that we have been using the camera with the 1.01 firmware version which is the latest for the camera at the time of making this video.
Using the 1.01 firmware version
Let's start with some things that we liked about the camera:
The general build quality of this camera is very good. It is made from magnesium, feels solid and it seems that Sigma did a really nice job overall.
The main concept of the FP in terms of design is to be a semi-modular unit with many potential accessories like grips, flash brackets, and more options for both stills and video shootings. This is not necessarily a novel idea in the camera industry – RED cameras are fairly modular and to some extent, a few of the medium format cameras on the market like the Hasselblad H System are also semi-modular. However, in such a small and affordable package a semi-modular camera system is certainly refreshing.
Another interesting feature that is a nice touch in the FP is the Stills/Cine switch on the top part. Many cameras have a video/stills switch but the FP has a dedicated Cine mode which is not just a name but a real thoughtful decision on the part of Sigma's Engineers, who see this as a compact Cinema camera, and this is reflected in part in the menus which change completely when set to this mode, including things like the visible time code, iris setting and more.
One feature which we used a lot, especially in stills mode, was the colors button which has some nice options including Teal and Orange (T&O), Forest Green, and a few others as well as a flatter Cine mode. There is also a tone curve button which is very unique although we can't say that we really played with it too much.
Stills/Cine switch
Now we can move to our list of things that we think that Sigma needs to address, improve, fix, or change – and as you will see, this one is quite lengthy:
As much as we like the idea of a modular design in such a small and relatively inexpensive system, which is really refreshing, the problem is that out of the box the camera is not convenient to use. The FP has no grip and no hot-shoe on top as well as a few other design drawbacks that we shall mention in a moment. Even worse, currently, there are just not enough accessories to really justify the design decision to make this camera so tiny and awkward to use out of the box.
The small body is not only inconvenient to hold, but it also forced Sigma to make a few other design decisions, very few customizable buttons for serious professional use, no headphone jack, and only a micro HDMI which is unfortunate for a camera designed primarily for Cinema.
Even with our small hands and without a grip the location of some of the buttons didn't feel natural to us, especially the record button. But really what seemed odd was the decision to use a fixed screen on this camera, something that is happily becoming less and less common on mirrorless cameras these days and we would really like to see Sigma change on any future model.
The screen is not the only issue here. The FP has no electronic viewfinder and at least at the moment, we are not aware of one being developed by Sigma which is really a shame. Sigma does sell a pretty expensive LCD viewfinder called LVF-11 but as we see it, that is not a proper substitute for a real EVF (especially if you have any intention of shooting any stills with the camera).
No flip/articulated LCD and no EVF (compared to the Sony A6500 on the right)
Although the layout of the menus is actually not that bad, navigating them didn't feel too intuitive to us, plus you can't use the touch screen for changing settings, not even in the nice, big icon "Quick Select" (QS) menu for some reason.
The FP has no on-sensor image stabilization, only lens or digital image stabilization. We are not sure if this is a cost or a size issue (or both), but either way, it is something that we would like to see in any future Sigma camera, even if this means a more expensive and larger body.
The camera only seems to have a mechanical shutter. We are not 100% sure but we feel that this might have caused some flickering in some situations (or maybe this was a light meter issue, we are really not sure, feel free to speculate in the comments).
Power is another huge drawback of this camera. It uses the tiny BP-51 battery with 1200mAh which is officially rated at up to 280 images and a pretty short video recording, especially in 4K RAW. The worst thing is that you can't power it on the go using the USB-C connection, which is a really strange decision on Sigma's part. You will need to get a ton of batteries or possibly a dummy battery if you are thinking of shooting a full day of video with this camera.
Contrast based AF
Talking about the battery, the battery compartment is way too close to the 1/4″ thread at the bottom of the camera which means that when we connect our RC2 quick release plate we can't open the battery door.
One bizarre omission that we encountered with the FP has to do with the audio level meters or rather the lack of those in the settings. There is an audio recording option in the menu, but we found no way to display levels (according to the user manual this should be a part of the shooting menu in Cine mode, but we could not find it anywhere).
Although we couldn't view the RAW video footage from the camera (more on this in a moment), we did record some 4K RAW videos with the camera only to discover that even with a fast UHS-II SD memory card the card you can't really record more than a few seconds at a time. If you want to record long 4K RAW footage you will need to connect the camera directly to a fast SSD, like the LaCie Rugged SSD Pro that we recently tested.
One of the biggest drawbacks of this camera in our view has to do with the autofocus system. If you only shoot with manual focus than this might not be a big issue for you, but in 2020 there are just so many amazing autofocus camera systems around that the slow, contrast-based system on the Sigma FP with its limited functionality just feels like a huge step backward to us, much like going back to where the camera industry was 5 or even 10 years ago.
The image on the back screen looks better than the actual footage?
A few other things did not work the way we expected with the camera including the Zebras which worked in the menu but not when shooting, the focus peaking which did work but was not clear or prominent enough in our view, and finally, a rather unusual behavior where the images on the screen of the camera looked much better than on our computer (it wasn't just us – a few other people who looked at the camera noticed that – and just for the record our monitor is calibrated and we never had this happen with any other camera).
There are more things that we think that Sigma needs to change or fix, but these are the big ones in our view. As we have noted at the beginning of this hands-on, we are not the target audience for this camera and we will probably never consider buying it even if most of these things will be fixed since our workflow at the moment has no need for 4K RAW video or even 10-bit shooting which are the two main highlights of the FP camera besides its compact and modular build.
More importantly, we have no use for CinemaDNG which is the format that Sigma chose for RAW shooting with the camera that at the moment doesn't seem to work with Premiere Pro on our PC. Even if it does work on your system and editing software, you will have to take into account huge files, which makes the whole thing really a pain to use and edit.
Recording with this camera using the MOV format doesn't do it justice as Rubidium Wu (from crimson-engine) recently demonstrated on his comparative video, looking at 8bit 10bit, and 12bit video files both in RAW and MOV format on the Sigma FP. Since we couldn't open the CinemaDNG files we shot in Premiere Pro we can't really talk about image quality, but you should really watch Rubidium's video to get an appreciation of what the camera can and can't do in terms of image quality.
For our workflow, we would much rather have a camera that shoots 4K 60p or even 6K 24p with decent quality and good compression instead of these huge 4K 30p CinemaDNG RAW files. On the other hand, there are some people that seem to be very enthusiastic about this camera, so it might have a niche audience after all.
Fast SSD for recording RAW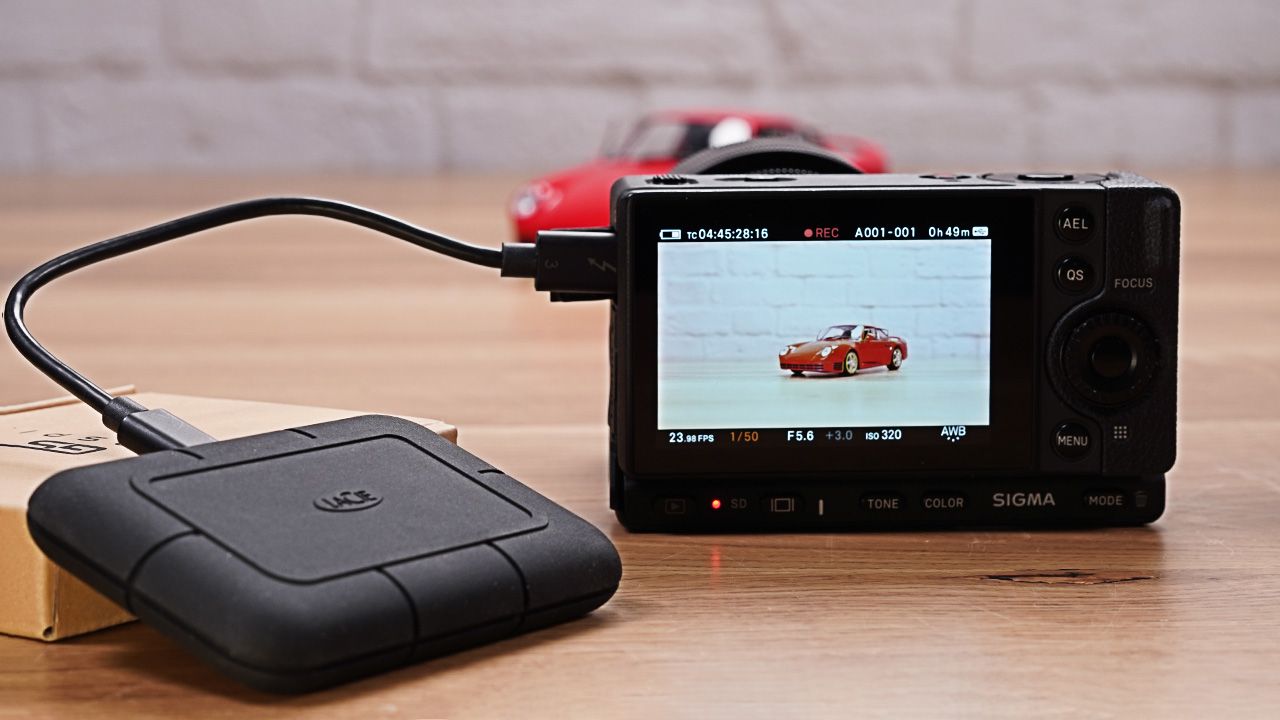 We want to conclude with a positive note. Despite the long list of drawbacks and missing features that we have mentioned, we are actually pleasantly surprised by what Sigma was able to do here. Although the company produced cameras in the past, Sigma was never really a camera manufacturer. The FP, however, is a real pro-level camera and despite feeling like a first-generation product in many respects, it shows some of the potential of what Sigma can do, at least if it gives its engineers enough resources and room to play. It will be interesting to see what Sigma will announce next, especially with its upcoming Full Frame Foveon sensor.
Update early 2021: since we originally posted this article and video back in Feb 2020. Since that time, Sigma released several major updates to the firmware of the camera improving AF, image quality issues, adding dual base ISO, HDR, CinemaDNG footages playback in camera (yay!), and many many new and improved features making this camera significantly more attractive (despite some of its inherent flows that we discussed in this article). We highly suggest that you check the full list on the Sigma website.
Pricing
The Sigma FP currently sells for just under $1800. This makes it one of the most affordable up to date Full Frame cameras on the market (certainly with 10-bit RAW recording capabilities).
You can check out more LensVid exclusive articles and reviews on the following link.