We seem to start 2021 with an onslaught of new and interesting lights. After the Budget-friendly, but powerful Aputure Amaran 100d and 200d and the high power, wide color temp range RGB COB from Prolycht we covered just a couple of days ago, we now have a new RGB COB contender and this time is a more affordable solution from Godox in the form of the SZ150R.
SZ150R – The new RGB COB by Godox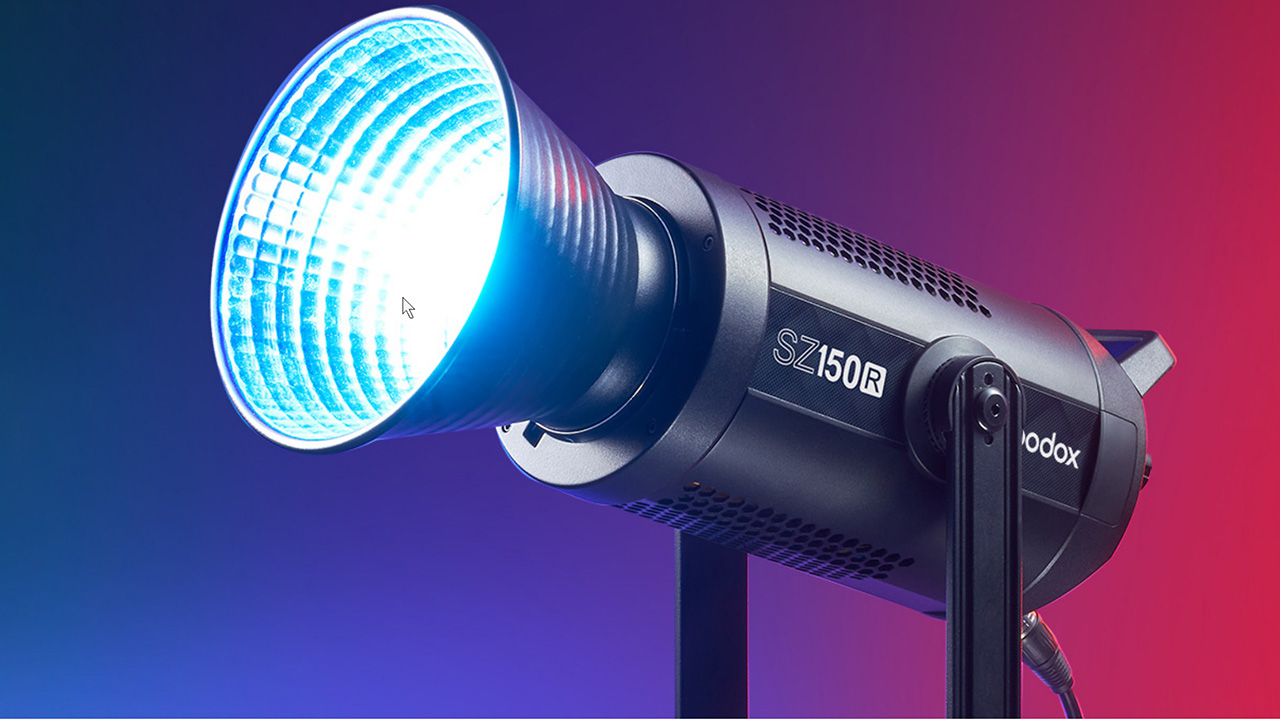 Pushing the limits of COBs
Godox has been pushing the limits of COB lights in all different directions, focusing on quality lights that are more affordable than the competition yet give a lot of "bang-for-the-buck" in return (much like their approach to the flash category).
LED COBs have been around for well over a decade now but only in the past few years have we started seeing very fast progress due to an ever-increasing competition between a large number of different competitors.
On the one hand, light quality and color quality is better than ever before and on the other hand, we have very powerful units but also very compact units (some are even fully integrated into just a flash head – in the case of the new Godox SZ150R, there is a power brick but no external controller).
The most recent jump seems to come in the form of an extended color range and RGB option. These were traditionally more common in LED panels where you have more room to include different colored LED diodes but miniaturization technology moves ahead quickly and apparently, it is now possible to produce quality tiny and powerful RGB COBs at affordable costs and we can suspect that this is far from the last RGB COB that we will see this year.
Godox SZ150R main specs
The SZ150R is a new 150W LED that is both Zoomable, Bi-Color, and has RGB capabilities. These are a lot of features to pack into a single head with no external controlling unit. Luckily you have both a colored screen on the back and Godox has both an app and a new remote to control the unit.
150W power draw and 26,00lux at 1m (20-degree angle beam) or 19,000 lux (65-degree angle beam).
Color range of 2800-6500K.
Adjustable beam angle of 20-65 degrees.
HSI mode supports Green/Magenta control.
CRI 97 / TLCI 96 (official numbers).
13 different effects.
Bowens mount.
Built-in fan with a silent mode (we are not sure as to how exactly this mode works and in what way is it limiting the light).
Control via a colored back screen, DMX, app, and an optional new RC-R9 remote.
The entire lightweight in at only 2.65kg (5.84lb), you still need to consider the power brick and any light modifier you want to use. It also comes with a nice case, reflector, and a few other accessories.
Although on paper it might not as versatile as the new 300W Orion 300 with its 30,000 lux at 1m and 2000K-20,000K color temperature and battery power options (the Godox SZ150R is a mains power only LED), on paper both seem to be very viable options for bi-color RGB COBs with the Godox appealing to a more broad audience while the Prolycht aimed at a more niche higher-end group which needs that extra power and wider temperature range.
Different controlling methods
Pricing
As usual with Godox, setting a very affordable price is key and with this light, Godox had set the bar very high (or if you want low) for any future competitors at only $560.
If you don't want to miss any new photography products be sure to check out our product photography section.