About a year ago Hollyland released the original MARS 300 wireless video system that was one of the first fully-featured affordable wireless units on the market and it became an immediate hit. Since then the company released several other systems with important innovations including USB-C power and app support and today the company released a new version of that original model called the Hollyland MARS 300 PRO which updates the original unit and also brings down the price some more.
Wireless video systems used to be reserved for high-end productions, renting houses and those with deep pockets, but in the last couple of years things have started to shift and we are seeing more and more affordable systems that are fully functional and are less expensive than many 5″ and 7″ monitors (if you haven't been following, just a few years ago finding a decent sub $1000 wireless video system would have been very difficult).
Pricing is just one aspect of the new Hollyland system and we had a chance to look at the MARS 300 PRO recently and bring you some of our first impressions (a full review will follow later on).
Our Hollyland MARS 300 PRO transmitter during some early testings (keen-eyed observers might notice a few other interesting new products on this shot as well)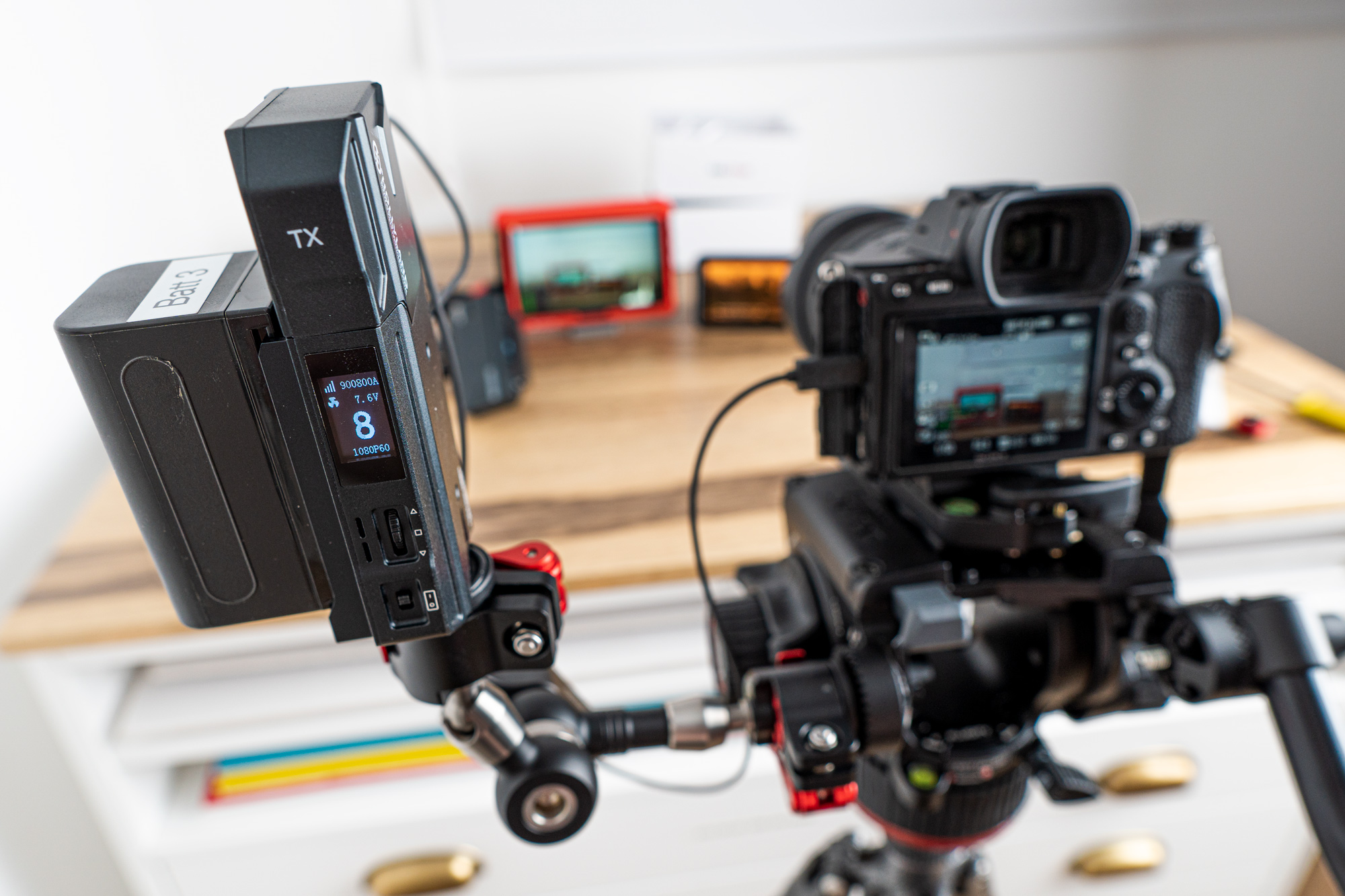 Hands-on: our early impressions of the Hollyland MARS 300 PRO
We were lucky enough to get our hands on an early review sample of the Hollyland MARS 300 PRO just a few days ago and while we didn't shoot any commercial projects with it (yet) we did have a chance to play around with the product and get a feel of at least some of what it is capable of.
The units are very light and although they are made of plastic they feel pretty solid (correction: Hollyland actually informed us that most of the casing is metal with just the antenna part made of plastic). They include only two buttons – a tiny recessed on/off and a  clickable thumbwheel to navigate through the menus which you can see on the tiny OLED screen that exists on the side of both units.
Both the transmitter (TX) and receiver (RX) units seem to be identical other than the RX/TX markings on the side. Both have dual HDMI connections (on the TX they are marked as in and loop and on the RX they are both outputs so you can connect up to 3 displays with cables to these units directly which is really nice).
The unit has a tiny fan which kind of concerned us when we read the specs but to be honest unless you place your ear right next to it (or your mic) it doesn't seem like something that is going to bother you and you can even change it to a low mode in the menu (and we are very picky when it comes to noise when we record).
The unit is powered by a Sony L type battery that connects on the back (the units do not have internal batteries) and it has a simple release button that you need to press if you want to get the battery out (you do need to apply a bit of force to get the battery out but this might be just because our unit is new).
Unlike its predecessor that had a 6-16V DC barrel locking power connector, the new PRO unit has USB-C which we actually prefer (and there are some interesting USB-C cables from several manufacturers that are in the market or coming soon that will enable you to connect to D-TAP and other types of batteries that are not Sony L type ones if you need to). What is nice is that you don't need any fancy USB-C PD to power these units – a simple 5V-2A home wall charger or simple USB battery bank (we tried even some very small ones with a USB-A to USB-C cable) works perfectly fine although we still need to actually test for how long (for that you will have to wait for our full review in a few weeks time).
Hollyland MARS 300 PRO Standard versions
We had a chance to test the latency of the system and from what we can see there is a very minimal lag which for us at least seems almost nonexistent at least from a short distance of a few meters. As for range – from our non-scientific initial test we can say that in our new 2100 square feet studio (almost 200 square meters) the system worked flawlessly even behind walls (the official range mind you is 300ft).
One very important new feature of the MARS 300 PRO is the support for the HollyView monitoring App which until now was working only with the MARS 400/S and the new Mars X but was not supported by the original MARS 300. This app allows you to connect up to three iOS and Android phones/tablets to it and view the image from the camera at the same time. We have yet to try this feature but we will have a full report on how it works in our review.
There is certainly more to say about the MARS 300 PRO and app but we will leave that for our full review. As for pricing and availability, the Hollyland MARS 300 PRO will start selling soon for $450 for the Standard version, while the Enhanced one is $470 (with external antennas on the transmitter unit for better reception in heavy WIFI and EM environments). You can also purchase a single standard transmitter and pair it to a mobile device in a similar way to the Mars X unit for $200 (but with an extra HDMI out).
If you don't want to miss any new photography product be sure to check out our product photography section on our photo gear channel.