Last week Lume Cube introduced its Panel PRO RGB LED light with a very sleek thin body and several new features. We already got our test unit and while we are planning to publish our review we can give you a sneak peek and what we already found about this new mobile LED.
This is not the first time that we have been covering LumeCube products, we actually tested the original Lume Cube (back in 2016) and we own the second generation model as well as many accessories. This new light however is different and more in tune with many existing portable panel lights.
This is Lume Cube's most powerful light to date with 1500 lux at 0.5m (on paper significantly more than at least some of the other portable panel LEDs on the market). It has fully customizable color options and several effects as well as a programable strobe mode.
The front of the Lume Cube Panel PRO 
The Lume Cube Panel Pro also works with the very handy Lume Cube app so you can control the unit (or several ones) from your mobile device. It can change color temperature between 3000K and 5700K
The unit comes with a diffuser, a small cold shoe mount, charging cable (USB-C) a manual, and a soft "case". The panel has 3 1/4″ 20 threads on three sides so you can mount it almost at any angle and it lasts over 4 hours at 50% (and it tells you how long it will last at the current power setting in min which is always welcome). It also charges via USB-PD which should be significantly faster (if you have a supporting charger).
Our Lume Cube Panel PRO from the back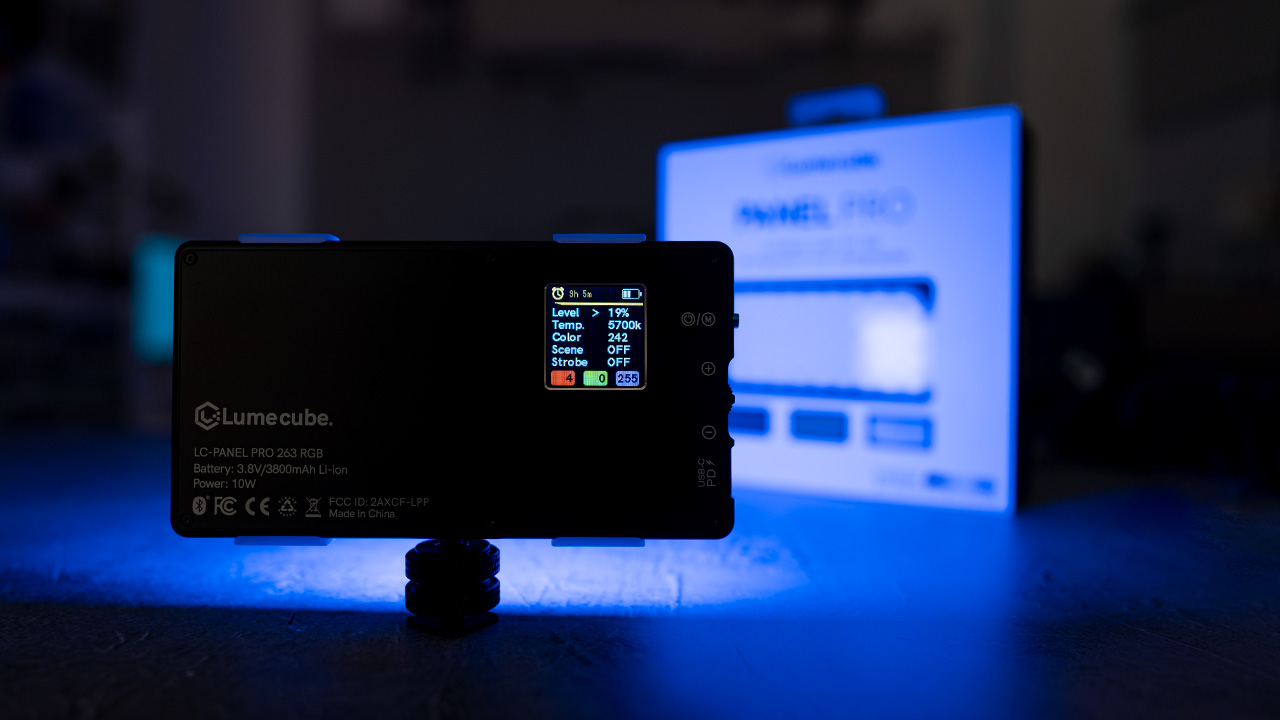 We haven't had a chance to really work with the Panel Pro yet but we did play with it a bit to see what it can and can't do and it seems to have a good build quality, a very thin design with a very easy to use interface and clear back screen. The output seems bright (although we will have to reserve judgment for the full review after we do some real-world testings) and the only thing that you might want to consider is that even with the built-in and added diffuser that comes with the light it doesn't hide the LEDs completely so you can still somewhat observe individual LEDs.
As for pricing, the unit should be available soon for $230.
How to use the new Panel Pro
If you don't want to miss any new photography products be sure to check out our product photography section on our photo gear channel.