Recently we had the privileged to interview photographer Anna Pantelia – who is the official photographer of CERN (the European Organization for Nuclear Research). Pantelia's day job is a dream for any photojournalist, covering the most important scientific enterprise in the world operating deep underground in an elliptical tunnel 27km (16 miles) across with thousands of the best scientists and researchers in the world.
The video above was shot last year in CERN by Pantelia and shows her typical day running around in the underground corridors of the Large  Hadron Collider.
 An interview with Photographer Anna Pantelia from CERN (Credit for images: CERN and/or Anna Pantelia)
Q: Where were you born?
A: I was born in Athens, Greece in 1991.
Q: When did you start shooting?
A: I start shooting when I was in high school, around 16 year-old using the "family" camera. My dad was always interested in photography and video, so we always had cameras at home. We were also one of the first families in Greece that had a video camera.
Photojournalism: Riots in Istanbul (Credit: Anna Pantelia)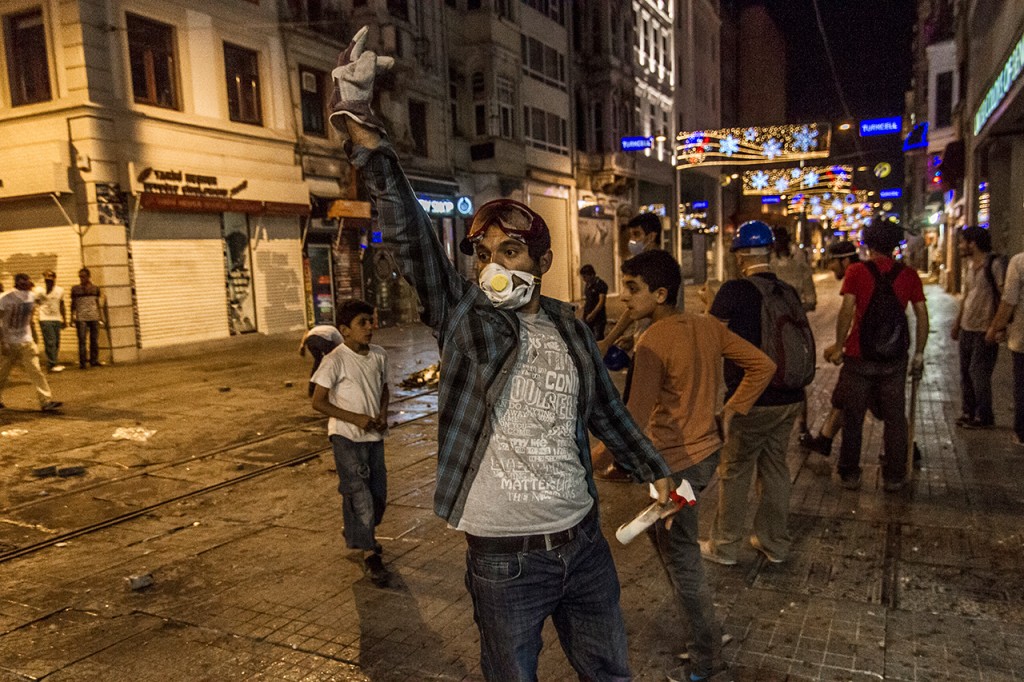 Q: Who told you the basics?
A: I start learning how to use my camera on my own. When I started I didn't know even what a light-meter was. I was taught about the aesthetics and composition in university.
Q: What did you do before you came to CERN?
A: I came at CERN as photographer for first time in 2012, I was studying photography and audiovisual arts at the Technological Educational Institute of Athens while I was working in sales in order to cover my expenses.
Photojournalism: Riots in Athens (Credit: Anna Pantelia)
Q: How did you end up shooting for CERN?
A: CERN came unexpectedly in my life. It was a proposal from a Professor who works at CERN who knew about my work. At first I didn't believe that that could be possible, I used to read about CERN when I was in high school as I was interested in physics and I never thought I could be part of it.
Q: How does your daily schedule looks like?
A: What I mainly do at CERN is covering VIP visits of politicians, professors, consults etc. as well as covering the maintenance operations in the Large Hadron Collider, detectors and Labs. Every now and then other events need to be covered (such as bike races, conferences, open days etc).
Q: What type of things do you typically shoot on CERN?
A: My aim by photographing for CERN is to show the physical size of the experiment but mostly to show the effort of the people who work there. CERN is run by people from different levels, different nationalities and from different backgrounds, this makes it unique.
Q: What was the most complex shoot you can remember you had to do for CERN?
A:  The structure underground is complex, there are many different narrow tunnels, scaffoldings, magnets, stairs etc. and the safety measurements are high. For me the shooting that I still remember was when they where lifting the superconductive magnets (they weight couple of tones) and the only place to photograph them was just right under them.
Q: How much of what you shoot are stuff that you choose to vs. stuff that you are told to shoot?
A: I can say that I am quite lucky because I can choose what I want to shoot apart from the work that should be done anyway. There are no standards in general, there are weeks that I have no time to shoot what I really want but there are also weeks that I have free time to do my side projects and to shoot for CERN's archive.
Q: How did the Higgs Boson discovery effected your work?
A: Now at CERN when we ask people to smile for a photo we don't say "Say Cheese" but "Say Higgs"! OK, taking that seriously, the discovery of course meant more publicity for CERN but that doesn't affect the way we work.
Q: How do you get around in the CERN tunnels?
A: Inside the tunnel of the Large Hadron Collider we use bikes as it's a 27 km long tunnel with more than 8 entrances. Every entrance is around 3km by bike far from the next one. Something really interesting is the fact that the tunnel extends from Switzerland to France, so there are even labels underground informing you where you are.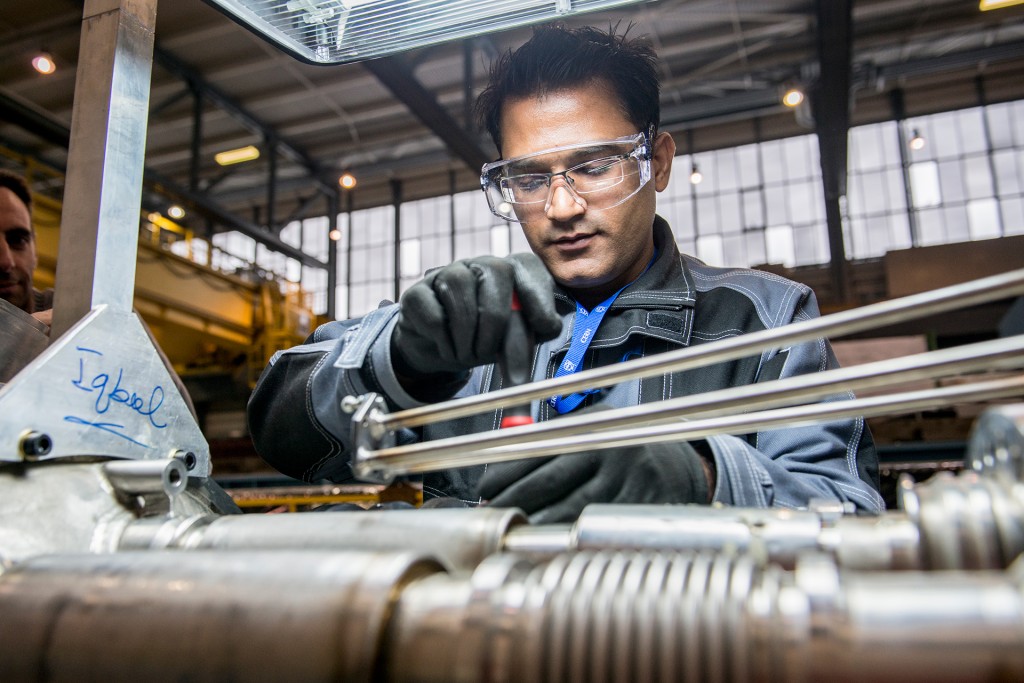 Q: When you shoot the more scientific / technological stuff – do you talk to the scientists and engineers and try and figure out a bit about what they are doing (do you have some science background?).
A: For me every photographer has to figure out before he/she even start shooting what is his/her thema is about and to plan the way of approaching it, this is the main job of a photographer. Being a photographer doesn't mean being a machine, all in all , everyone nowadays has a camera and is able to take good photos but the professionals are able to tell a story, visually and this is what makes them different.
Q: What kind of equipment do you use?
A: Personally I shoot with Canon, and I also got the Sony A7, but at CERN we use a Nikon D800 and Nikon D4 cameras most of the times with Nikon 24-70mm f/2.8 or Nikon 24mm or Nikon 12-24mm lenses.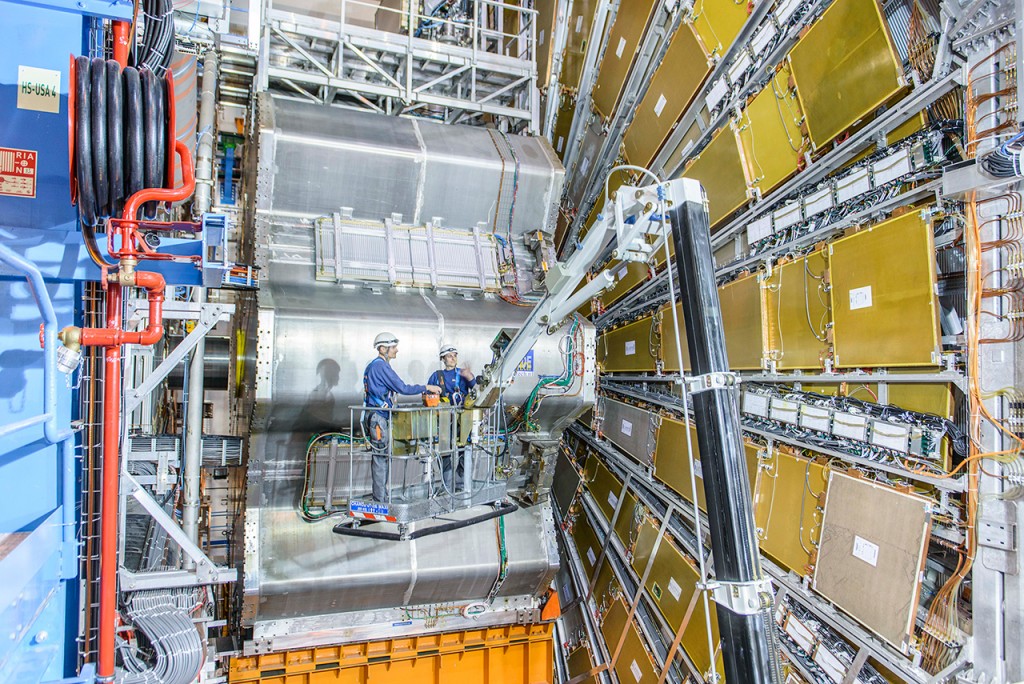 Q: What is your favorite image you took on CERN (and why)?
A: I think is the photo of people who are celebrating during the announcement of the physics' Nobel prize. Even if the prize was for Peter Higgs and François Englert everyone was clapping and smiling like it was theirs. That shows the collectivity which characterizes CERN.
Nobel announcement – On the left Rolf-Dieter Heuer  – Director General of CERN (Credit: Anna Pantelia/CERN)