After we recently reviewed both the new Tamron 150-500mm and the Sigma 100-400mm lenses we have been asked how they compare to one another so we decided to make a side-by-side comparison of the Tamron 150-500mm vs. Sigma 100-400mm.
We of course still encourage you to watch each individual review which has a lot more information on each of these lenses.
Although the Tamron might be closer in nature to the new Sigma 150-600mm lens that we shall review here soon, the Sigma 100-400mm might appeal to a somewhat different audience as we shall see as we go through this comparison.
Build and design
Optical Design
The Tamron has a somewhat more complex design with 25 elements compared to 22 of the Sigma, both in 16 groups. The Tamron also seems to have more advanced elements with no less than 5 low dispersion elements one extra-low depression element and 2 hybrid aspherical elements.
The front element of the Tamron 150-500mm
Materials
While both lenses are well made it is clear that the Tamron is significantly more robust but this might also have to do with its larger size and weight.
The Sigma 100-400mm open
Size and weight
Talking about size and weight, both lenses have about the same length closed down (21cm Sigma vs. 22cm Tamron) and exactly the same length when fully extended (29cm). Surprisingly, the hood on the Sigma is 1cm longer than that of the Tamron (7.5cm vs. 6.5cm).
Length alone does not tell the full story here. The Tamron is much beefier with a larger front element (as we shall see in a moment) and a thicker build all around.
This also translates into weight and this is where the real difference between the two lenses can be found. The Tamron weighs in at just shy of 2Kg while the Sigma tips the scale at a little over 1100g.
This is a huge difference and it is at least in part due to the lack of foot on the Sigma (which can add an extra 220g) as well as the shorter focal length but it seems that Sigma simply went for the lightest lens it could build.
Rings
Both lenses have a thick zoom ring in the front and a thinner focus ring closer to the camera. We didn't encounter any significant issues when using the rings on both lenses.
The Tamron does add the interesting option to lock the zoom at any focal length by pulling the zoom ring. The Sigma can only lock the lens for travel.
Buttons and switches
There are some interesting differences between the switches on both lenses. Both have AF/MF, a 3 mode focus limiter, and image stabilization switches but they function and are arranged differently.
The Sigma 100-400mm buttons and switches on the side
The Tamron's 3 mode focus limiter can be set to full/3m-infinity and 15m to infinity. The Sigma has a different setup with full/zero-6m and 6m to infinity. Which one is more useful depends mostly on what you shoot.
The Sigma also adds a programmable AFL button which does not exist on the Tamron.
Tamron 150-500mm range of switches
Sealing
On paper, the Tamron should have superior weather seals although testing in the summer we really had no way of verifying that.
Mount
Both lenses come in full-frame E-mount options while the Sigma also comes in an L-mount.
The respected equivalent focal ranges on APS-C cameras are as follows:
Sigma: 150-600mm.
Tamron: 225-750mm.
The Sigma 100-400mm mount (comes in E and L mount versions)
Hood
Both lenses come with a plastic hood. The Hood on the Sigma is 1cm longer but the Tamron has a much wider hood due to its large front element.
Aperture
The Sigma has a 9 blade aperture compared to only 7 on the Tamron. On the other hand, the Tamron has a slight advantage in an aperture at around 300mm as you can see from the numbers on our test (at 400mm they both are at f/6.3).
Sigma:
100 = f/5
200 = f/5.6
300 = f/6.3
400 = f/6.3
Tamron:
150mm – f/5
200mm – f/5.6
300mm – f/5.6
400mm – f/6.3
500mm – f/6.7
Filter
The Sigma has a small 67mm filter thread compared to the 82mm on the Tamron.
Foot
Another big difference between both lenses as we already mentioned is the foot. Being much larger and heavier the Tamron really needs a foot while the Sigma can easily be used without one although for more stability it is best to use it (and you can buy one from Sigma or from a third party).
As we explained in detail in our Tamron review, the collar and foot design are not good at all in our opinion especially if you are going to hold and carry the lens from the foot and we really hope that Tamron or a third party will make a new collar/foot for this lens.
Problematic foot/collar on the Tamron 150-500mm
Performance
Auto Focus
AF is a very important aspect of modern long telephoto lenses. While both lenses performed in a decent way in terms of speed and silent operation both do not seem to have the accuracy of Sony's own lenses and out of the two the Tamron was possibly the more accurate one on both our A7R IV and our A1 bodies.
Image stabilization
The situation might be the other way around when it comes to image stabilization with the Sigma having a slight advantage (4 stops vs. 2-3 stops of the Tamron), but it is also a shorter lens so easier to stabilize, to begin with.
Sharpness 
We tested the sharpness of both lenses using our special large professional Imatest high-end chart. Testing like this with such long lenses is complex, even our studio is over 17m/55ft long which is still not enough for a full chart test at 500mm.
Comparing the two lenses in the center of the frame wide open at the wider end of their respective focal lengths (and yes we know this is not an exact test but it is still good enough to learn about the comparable performance of each lens), you can see just how much sharper the Tamron lens is.
The corners on the Sigma are surprisingly a little better but still fall short of what the Tamron can do.
At the longer end of the telephoto range, the Tamron shows an even bigger advantage over the Sigma with a very strong performance wide open in the center. As for the Sigma, we highly suggest only using it at f/8 or f/11 if you want decent performance.
The Tamron keeps the performance crown in the corners as well but the Sigma is not as bad here at f/8.
Sharpness test – center: Tamron 150mm (top – f/5 left, f/8 right), Sigma 100mm (bottom – f/5 left, f/8 right)
Sharpness test – corner: Tamron 150mm (top – f/5 left, f/8 right), Sigma 100mm (bottom – f/5 left, f/8 right)
Sharpness test- center: Tamron 500mm (top – f/6.7 left, f/8 right), Sigma 400mm (bottom – f/6.3 left, f/8 right)
Sharpness test- corner: Tamron 500mm (top – f/6.7 left, f/8 right), Sigma 400mm (bottom – f/6.3 left, f/8 right)
Minimum focus distance (sharpness close up)
There is a very big difference between the two lenses when it comes to close-up performance. The Tamron can focus from a much closer minimum distance:
Tamron:
150mm = 58cm
500mm = 162cm
Sigma:
100mm = 97cm focus distance
400mm = 158cm focus distance
The macro magnification is also better on the Tamron – 1:3.1 vs. 1:4.1.
When it comes to close-up sharpness the Tamron is sharper in the center wide open at 150mm but due to field curvature, the corners will look blurred. At 500mm we do not see this effect.
The sigma doesn't have this limitation but is also slightly less sharp wide open on both focal lengths.
Close up test – Tamron 150mm (top – f/5 left, f/8 right), Sigma 100mm (bottom – f/5 left, f/8 right)
Close up test – Tamron 500mm (top – f/6.7 left, f/8 right), Sigma 400mm (bottom – f/6.3 left, f/8 right)
Note: due to the very different magnification we had to enlarge the images of the Sigma to match the Tamron.
Breathing
Both lenses exhibit very little focus breathing.
Chromatic Aberrations  
Both lenses seem to have little to no longitudinal chromatic aberration even with the camera correction turned off.
No chromatic aberration visable at 100mm (Sigma, bottom f/5 & f/8) or at 150mm (Tamron, top f/5 & f/8)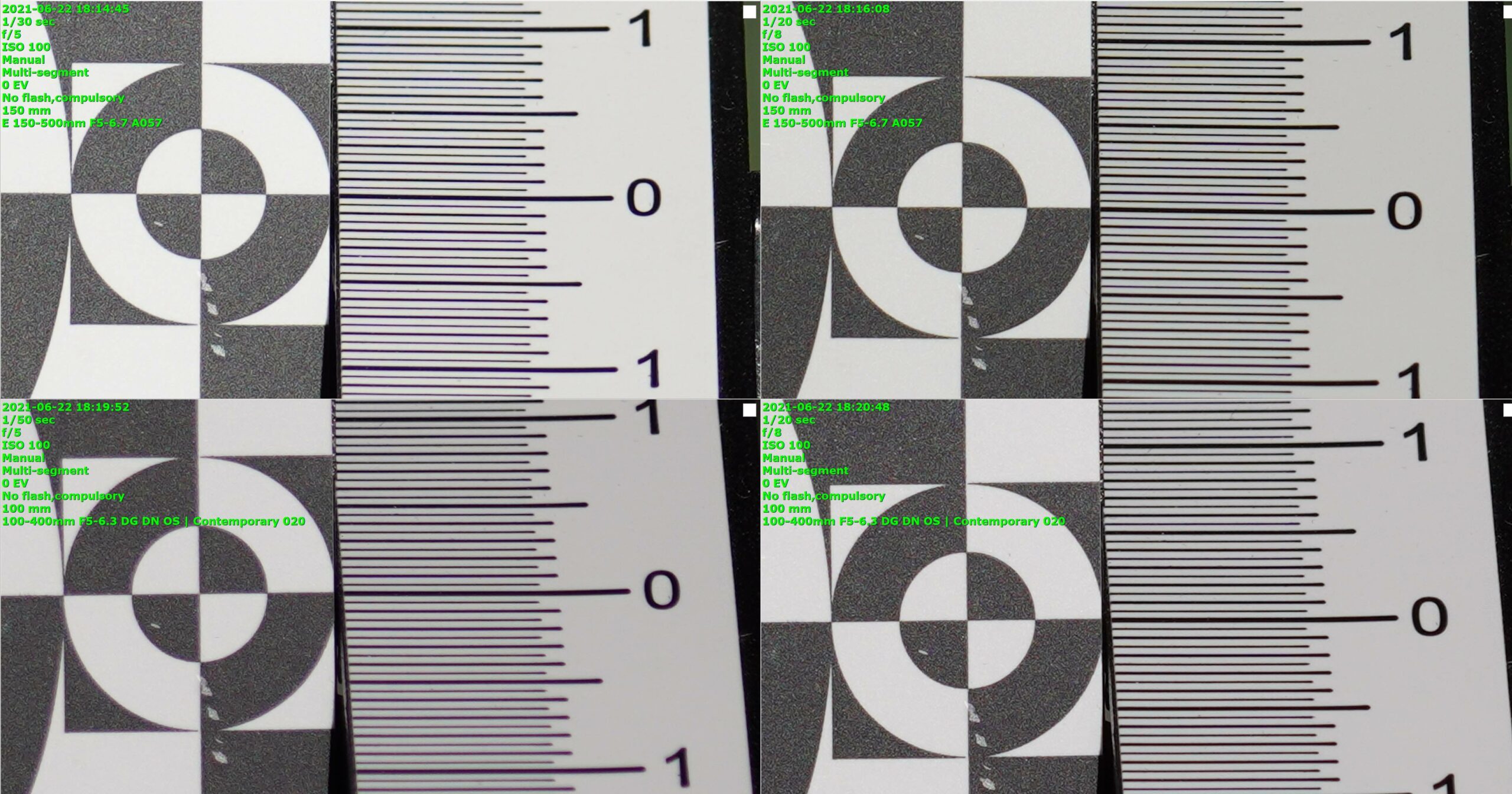 Also no chromatic aberration at 400mm (Sigma, bottom f/6.3 & f/8) or at 500mm (Tamron, top f/6.7 & f/8)
Flare
Both lenses seem to showcase more flare than we would like, so you really need to keep the hood on and avoid direct light as much as possible.
Vignette
Both lenses also have quite a lot of darkening in the corners when the camera correction is turned off, even at f/8 so you should certainly be aware of that.
Sigma vignette at 100mm – top left – f/5, top right – f/8, bottom left – f/11, bottom right – f/16
Sigma vignette at 400mm – top left – f/6.3, top right – f/8, bottom left – f/11, bottom right – f/16
Tamron Vignette test at 150mm – f/5 (left), f/8 (center) and f/11 (right)

Tamron Vignette test at 500mm – f/6.7 (left), f/8 (center) and f/11 (right)
Barrel distortion
When it comes to barrel and pincushion distortion, if you turn the camera auto-correction off you can see that the Tamron has basically no distortion, the Sigma, especially at 400mm, has very significant pincushion distortion.
Barrel distoration test – sigma 100mm (top left), Sigma 400mm (top right), Tamron 150mm (bottom left), Tamron 300mm (bottom right) 
Note: there was no way to shoot the full chart at 500mm in our studio (even at 17m away) so we shot at around 300mm (see above) but we tested other targets and the Tamron had very minimal distortion even at 500mm.
Bokeh
Both lenses can do a good job blurring out the background at their maximum focal length which is not surprising. The Sigma seems to provide somewhat more circular light circles when closing down about 1 stop or so.
Bokeh at 500mm (Tamron top left – f6.7, right f/8) and 400mm (Sigma, bottom left f/6.3 and f/8)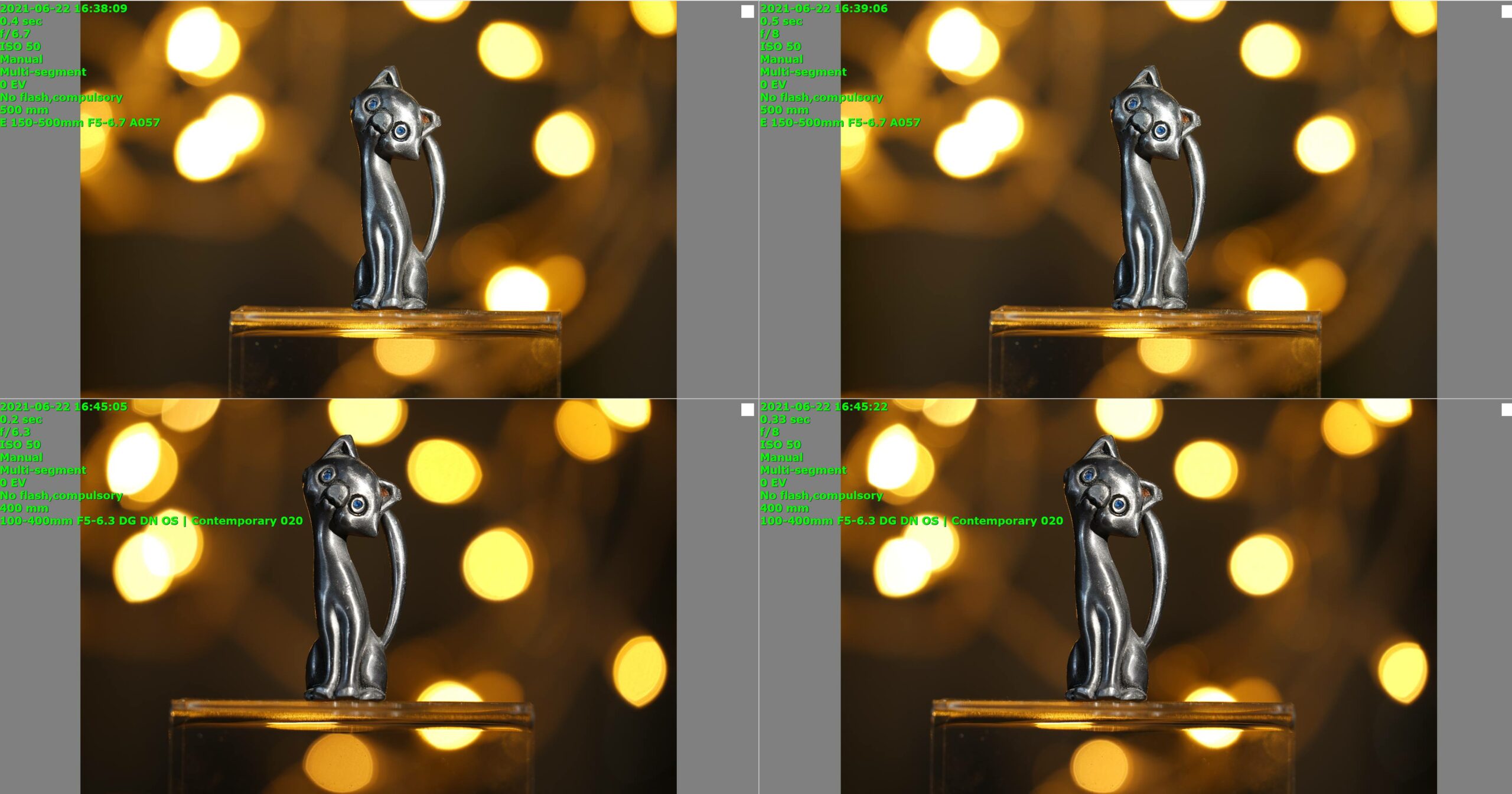 Conclusion
While both are zoom telephoto lenses that can be used in conjunction with Sony cameras (the Sigma works with L mount as well) they have been developed out of very different philosophies in their core.
The Sigma was created as an entry-level inexpensive, lightweight zoom lens with an emphasis on easy carrying and handheld use.
The Tamron is a longer and much heavier zoom lens developed to provide high optical performance at a higher price point with little to no regard to the added weight (Ironically, Sigma had this attitude for a long time with their Art series and Tamron was the one pushing for relatively light lenses such as the 28-70mm which was recently renewed).
At the end of the day when having to choose between the two, the decision is not difficult. If the weight and/or cost are your number one priorities go with the Sigma (just try to close down a couple of stops for better sharpness).
If you are looking for the more robust option with better optical performance all around and better close-up capabilities and are willing to pay, go for the Tamron. With that said – we have our upcoming Sigma 150-600mm review coming up soon so you might want to wait a bit.
Pricing
Pricing is a huge factor when comparing these two lenses. At the moment the Sigma sells for about  $950 (with an extra $130 for the foot) while the Tamron goes for $1400.
You can check out more LensVid exclusive articles and reviews on the following link.