We are proud to bring to you a review of the Nikon AF-S NIKKOR 80-400mm f/4.5-5.6G ED VR lens. Announced earlier in 2013 this is a new version of the older 80-400mm Nikon lens released back in 2000.
Super telephoto-zoom lens – the AF-S NIKKOR 80-400mm f/4.5-5.6G
There are some striking differences between the old and new version:
Optical structure – 20 elements (new) 17 elements (old).
ED elements – 4 (new) 3 (old).
Super ED – 1 (new) none (old).
VR (image stabilizer) – 4 stops (new) 3 stops (old).
Focus system – ultrasonic AF (new) screw-drive AF (old).
Lens coating – multi-coating+nano (new) multi-coating (old).
Minimal focusing distance – 175 cm (new) 230 cm (old).
Macro magnification – 1:5.7 (new) 1:4.8 (old).
Length – 203mm (new) 171mm (old).
Weight – 1570 grams (new) 1360 grams (old).
Price – $2700 (new) $1850 (old).
We tested the lens for more than a month extensively and shot over 5000 images with it on different locations.  We were very impressed with the improvements in AF speed, the VR worked perfectly and the image quality (as you might be able to see from some of the image samples we have here) is outstanding.
bottom layout on the lens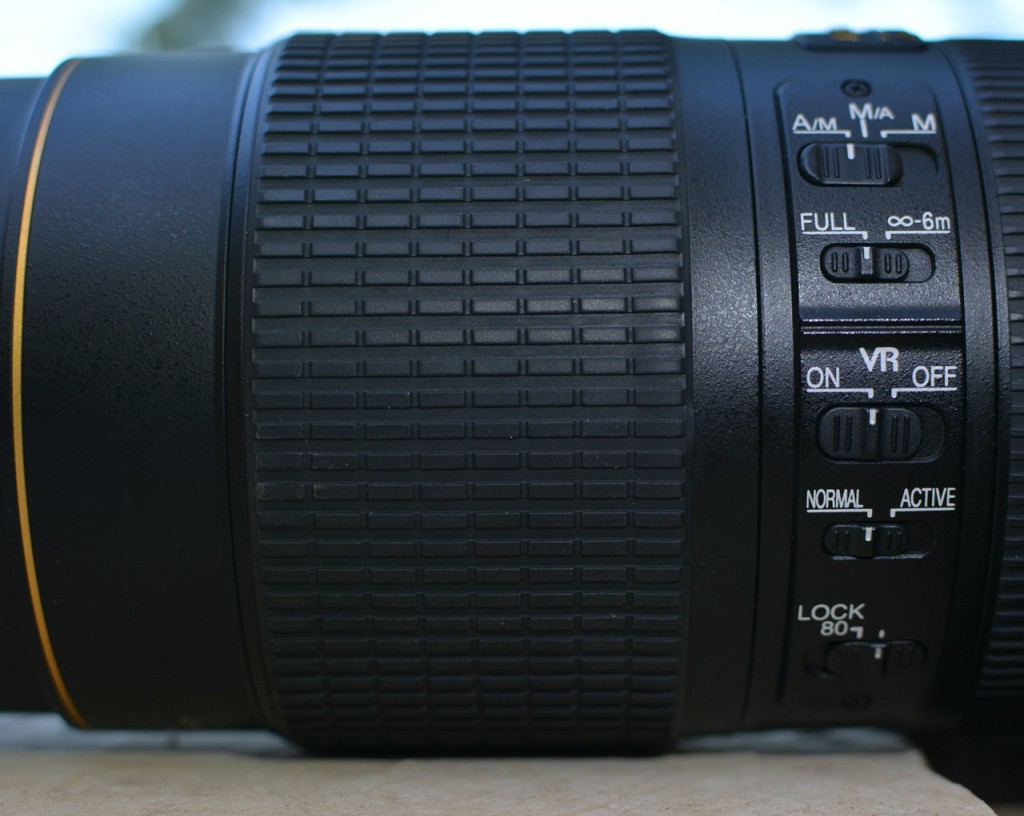 The build quality of this lens is also high – the only somewhat weak point was the hood which is made of plastic and doesn't fit 100% without moving. We did like the focus and zoom rings – both are big and have a very nice feel and friction.
You can see how sharp the lens is in the original (non-edited) version of the image above shot with a D7100, ISO 2000, 400mm, f/8, 1/320 sec – 100% crop) – check the tiny beard of the bird:
In terms of size and length – this is a really large lens – much larger than the older version and way bigger than most Nikon glass we are used to date (playing with the Nikon 800mm lens in Photokina doesn't count). We would really recommend using a tripod or at least a monopod with the lens although we did carry it in the hand for a full day more than once (but why break your back?).
We also kept asking ourselves who actually needs this lens? out of the thousands of images we took (mostly of birds but there were other subjects as well) only a very small minority (less than 5%) were shot in anything other than 400mm. So who needs the zoom?
Don't get us wrong – zoom is nice, but we would trade it off in a heartbeat for a lighter, smaller and much cheaper sized 400mm f/5.6 prime lens (such as the old Canon 400mm f/5.6 which cost about half and is much smaller and lighter. Although to be fair it doesn't come with a stabilizer).
So lets some up things with what we liked (and not so much) about this lens.
What we liked:
Very good image quality (even wide open).
Excellent build quality.
Fast and quiet ultrasonic auto-focus.
Effective image stabilizer
What we didn't care for:
Big, heavy and cumbersome (and honestly – do you really need the zoom?).
Hood feels slightly loose.
Expensive (currently around $2700 at B&H).
A few more images (you can see more images plus non-edited images – at the bottom gallery in our full review on our sister site MegaPixel.co.il)