Today we will be taking a look at a second 45mm full-frame lens. After our recent review of the Sigma 45mm f/2.8, published here last week, we will be looking at the new Samyang AF 45mm F1.8 FE lens.
Just as we mentioned with our previous review, our initial plan was to test this new full-frame mirrorless lens on the Sony A7R Mark IV, however, there have been issues getting this camera locally and so we had to rely on our Sony A6500 APS-C camera for this test. Like with the previous article, we will be adding some links to a number of other reviews performed using full-frame bodies.
Samyang AF 45mm F1.8 FE compact full-frame lens
Design and build
Optical Design – the lens has a very simple optical design with 7 elements in 6 groups including 2 aspherical elements and a single ED element. It also has 9 aperture blades (unlike the Sigma which only has 7).
Materials – The lens seems to be made mostly from plastic which is a major difference between it and the Sigma 45mm lens which is made almost entirely from metal. Talking to Samyang we understand that only the outer shell is plastic while the inside housing is made of metal.
Size and weight – Like the Sigma, the Samyang is also extremely compact measuring just under 7cm (or 2.5″) long and weighing only 166 grams (5.8oz).
Rings – The lens has only a single ring for focusing. It is based on a fly by wire mechanism and has no hard stops. It feels nice in the hand with decent resistance and is a bit wider than the one on the Sigma and not as close to the hood which makes handling it a bit more convenient.
Samyang 45mm F1.8 – A single ring
Buttons/Switches – Unlike the Sigma, the Samyang has no switches or buttons on the lens – everything is controlled from the camera.
Stabilizer – It also has no image stabilization so it is up to the camera to stabilize your shots.
Sealing – The lens has no dust and moisture resistance so be aware of that if you are using it in wet or dusty environments.
Mount – the Samyang 45mm was designed specifically for Sony E-mount cameras so no other versions are available at the moment. The mount itself is made of metal.
Hood – The lens has a tiny plastic hood that adds very little to its size and weight. We are unsure of how much it really helps when it comes to avoiding direct sunlight or flares but it is still nice to have.
Filter – The tiny front element of the lens accepts 49mm lens filters.
Performance
Focus speed – The focusing speed of this lens is mostly adequate as we have viewed on our testing. It is not as quick and the focus lock doesn't seem to have the "bite" of Sigma's AF system, but it does a good job in AF-S mode when shooting stills and a pretty quick job in AF-C as well. In the video, however, we noticed the motor moves in jumps and is not as smooth as the AF motor on the Sigma.
Focus accuracy – Focus accuracy was typically fine although we did get a few occasional miss focuses which we didn't get on the Sigma, although to be fair we did shoot a lot more with the Samyang.
Sharpness – Moving on to sharpness, as we did on our previous review we will be using our new high-quality IMATEST resolution chart from a distance of about 2.5 meters (just over 8 ft).
We compared the results of the Samyang to those of the Sigma and have a few interesting observations. First, the Samyang is not super sharp or contrasty wide open, closing down to f/2.8 though we see a big improvement in both sharpness and contrast and it looks like the Samyang is sharper than the Sigma in the center but not as sharp in the corners. At f/4 both look about the same across the frame and are very sharp.
As we noted in our previous review these are results from our Sony A6500 which is an APS-C camera with a 24MP resolution. However, based on what we have seen from other reviews (see Christopher Frost's review and Dustin Abbott's review) who tested this lens on high-resolution full-frame cameras from the A7R series, it seems to be a good representation of how the lens will work on those cameras as well.
Center sharpness at f/1.8 (300% magnification)
Side sharpness at f/1.8 (300% magnification)
Center sharpness at f/2.8 (300% magnification)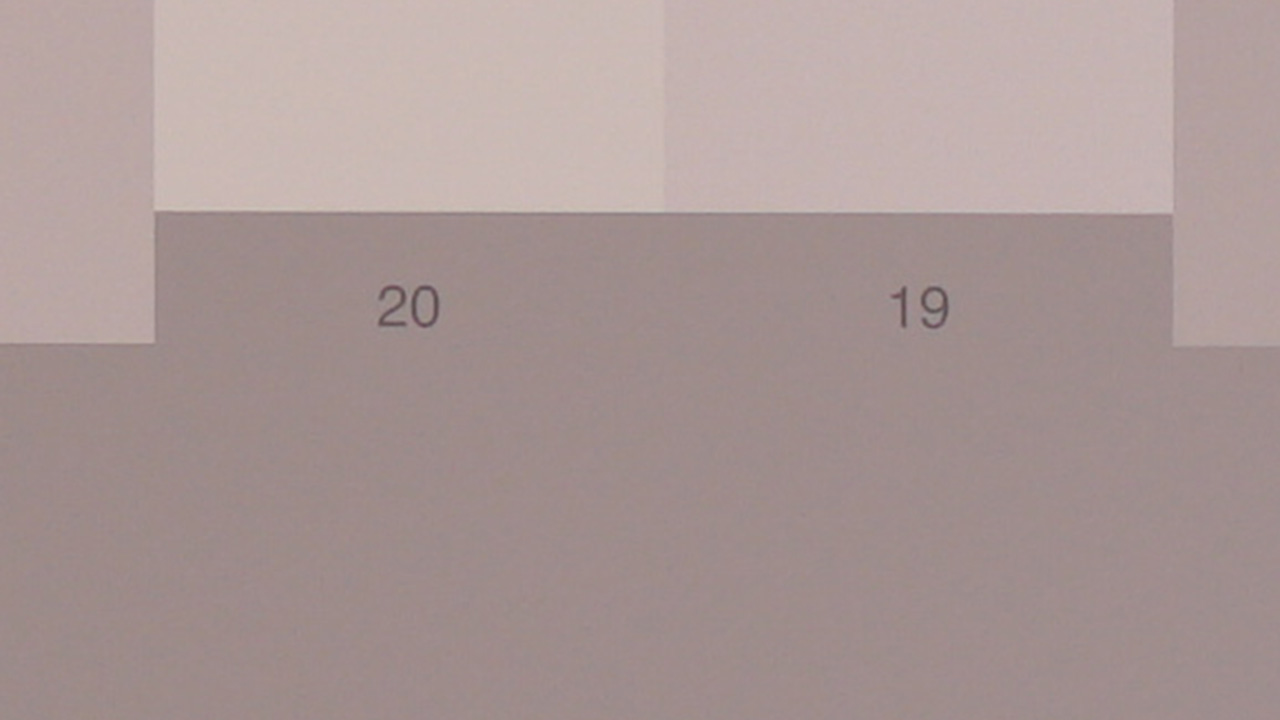 Side sharpness at f/2.8 (300% magnification)
Center sharpness at f/4 (300% magnification)
Side sharpness at f/4 (300% magnification)
Minimum focus distance (sharpness close up) – The Samyang has a longer minimum focusing distance compared to the Sigma – about 40cm compared to only 24cm of the Sigma. However, having a good close up distance is not enough if the image quality isn't very good – especially wide open which is what we discovered with the Sigma. On the Samyang the wide-open sharpness is decent and closing down to f/2.8 it is very sharp although with very noticeable chromatic aberration.
Min close up – 100% magnification crop – center of the image (f/1.8)
Min close up – 100% magnification crop – corner of the image (f/1.8)
CA – Talking about CA, we did find quite a bit of color distortion in our tastings which might very well be chromatic aberration when shooting wide open, closing down seems to make it go away.
Visible chromatic aberration on the left of the image (green)
Flare – The lens did exhibit quite a bit of flaring but it looked very different than the flaring pattern of the Sigma lens – you should decide for yourselves which is more distracting.
Vignette – just like with the Sigma 45mm, testing a full-frame lens vignette on an APS-C body doesn't make a whole lot of sense but we did it anyway and it looks as if there might be some corner darkening even on APS-C until about f/4. Other reviewers who tested this lens on full-frame cameras concluded that wide open there is indeed quite a significant corner darkening, but closing down to f/2.8 reduces it considerably.
Barrel distortion – we observed a very small amount of pincushion distortion with this lens which you can probably correct quite easily in post.
A small amount of pincushion distortion 
Bokeh – Although the Bokeh of this lens doesn't look too bad, we actually preferred the Sigma's rendering of light point and you can definitely see some CA in our test image.
Bokeh at f/1.8
Samples (stills)
We took the lens with us to a recent trip to the Nederlands alongside the Sigma 45mm but since Sigma's AF motor stopped working after a few days, we ended up shooting a lot more with the Samyang and you can see some of the images we took here.
Images shot with the Samyang 45mm in the Nederlands (using our Sony A6500)
Conclusion
It is far easier, to sum up, this review than it was on our previous review of the Sigma 45mm. The Samyang 45mm is a great all-around performer, it is small and compact, has decent AF especially in stills and its sharpness is generally better than the Sigma – especially wide open and at closer distances.
A very strong budget option
More than anything it has very few noticeable weak points (maybe besides chromatic aberration) and selling for only $350 it is a very strong budget option in our opinion for anybody looking for a compact, light, walk around full-frame lens in the 50mm or so range for their full-frame (and even APS-C) E-mount camera.
One question remains – is there really no reason to choose the Sigma 45mm? well, we still very much prefer the Sigma's design and metal build and the AF of the Sigma seems to perform better – especially in video, plus the lens doesn't seem to exhibit any noticeable chromatic aberration, unlike the Samyang. On the other hand, you will be sacrificing the wider aperture of the Samyang as well as the sharpness at brighter apertures and closer distances and of course pay about $200 more with the Sigma – so you should really need to have your priorities straight before you invest in that lens.
You can check out more LensVid exclusive articles and reviews on the following link.