During IBC 2022 we had a chance to take a first look at the prototypes of its new lens series called Samyang V-AF showcased in the Xeen\Samyang booth and talk to John, the marketing manager of the company who gave us some details about the new line.
Samyang V-AF
At the moment five lenses were announced from the Samyang V-AF  line to be released over the next year or so with the 75mm being the first to reach the market – below is the full list – all FF lenses with an E-mount only option:
20mm T1.9
24mm T1.9
35mm T1.9
45mm T1.9
75mm T1.9
The release dates of the Samyang V-AF lenses
The V-AF range was designed based on Samyang's Tiny series of compact still lenses in terms of optics but with a very different housing.
The gears are all physically in the same location so switching lenses will not affect where a follow focus needs to be placed and the weight (280g) and balance of all of these lenses is also the same as well as their focus throw (300 degrees) which can be very useful when working with cameras mounted on gimbals and drones etc.
The Samyang 24mm T1.9
A very unique feature of the new series is the existence of a small tally light in the front of the lens (so your talent can know that video shooting had started when lit in red) but also on the side.
All the lenses in this line have a weather sealing and focus hold button as well as a Samyan'g costume switch, 70mm front diameter, and 9 aperture blades.
The back of the lens is made from a special semi-soft plastic material while the front is metal and has room for some future line of accessories (we were not given any hints as to what those might be at this point).
The first of the five lenses, the 75mm T1.9 will start shipping soon for around $630.
The Samyang 75mm T1.9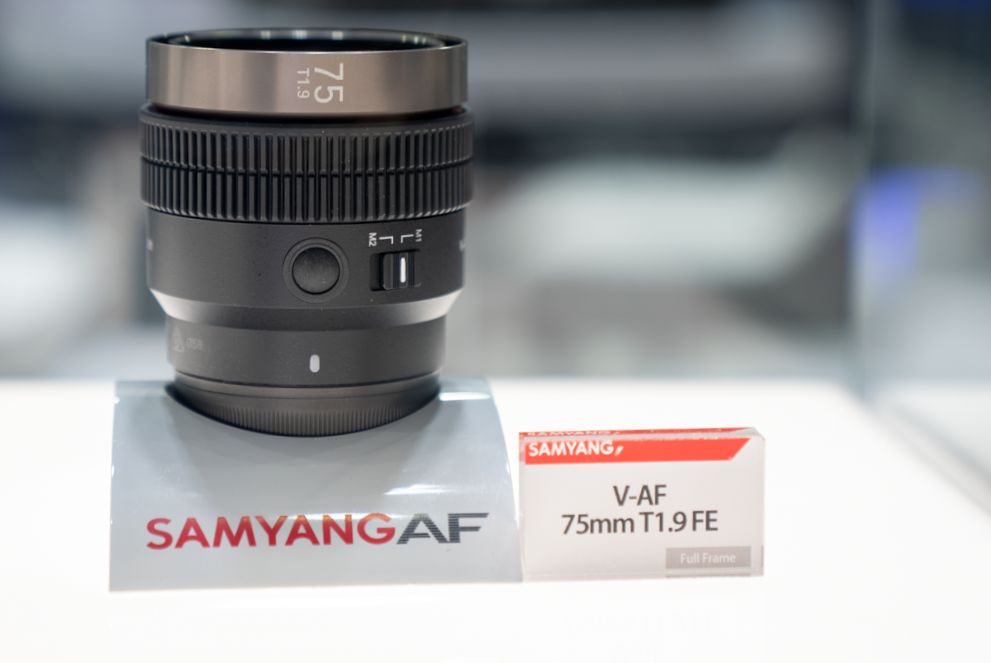 For more of our coverage on LensVid from IBC 2022 – please visit the following link.