Today we have the privilege to be one of the first websites to try out the upcoming Gitzo Légende tripod and backpack, which have been a part of an Indiegogo campaign that was announced by the company a few weeks ago.
We have already covered some of the basics about this campaign in our article published just after the announcement, so today we are going to focus more on the actual hands-on of both products.
This is not a full review, as we only got these products a few days ago, but it should give you a general understanding of the quality and functionality that you should expect, and some of the pros and cons of both units.
The new Gitzo Légende tripod and backpack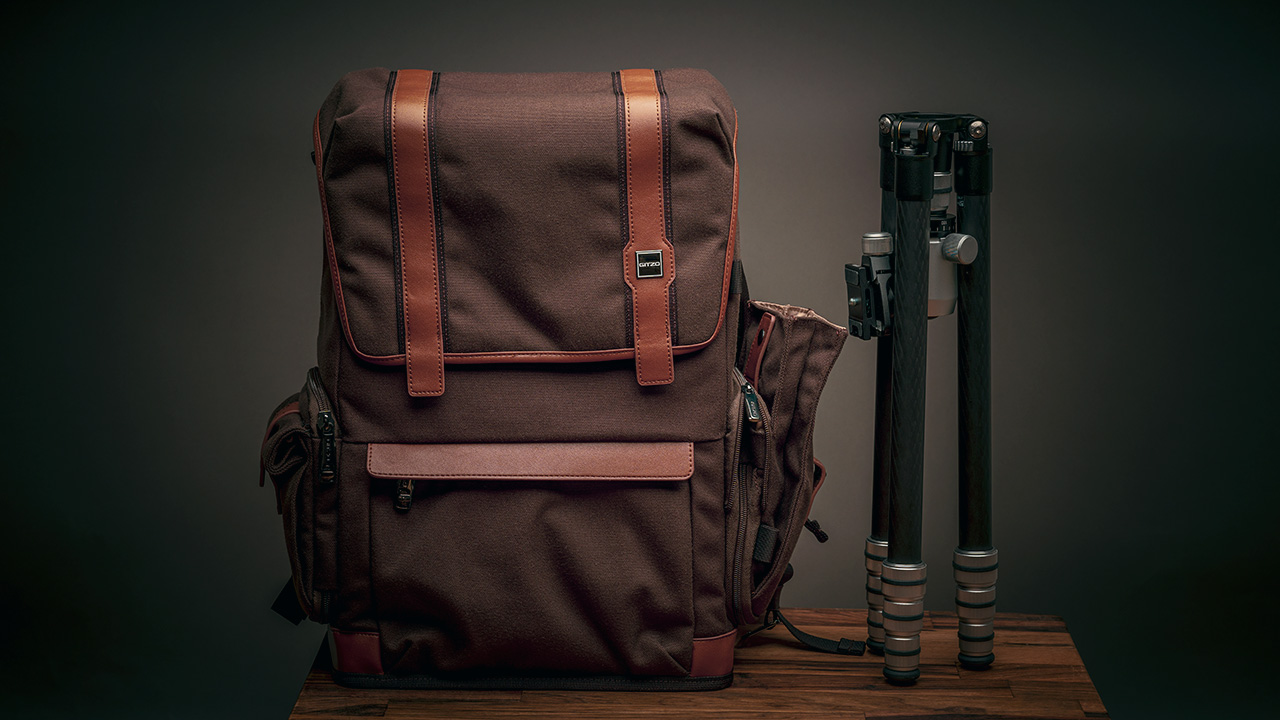 A brief History of Gitzo
Gitzo is one of the oldest camera gear manufacturers still in operation today. It was founded in France in 1917, and over the years it produced all sorts of gear including some military equipment.
Since the 1960s, the company focused more heavily on producing high-quality photographic tripods. In 1992 it was acquired by Vitec, which also owns Manfrotto, and a little over 10 years later, the production of the Gitzo tripods moved to Italy.
One of the main points that Gitzo always liked to emphasize was reliability and repairability, and this is something that they have been talking about a lot with the new Légende tripod as well, calling it a tripod durable enough to last for a lifetime of adventures.
While some might read this as just another marketing talk, we can actually attest to the fact that we have two Gitzo tripods (Gilux Total and Gilux Studax) both in working condition that are at least 3 decades old and with the proper care should last for many more years. Interestingly – Gitzo still has replacement parts for both (we needed some new rubber bands for one of them, which we got from e-bay a few years back).
The Gitzo Légende Tripod
The Gitzo Légende tripod (model number GK1545T-RTI, Gitzo was always terrible when it comes to model numbers) is very similar to some of the company's existing line of Carbon fiber lightweight compact travel tripods (we are specifically talking about the GT1545T and to some degree the slightly larger GT1542 that we have been using for the past few years with great success).
However, the Légende does have some small but important design and functionality differences that we shall review in a moment, but first here is a rundown of some of the basic features of the tripod:
Weight (legs only with center column) – 1.092KG / 2.4lbs [1.0KG / 2.2lbs without the center column).
Weight with head – 1.557KG / 3.4lbs.
Carrying capacity – 8KG / 17.6lbs (official).
Leg angles – 2 (25 degrees and 70 degrees).
Leg sections – 4 (25mm thick upper section; 14.7mm thick lower section).
Min open height (no center column with ballhead) – 30cm.
Min closed height (closed down on itself with ballhead) – 42cm.
Different heights (25 degrees with ballhead; 1-4 leg sections open) – 55cm / 81cm / 109cm / 139cm
Different heights (70 degrees with ballhead; 1-4 leg sections open) – 30cm / 37cm / 44cm / 50cm.
Max height (center column closed with ballhead) – 1.39cm
Max height (center column open with ballhead) – 1.63cm
Feet – removable rubber feet (1/4" 20 threads).
Let's take a closer look at the tripod, and where it differs from the existing Gitzo line. In terms of design, Gitzo chose silver leg locks with a small black rubber ring in the middle, instead of full rubber locks. We actually prefer the original rubber design in terms of functionality, but the new design is O.K. as well and certainly looks more unique.
On the plus side, the leg angle locks are of a new metal design, which feels and functions better. They only have two angles (25/70 degrees), it would certainly be more useful if they included 3 angles, like some of the slightly larger Gitzo legs (the GT1542 for example).
The new angle lock mechanism
Another useful change has to do with the rotation angle markings that used to be on the ballhead, and are now more clearly marked on the top plate on the center column.
Talking about the ballhead, the new ballhead that comes with the Légende tripod has a somewhat different design and look than the existing Gitzo mid-size ballhead that we have been using (GH1382QD), and certainly better than the small size Gitzo ballhead (GH1382TQD), which has no friction knob at all.
After using several Gitzo and Manfrotto ballhead designs over the years, we have to say that while the build quality of the Gitzo heads might be better, we really prefer the design of the Manfrotto X-Pro ballheads (see our review here), and we would really like to see an all-metal Gitzo version of this head in the future.
The new Légende Ballhead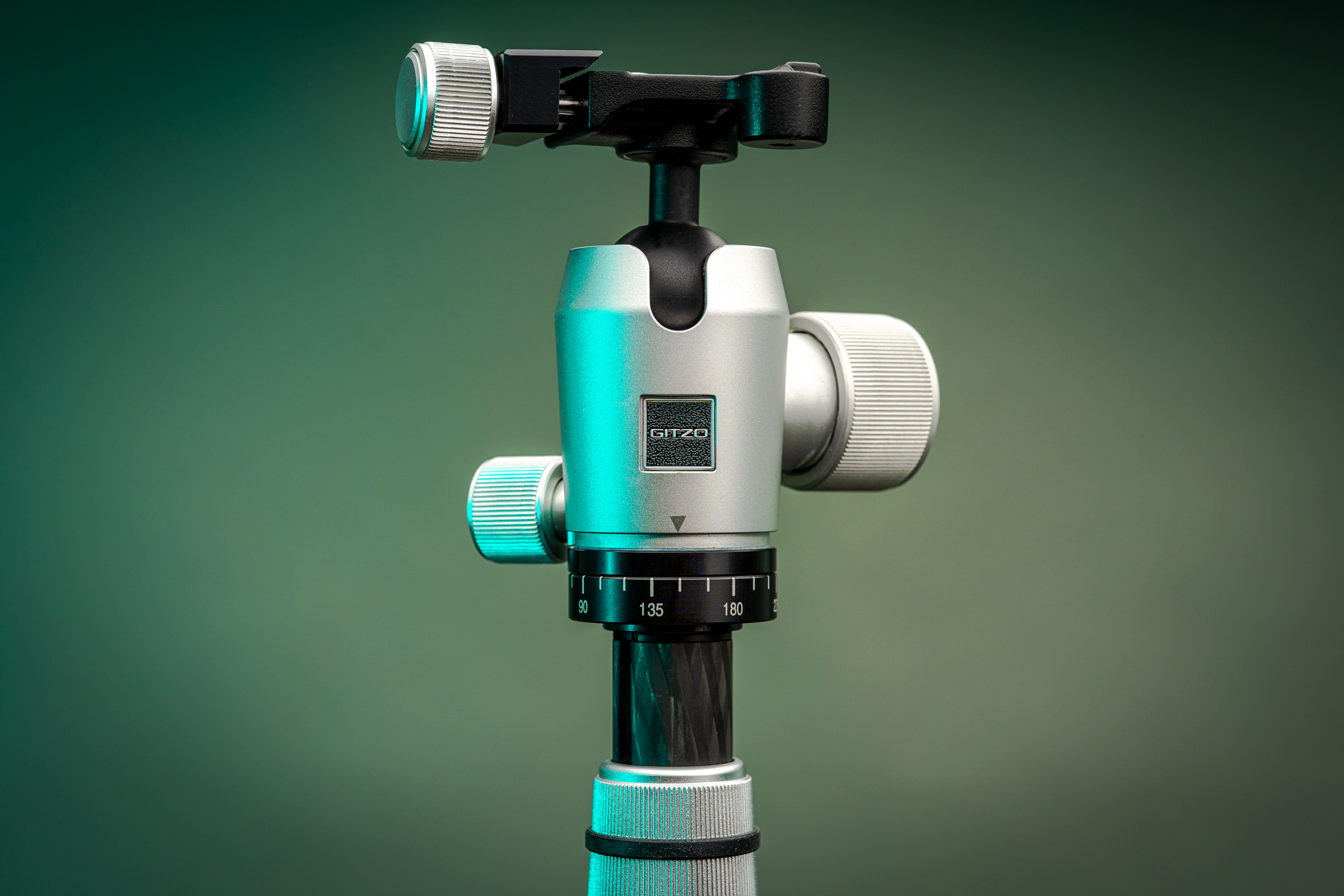 The Gitzo Légende Backpack
While a new high-end tripod is certainly something that we came to expect from Gitzo, a luxury camera backpack was somewhat of a surprise (although the company does currently sell two camera travel bags as part of its line).
The new backpack is made from what Gitzo describes as sustainable materials and eco-friendly synthetic leather and they both feel nice to the touch with the green-sustainable material a bit more rugged than you might expect.
The bag has a tremendous number of small features and a lot of attention to detail. One of the first things that we noticed was the SecureLock zippers, which we would love to see in other bags as well, and two expanding side pockets with a deep place for a tripod or a bottle of water. These pockets are very well made and it also helps that the material is so rugged. Many bags have thin side pockets that a tripod can rip through over time.
Lots of attention to details – Gitzo Légende backpack
The bag has room for both a laptop up to 15″ and a 10″ tablet separately in a compartment located in the back which is secure and convenient (just keep in mind that not all tablets with cases will fit).
You also get a front and side pocket for small accessories, with the side pocket being RFID-protected which is not that common on camera bags. There is also an expandable side pocket (on one side of the bag), but it will only stay that way when it is open.
The main camera gear compartment is located in the lower part of the bag and is only accessed through the side pocket. It can store a full-frame mirrorless camera like our A7R IV with a fairly long lens (we were able to squeeze in the new Sigma 100-400mm lens, but it was a bit of a tight fit), plus two small to midsize lenses.
While getting the camera out of the bag is pretty convenient and quick, taking out the extra lenses and switching between lenses is not ideal in our view. A back zipper that could open the entire compartment would really help in this case.
The top compartment is where the majority of space in this bag is. It has two magnetic locks that you need to pull in order to open it up. The compartment has some extra fabric which you can close (although not completely) to get some extra rain protection, we are not big fans of this solution but then again, we rarely shoot in the rain.
Inside there are plenty of places to put things, including a side zipped pocket, a place for memory cards, pens, and more. There is also an included rain cover in case of heavy rain. The only thing missing in our view is an optional insert for more photo gear, for those wanting more than two extra lenses. Otherwise, there is lots of room for a jacket, food and lots of accessories.
The back support system is pretty comfortable for small to midsize complexion (large body people might find the bag a little bit on the small size). We did feel that a waist strap and a chest strap would have made this bag more convenient for longer walks with heavier gear.  (We would also consider making the lower part of the back of the bag a bit softer, as you can certainly feel it on your back after a walk).
Bottom Line – who is the Gitzo Légende for?
The answer to the question of who is the target audience for these products based on our recent experience is actually pretty simple. Let's start with the tripod. If you are looking for a high-quality light travel tripod that will very likely last for many years to come and has a pretty unique look, the Gitzo Légende tripod is a very tempting option (especially with the current Indiegogo pricing – see below).
Who are these products for?
It has some small improvements and a single minor change that we like less (the metal twist legs instead of the full rubber ones), but for the most part, it is very similar to the existing series of lightweight travel tripods by Gitzo.
We have been using a number of these tripods for over 3 years, and they have been working fantastically well without any major issues and we can certainly recommend them if you have the budget (we do prefer RC2 quick release plates over Arca Swiss but that is just a personal preference).
As for the bag, this is much more a matter of personal taste. It is very well made with lots of attention to small details and a very stylish design (if you like the "safari-style look" that is).
Maybe the biggest flaw is the fact that there is no way of accessing the gear compartment other than the side pocket. If you are using a camera with one main lens and some personal accessories, that might be fine. But if you have one or two extra lenses and you switch a lot, that can become inconvenient.
Pricing
Gitzo is considered a premium brand and usually sells at premium prices. With this Indiegogo campaign, potential buyers have the chance to buy a lightweight series one Gitzo travel tripod with a few modifications for about $80 less than the price of a similar existing comparable tripod or just under $520, which might not sound cheap, but is actually a pretty nice bargain.
When it comes to the bag, $180 might not be quite the same bargain, but if you want it and you purchase it together with the tripod, you will be saving another $20 or so.
The Gitzo Légende tripod & bag kit in the field
You can check out more LensVid exclusive articles and reviews on the following link.