One of the most innovative new products that we have seen in IBC this year was the Loki camera robot system developed by the German company Zinema-motion. The robot named Loki looks and acts very much like a smaller and much more affordable version of the large robotic camera arms used on large productions and high-end commercials.
Robotic camera Arms
Robotic arms have been used in the film and high-end professional commercial industry for quite some time now. In fact, we have several articles covering different robots and different uses of robotic arms including one on the robotic camera revolution of music videos and one specific to the use in high-end commercial work by no other than Steve Giralt from NY who is probably one of the most well-known experts in the field.
The main problem with these amazing devices has always been operation complexity and pricing. While some of the more recent models are much simpler to operate than what has been the norm in the past (at least for basic moves), the cost is still a huge hurdle for anybody who wants to use them on a regular basis (even renting one is not cheap). Depending on the model, these large robots typically cost well over $100K with many models starting at around 1/4 million dollars or more.
These prices are not accessible to small or even most mid-size productions and if you are shooting relatively low-budget productions you will never be able to afford using that type of gear. But what if there was a much cheaper alternative? one which cost about 1/10 the price and can still offer enough speed and flexibility for small tabletop-style productions? Enters Loki.
Two Loki robot arms at a demo in IBC 2022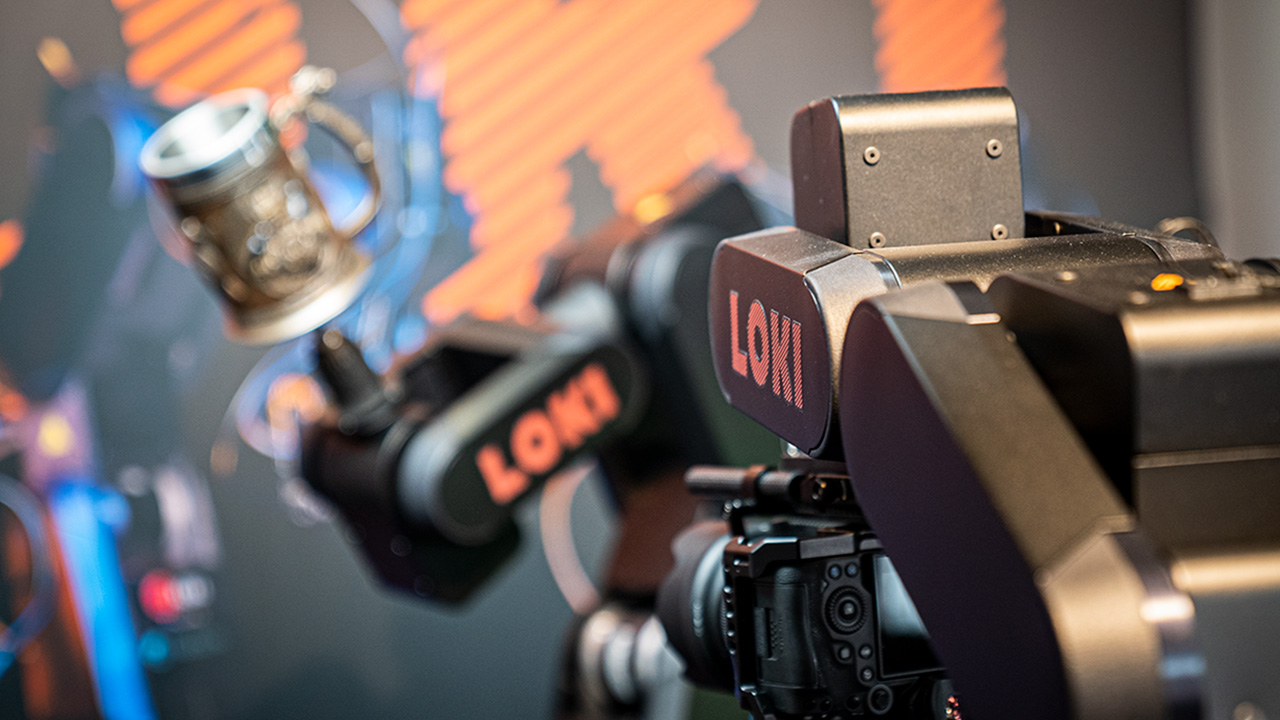 Loki – a more affordable Robotic option
Zinema-motion is a new company from Germany with the goal of developing a motion control robotic solution for small video production studios focusing on product and tabletop creations capable of high-speed motion sequences.
Michael Ziganek, the company's co-founder who demonstrated the Loki robot to us on IBC has been working on the project since 2021 developing all the software needed to precisely control a compact industrial robotic arm in a simple way from either a touch screen interface or a simple Xbox game controller (for simpler moves).
Loki is a 6-Axis robot arm that sits on a heavy mobile robot base that you can move around in the studio (and lock in place). It can reach up to about 1.1 meters or 3.6ft and can hit programmed targets with an accuracy of 0.05mm and can do so repeatedly for VFX and other shots which require this level of accurate repeatability.
The large industrial robots like the big Bolt robot are also very fast (and by the way very dangerous for that reason as they move a large mass extremely quickly). Loki is smaller but can move extremely quickly at 4m/s (the Bolt can reach up to 14m/s on a track and about 5m/s on its own but with a much heavier payload).
Loki can carry up to 3kg which should be enough for most mirrorless setups as well as small slow-motion cameras such as the Chronos and Freefly Wave.
The Loki comes in a kit that includes a large base (45kg), the arm itself (around 30kg) a follow focus motor by PDMovie that can be controlled from the software (designed by PDmovie – the same one we reviewed here recently) as well as a command box and 13.3″ touch monitor and wireless remote unit.
Pricing and availability
According to Ziganek the Loki is available for pre-order for $22,450 (or Euros) not including shipping costs (the robot and base come in a very heavy package mind you) with the track system coming in early next year.
For more of our coverage on LensVid from IBC 2022 – please visit the following link.