Here on LensVid we have looked at many types of storage solutions for content creators. From compact portable drives to Advanced NAS units. The device that we shall be looking at today sits somewhere in between serving both as a regular dual drive, mini-USB hub, and a user programable RAID array.
OWC or Other World Computing based in Woodstock Illinois and had been developing different peripheral devices for computing for over 30 years. The company currently has a very extensive (and to some degree a bit confusing) line of portable external drives and hubs with UBS-C and thunderbolt 3 options with different port options and different top speeds.
You can buy the Mercury Elite Pro with either dual HHDs, dual SSDs (2.5"/3.5"), or with no drives at all and use your own inside. Our test unit came with two fast OWC SSDs (we will look at some numbers in a second) but the official top transfer speed of the hub is rated at 1026MB/s write speed (read speed isn't officially rated) when used in RAID 0 mode which is pretty impressive.
The OWC Mercury Elite Pro Dual with 3-Port Hub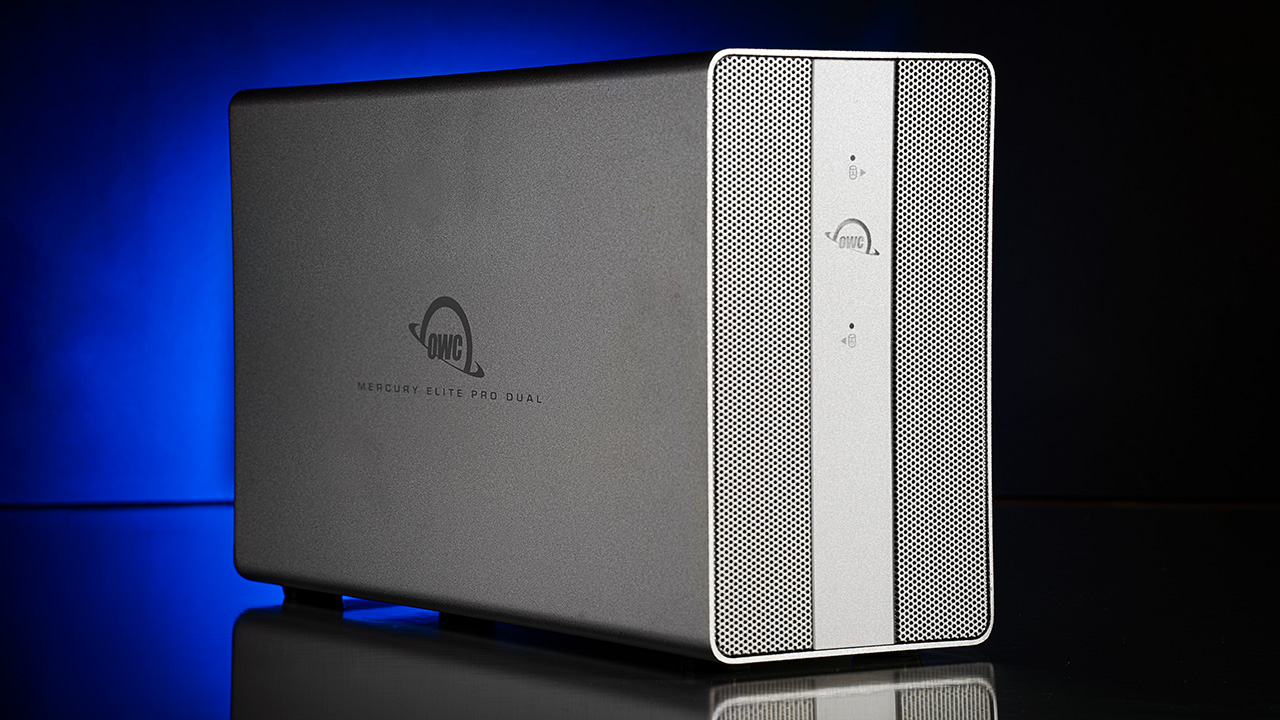 To install or change the drives in the unit you will need to open two center screws on the back of the unit using a small Philips screwdriver and tilt the unit forward and pull the inside part. Inside our unit, we found two 2.5" OWC Mercury Extreme PRO G6 drives (officially rated at 559MB/s read and 527MB/s write) held in place by a single side screw.
The OWC Mercury Elite Pro Dual build and design
On the front of the unit, there are three indicator lights, the top will blink red for right side disk errors or missing disks and green for normal activity, the lower LED will do the same for the left disk. The middle OWC logo will show solid white when connected to power and solid blue when connected to power and an active host.
On the back starting from the lower part there is a proprietary DC in (the unit does have an external power brick and works with 110V-240V (although we had to use an EU adapter to work with our local wall outlet). Next, there is a security lock and dual USB 3.2 10Gbps USB Type-A ports as well as a single USB 3.2 10Gbps USB-C port (up to 3A) for peripherals and another USB 3.2 10Gbps USB-C port for a host device (it is possible to connect this unit to a PC/MAC or even mobile devices). Both USB-C ports have OWC ClingOn connector (which is sold separately) and designed to prevent accidental disconnection of the cable.
The RAID modes and setup
The most interesting part is in the top part where you can find a 4 mode RAID dial selector and RAID set button. Finally, there is a 60mm fan in the back that based on our experience so far doesn't produce any audible noise.
The RAID dial selector offers RAID 0 (default) for speed, RAID 1 (redundancy), as well as Span where both drives show up as a single large disk (data is written sequentially across the drives. When one drive becomes full, data is written to the second drive. This combines the capacities of the drives, but it does not provide any performance or data redundancy benefits unlike RAID 0/1) and finally JBOD (just a bunch of disks) which shows each drive separately without being combined.
To change the RAID mode, disconnect the device from the host and powered it off, rotate the RAID dial using a paper clip or flat-head screwdriver (you should feel a click). Once you're done reconnect the power supply cable then use a paperclip or small screwdriver to press the RAID Set button and only then connect the USB 3.2 data cable to the host computer. The button should remain pressed until the new volume appears on your Desktop and you are asked to format the drive (keep in mind that each time you change RAID modes all DATA on the disks will be deleted, from our experience this mechanism for changing modes is a bit cumbersome and we needed several attempts to make each change. It also didn't work exactly like the manual described on our PC- may be a software solution would have been better in this case).
The unit itself comes with a USB-C to C cable, USB-C to A cable an external power supply, and a quick start guide.
The Back of the OWC Mercury Elite Pro Dual with 3-Port Hub unit (dual USB-A, dual USB-C, and RAID options)
OWC Mercury Elite Pro Dual performence
Now that we covered the design, built and operation of the unit we can talk about the performance. Please keep in mind that the performance numbers that we are sharing here are based on the model that we received which uses dual SSD drives, but this should provide a good benchmark for what the case can provide when paired with a fast dual SSD.
When set to RAID 0 we got the following transfer speeds on our test system in the studio (equipped with Win 10 Pro a Core i9-9900K processor, 32GB of RAM, Asus RTX 2070, graphics, Gigabyte Designare z390 motherboard with dual TB3 ports, and reading and writing to the internal dual Samsung 970 NVME SSD drives):
Crystal Disk Mark 7 – Read: 786MB/s, Write: 1022MB/s.
Our Java automatic transfer code test – Read: 679MB/s, Write: 685MB/s.
Manual transfer – Average real-world transfer speed – Read: 319MB/s, Write: 603MB/s.
The drive Crystal Disk Mark 7 score
The differences here are a little bigger than we would like to see, especially between our automatic Java script and the manual control test (we ran the manual test several times) so we don't really have a good explanation.
Here are the numbers for manual transfer with RAID 1: Read: 326MB/s, Write: 380MB/s.
Here are the numbers for manual transfer with Span: Read: 335MB/s, Write: 389MB/s.
Here are the numbers for manual transfer with JBOD: Read: 260MB/s, Write: 394MB/s.
OWC Mercury Elite Pro Dual Pricing
As for pricing, the model that we have been testing with dual SSD drives (2TB total) sells for $460 (other versions are also available up to 8TB with SSDs as well as HHD or empty for only $128) from the OWC website (the version we tested is also found on B&H).
You can check out more LensVid exclusive articles and reviews on the following link.