Today we are taking a quick detour from our scheduled review schedule and a before we move on to take a closer look at the FLM CB38 ballhead, we are going to take a quick look at a different product that we have been using for quite some time here on LensVid as well as on a new vegan video culinary project that we have been shooting recently called Veggiez (feel free to share with your friends – it out it is really cool).
So as I mentioned, the product that we are going to look at today is called the Photek TRI-X-2500 and it is a heavy-duty horizontal extender for your tripod, which lets you shoot overhead shots with your DSLR more or less anywhere, as long as you have a tripod that can carry it.
This type of product can be extremely useful for food photography and product photography but also for getting shots from angles that are otherwise hard or even impossible with just a tripod.
Photek is a Connecticut-based company that makes mostly different types of lighting and studio accessories such as umbrellas, softboxes, backgrounds, and a few other things. Although there are a number of manufacturers which make horizontal extenders for your tripod, most of them are quite short compared to the TRI-X-2500 which is over 90 cm or 35 inches from side to side.
The TRI-X-2500 – heavy duty long arm for overhead shots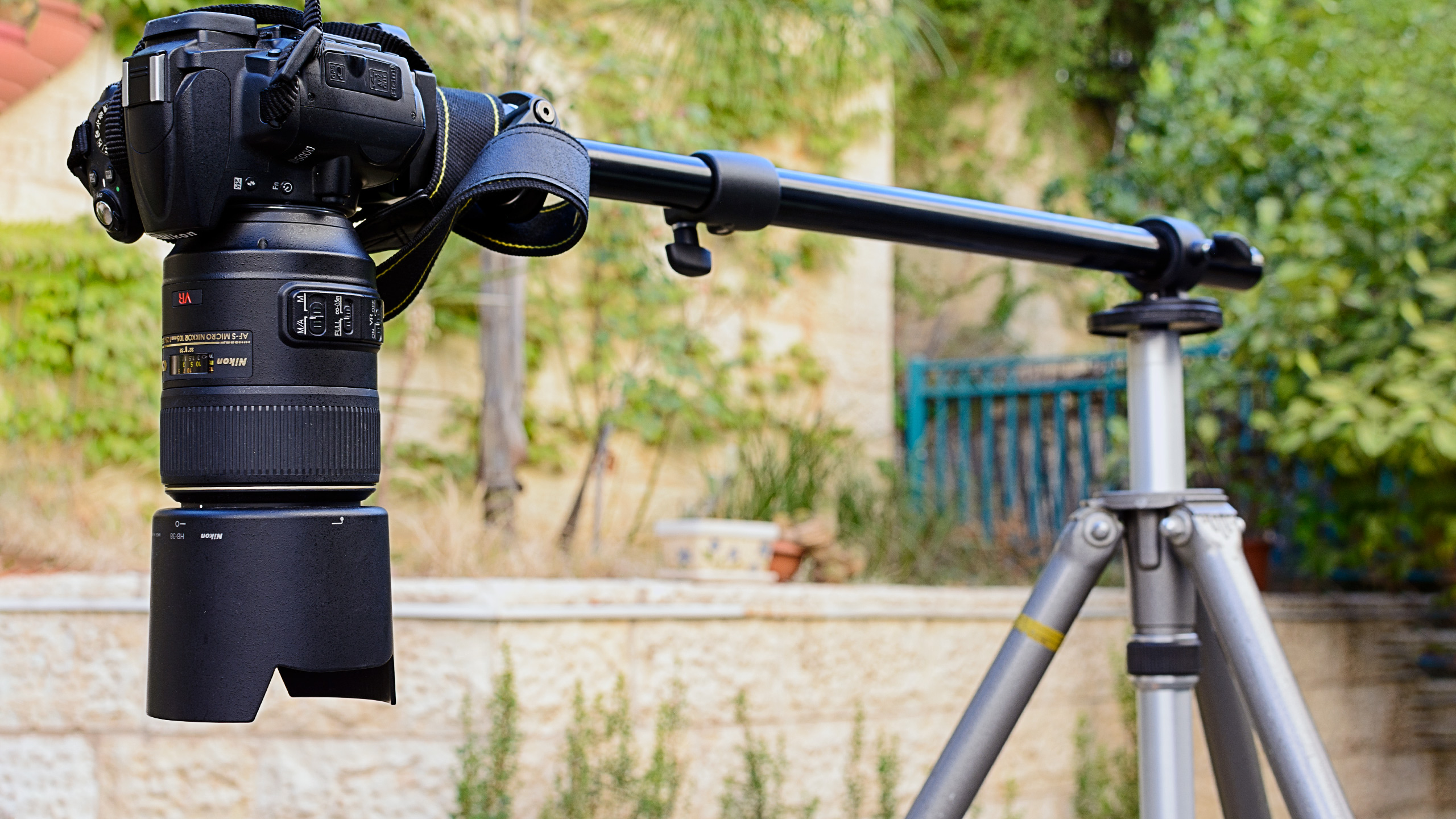 Construction
When it comes to construction, we were actually surprised at just how well build this unit is. Almost the entire unit is made out of metal and is actually pretty heavy at 1.3kg or 2.8 lbs which is about the same weight as a light travel tripod. You will need this heavy-duty build though if you are going to carry a DSLR with a pretty heavy lens looking downwards.
On one side of the unit, you have the base with two mounting holes – a 3/8″ 16 and a 1/4″ 20 – we highly recommend that you use the 3/8″ 16 whenever possible as it can hold more weight and is also much more common on tripods (we shall talk about how we used it in the next section).
Above the base you have a locking knob which lets you move the base backward and forwards – we actually recommend that you keep a bit of room in the back (we keep about 10cm).
In the front, you have another knob that locks the second part of the unit and you also have the head. Some of the other horizontal extenders on the market don't come with a head but the TRI-X-2500 comes with a very nice and sturdy ballhead with two 90 degree angle groves and our favorite quick release system – a Manfrotto style RC2 which we use all the time for almost everything.
Basically, everything about this unit is very solid – there are just two things that we might have done differently – we would probably use more heavy-duty knobs (the ones that come with the unit are O.K., but for such a robust unit we would definitely replace them with larger butterfly 1/4″ 20 knobs – which is possible since you can screw the existing ones out).
Connect directly to the tripod
The second thing is the absence of a hook for counterweight at the end of the unit. Photek told us that they don't feel that it is necessary, but I actually think it could be helpful at times with a heavy camera on the other side (there are other horizontal extenders which do have a hook so this isn't too far fetched to ask). You might be able to DIY a counterweight (either by drilling at the last part of the pole and adding a screw or in a different way) but we have yet to try that solution ourselves.
Could have used a hook in the back
In Use
Let's talk about our experience using this unit. As we mentioned we used it mostly for shooting overhead food making (both stills and video) for our new food channel and it worked very well.
After experimenting with the unit for some time we did learn a few things which we would like to share with you:
You will need a heavy-duty tripod preferably with a weight or sandbag under it- we used our old studio Gitzo tripod and put a heavyweight under it to hold our rig.
This one we learned the hard way – although you might think that the right way to use this accessory is to attach it to a head – it hasn't been our experience – when mounting a heavy DSLR there is simply so much downwards pressure at the end of the unit that no head that we used was able to overcome it. Our recommendation – remove the head, and connect the unit directly to the base plate of your tripod (you might be able to use a head with a very light camera and with the unit closed all or most of the way).
We would suggest using this unit fully extended unless you are using a very light camera. It is long enough for most uses even not fully extended and you will apply less pressure this way if you are using a heavy camera setup (you can actually see the slight curve the unit gets when it holds our DSLR at the tip of the unit when it is fully open).
The unit is very sensitive to vibrations. The longer you open the pole the more vibration you will feel – use the sturdiest tripod with weight and be careful not to touch the tripod while using it. Also, after you turn the camera on or start shooting give the camera a few seconds to ease out the vibrations.
It is very advisable to work either tethered or wireless – which is how we have been shooting using the great DSLRdashboard software and our camera external WIFI unit – this way you will not need to touch anything on the camera.
From our experience the TRI-X-2500 can hold a pretty heavy camera/lens combo – we used our D7100 with a pretty heavy 105mm macro lens (which is about a 1.5kg setup), and it was able to hold it well – we would probably not use much more than that, and not fully open but, for most relevant use cases that we can think of it will not really be necessary anyway.
We are going to do a separate review of tripods which have a built-in the horizontal bar and although these type of contraptions can be useful in some situations, the TRI-X-2500 is a much more professional tool that goes much longer, carry more weight and you can connect it to a much taller and sturdier studio tripod.
Overall, if you understand the limitations of the unit you can use it very effectively just like we did for overhead shots and videos. If you have watched our video on building a DIY overhead camera rig you know that we have been looking at different options and this one is definitely cheaper and more portable although maybe not as robust, and it does have a larger footprint due to its need for a large tripod.
Great for food photography/videography
Finally, it is worth mentioning that you can achieve possible similar results with a C-stand and arm with something like a Manfrotto 155RC Double Ball Joint Head at the end but if you already have a studio tripod and don't have a C stand with an arm – the TRI-X-2500 is going to be much cheaper. We are hoping to be able to test the C-stand option in the future though.
Conclusion
For anybody who is shooting food photography, products, or just any sort of top-down shots either in a studio or outdoors, the TRI-X-2500 is in our opinion at least, almost a must.
Yes, you can find other ways of shooting these things but the TRI-X-2500 gives you a lot more freedom because it goes anywhere with your tripod, it is long and has a great reach. It can also carry a full DSLR without any issues especially if you give your tripod enough support and not open the pole all the way out.
Requires a heavy-duty tripod 
To be honest, there is very little not to like about this unit if you know how to work with it – a hook at the end could have been nice and maybe sturdier knobs, but otherwise, it is well built, functions nicely, and provides a very important tool for photographers who needs it.
Finally, it is actually not that expensive – at just under $80 this product is in our opinion a great bang for the buck, so if you need it and read our list of limitations and are O.K. with them – go get one.
What we liked
Well, build a heavy-duty unit.
Extend long enough for most uses.
Great ball head in the front with a Manfrotto style RC2 quick release system.
Quite portable despite its substantial weight (when folded).
Relatively inexpensive.
What might be improved
Doesn't have a hook at the end for counterbalance.
The locking knobs can be a little more robust.
Heavy (1.3kg/2.8lbs) – but this is the price you pay for a robust unit.
You can check out more LensVid exclusive articles and reviews on the following link.
Update: We now have a whole new subsection dedicated to tripods for you to check out with new releases and reviews plus lots of info and videos.