Today we are taking a look at the Hollyland Cosmo C1, a wireless HDMI transmission system that boasts 300m/1000ft of range (line-of-sight) and enhanced signal strength that stands up to interference even in complex environments. All of this comes is in a small package with a choice of connections and power options.
Pro wireless system – Hollyland Cosmo C1
In the box
Hollyland ships the system in a well-made hard plastic carrying case with a hard foam interior that houses the transmitter and receiver, antennas, power supply, mounting arm and expansion, and a USB adapter.
Build and design
We've reviewed a couple of Hollyland devices in the past, and they all have an impressive design (see our Mars X and Mars 300PRO reviews). The C1 features a metal body, decorated with a machined aluminum logo, color-coded labels for the transmitter and receiver, and a special ball catch design on the battery plate to prevent accidental release.
The transmitter and receiver share the same design. The units are pretty compact and weigh in at 214g (.5 lbs). Of course, if you add a battery and use the included arm, the whole setup gets a bit heavy. We wouldn't recommend mounting it on your camera's hot shoe.
Hollyland Cosmo C1 accessories
On the right side of the units, there is a light indicator that glows yellow when a connection is established. This indicator turns red to indicate a low battery.
Below the indicator, there is a small menu screen, a clickable control dial, an on/off switch, and a USB-C port for power.
As alternatives to power the unit, Hollyland included a battery option with L-type batteries and DC adapter option. Please note that there is only one DC adapter included in the kit.
On the bottom of the unit, there is a ¼'' mounting hole. The included expansion can be installed onto the front panel of the unit to mount it horizontally. There is a small cold shoe attachment included in the kit.
Three power options – Hollyland Cosmo C1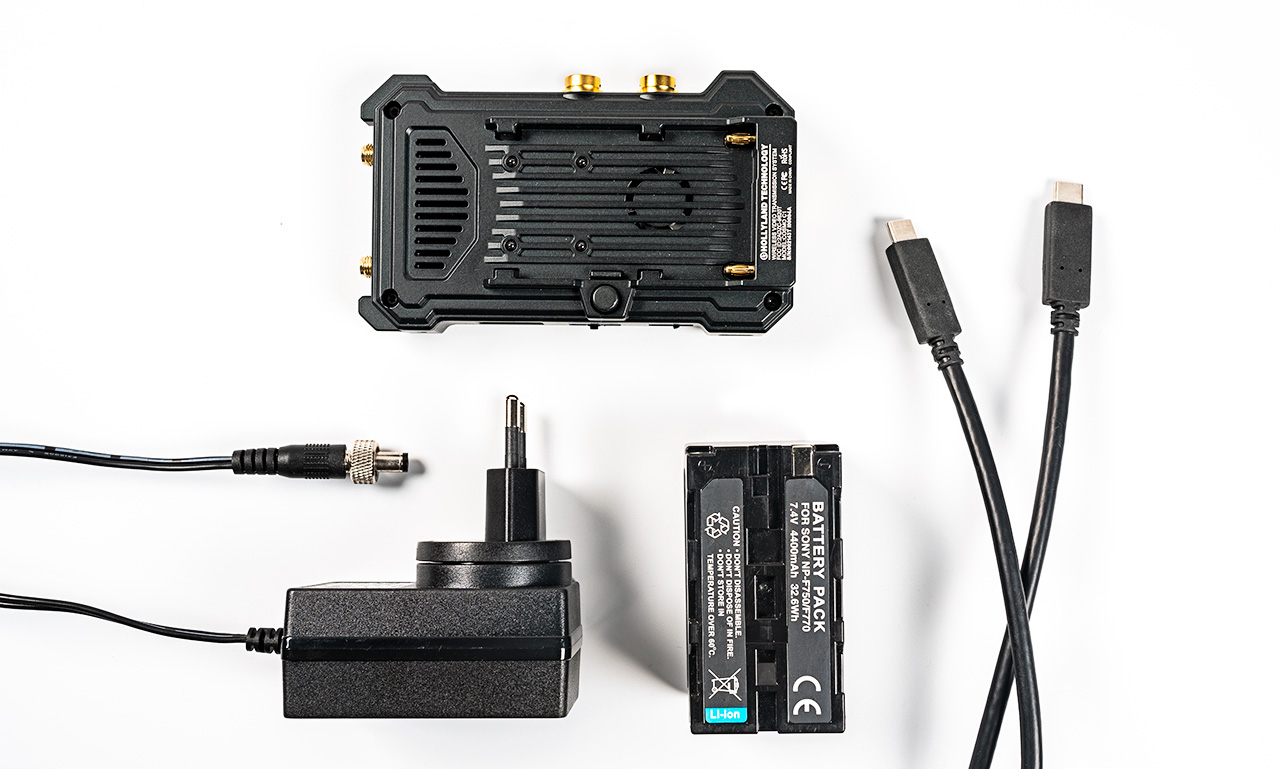 Each device uses two antennas. For storage and transport, these unscrew from the top of the unit. There are also two mushroom antennas provided in the kit. These are used on the transmitter in situations, where there is a big height difference between the transmitter and receiver.
Different antennas for different use cases
The C1 comes with an HDMI port and two SDI ports, allowing for up to 3 monitors to receive feed simultaneously. We tested this feature with an HDMI cable connected to our Sony camera, and it worked fine.
To keep the C1 from overheating, there is a small fan inside with a vent on the back panel of the unit.
New technologies and features
The menu on the units is pretty simple. It allows you to change channel settings, language options, and to reset the unit.
When powered up, the units connect automatically. The auto channel feature is turned on by default.
We were surprised that this unit does not have a WiFi connection to be used with the HollyView app. It's a very handy app that we reviewed with the Hollyland Mars X transmitter in 2020.
According to Hollyland, the Cosmo C1 is designed with the new HEVO wireless transmission technology, not based on standard WiFi transmission protocol. It's not clear if it will be able to connect with the app in the future, either.
A very useful technology that this system is equipped with is Adaptive Frequency Hopping (AFH). This allows the units to seamlessly and automatically switch between frequencies in case of interference.
The Hollyland Cosmo C1 connected to a Sony A7R IV camera
Another very useful addition to this system is embedded UVC, which allows you to stream your camera's feed simply by connecting the C1 receiver to your computer with a USB-C cable.
We tried this feature, and it worked pretty seamlessly. OBS recognized the video feed right away. In the properties, the camera is labeled as UVC camera.  We did have some issues with Zoom, though. At times, the software wouldn't see the feed, even though it recognized the UVC camera.
This is a great feature for live presentations and even to upgrade your image during video calls with a 1080p stream at 60 frames.
We would really like to see Hollyland come up with a solution where smartphones are able to use this and not just computers (our phones could not see the camera when connected with a USB-C cable, but this might be dependent on the specific phone you are using). This way you can live stream from anywhere.
Performance
The official C1 latency is 40ms. In our tests, we found it to be even less. It's definitely low enough to pull focus in scenes that are not very dynamic. For action scenes, you'd probably need a lower latency provided by much bigger transmission systems.
We tested the range on the C1. In our experiment, the transmitter is sending feed from a camera on the street to the receiver in our third-floor studio. The feed was stable even from about 150m/500ft away. We did lose connection when the camera entered the building, but interestingly from inside the elevator, it reconnected again.
Low latency wireless HDMI
On the third floor of the building, with walls and two metal doors between the transmitter and receiver, the feed had no issues.
In working with the system, we recorded the battery life for both units. We were only able to get just over 2 hours from a 40W L-type battery. For prolonged use, there is always DC or a power bank through USB-C.
Conclusion
Hollyland has really stepped things up with this system. Everything from the presentation and design to improved technology and streaming function comes together in a transmission system that connects easily and provides a stable video feed.
It would be nice to see WIFI integrated into this system and a solution that will allow streaming when connected to a smartphone which can really turn these small units into a versatile pro system.
Powerful no-nonsense wireless HDMI
Pricing
As for pricing, the Hollyland Cosmo C1 sells for $900.
You can check out more LensVid exclusive articles and reviews on the following link.