Today we will be taking a look at 3 new products by Zitay which include two fast USB-C battery chargers and a Z-type Sony battery with an interesting trick up its sleeve.
Back in June 2021 we looked at several interesting power-related products from the Chinese manufacturer Zitay, including the first fully functioning USB-C to Dummy Z-battery and a unique L-type battery with USB-C PD in and out (for power and charging) as well as dual DC connectors.
New chargers and batteries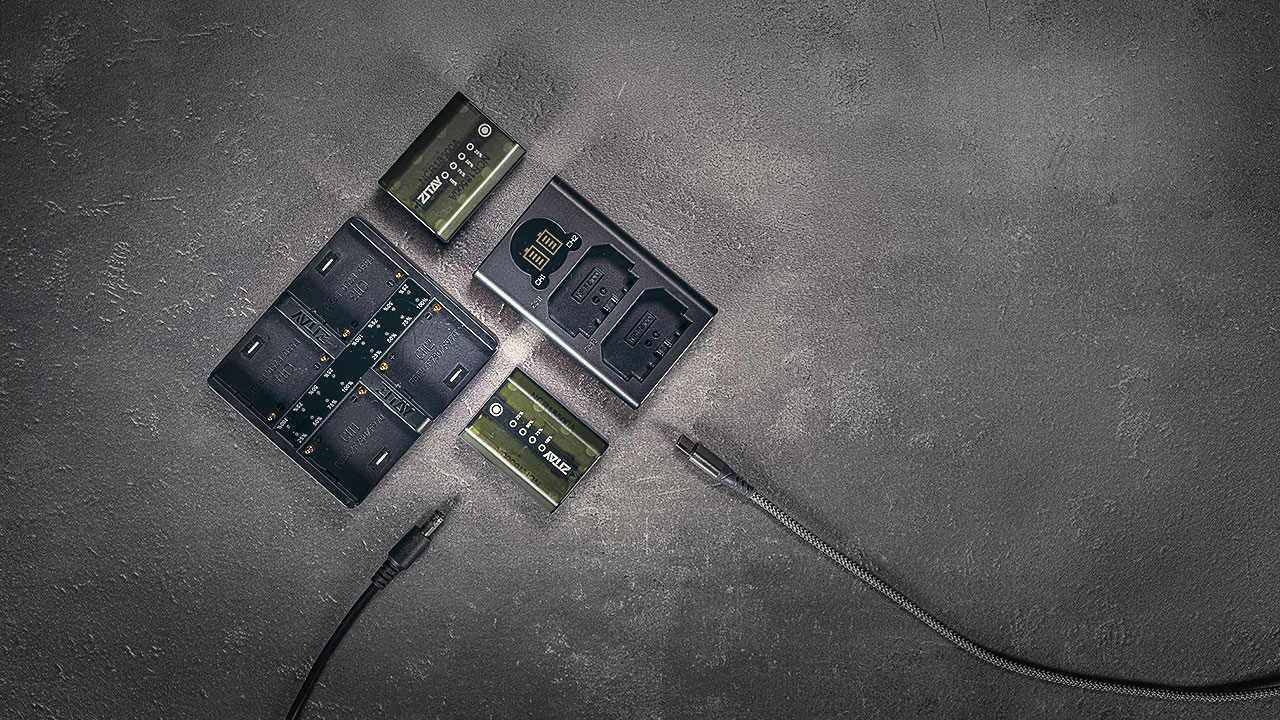 The three products that we shall review today are the following:
4 Slots Fast Charger for Sony NP-F Mini / L-Type 
The first product we got from Zitay this time around is a quad L-type battery charger. The charger accepts both USB C up to 60W and 5-20V DC power (although it only comes with a USB-C cable in the box).
What you will notice right away with this charger is how small it is, not just for a quad charger but even by dual L type battery standards it is tiny, measuring less than 10cm by 9cm and only about 2 cm thick.
The batteries are placed with the connecting pins downwards, they lock securely and the charger is not tipping down even with a single large and heavy L-type battery on one side. To remove a battery simply pull it out.
The charger has individual charge indicators for each port with four blue lights indicating 25%/50%/75% and 100% of charge. It will show you the charge status of a battery even when the charger is not plugged in – useful if your battery has no indicators.
The tiny new quad L battery charger
One indicator that is missing from the charger is some sort of audible feedback when the battery is fully charged as we have on our ISDT NP2 charger (our favorite Sony battery charger for FW-50, NP-FZ100, and NP-BX1 batteries).
As for charging speed, we were able to charge the Zitay 10,600mAh L-type battery that we reviewed last time alongside our YINCHEM L-battery 6600mAh (model RL-F971 L) in around 5:15 hours (the smaller YINCHEM finished well before).
Please keep in mind that there are some limitations on charging more than 3 high-capacity L batteries at the same time with this charger (see charging status table below).
Charging status table
Z-type battery with meter
The second product is a Z-type Sony battery with an included touch button and a meter with 4 levels.
The idea is actually really neat. While some larger L and V-type batteries have included charge indicators for some years now (Zitay's own L-type battery is an example) this is actually the first Z-type battery with this type of power indicator.
The advantage is clear, you don't need to put your battery in the camera or charger to know if it is charged, a simple press of the top button and the light on the battery turns on – simple and effective.
The battery itself is 7.2V; 2040mAh and 16wH, just a little less powerful than the original Sony NP-FZ100 (the original Sony Z-type battery is rated at 7.2V; 2280mAh and 16.4Wh).
In our test, the Zitay battery gave our Sony A1 just over 2 hours of video shooting time which is 30 min or so less than the original Sony Z battery.
Z-type batteries with a level indicator
Z-type dual charger
Along with our Z-type batteries, we also got a very small, compact USB C (and micro-USB) dual Z-type portable charger.
This tiny charger works only with Z-type batteries (unlike our ISDT NP2 which as we mentioned works with 3 different Sony-type batteries) but for how tiny it is that is a small sacrifice.
The only design aspect of this charger that we would change is the small screen. With this unit, you can only see small bars for charge status. We would really like to see numbers that will give a better indication of the exact charge status (this is true for the Quad L charger as well), and like with the quad L-charger – some audible signal for when the charge had finished.
As for charge speed. We ran a number of tests both with Zitay batteries and Sony Z-type batteries and compared them using both chargers. On the NP2 charger the Zitay batteries charged in about 3 hours but the original Sony batteries in around 2 hours.
The Zitay charger charged both types of batteries in around 3 hours. We also noticed that both the chargers and our Sony cameras were not always very accurate when reading the exact charge state of the Zitay batteries.
Update: We talked to Zitay about the battery not registering accurately on the charger/cameras and they are aware of that and looking into this issue.
Tiny Z-type dual battery charger
Pricing
Besides size and functionality, Zitay is also very competitive when it comes to pricing.
The Dual Z type charger is not yet on the company's website but a similar charger for Canon LP-E6 batteries sells for only $18.
The Z-type battery with indicator sells for $40 (there is also a similar designed to replace Canon LP-E6 batteries).
You can check out more LensVid exclusive articles and reviews on the following link.