Teleprompters might not be as sexy as some other video-related accessories but they are extremely useful tools in many types of productions, even more now when more things move online due to the pandemic. FLEX is a new type of ultra-portable dual-use teleprompters that you can take with you to any location and quickly set up for work with a camera or as a direct teleprompter for lectures.
The Sydney-based Prompt-it company started working on teleprompters back in 2009 with a low-cost Prompt-it Maxi teleprompter which has been selling ever since. The Maxi works well for camera only use but was not designed for doing presentations and lectures.
Richard from Prompt-it shows how to move the FLEX from camera configuration to lecture mode
This is how the FLEX was born as a dual-use teleprompter that operators can quickly re-use as both a tool for on-camera presentations and lectures. The FLEX is made of a combination of hard plastic, metal, and glass (we have been talking to the developers who assured us that the parts that can break or has significant pressure put on them are strong enough.
As a teleprompter for camera work, you can use it with a light stand or attach it to the neck of a stills tripod center column or use a 15mm rods attachment for use with a video tripod. For presentations and lectures, you will only need a light stand (we actually prefer a tripod as they are more robust) and converting the teleprompter into this mode takes less than a minute (the tablet is placed close to the bottom of the light stand and you can even connect a power bank in this mode – see here). In both modes, it can accept tablets (up to 31.5cm or just over 12″ – see this video for more on specific tablet compatibility).
The FLEX in camera mode (with a light stand)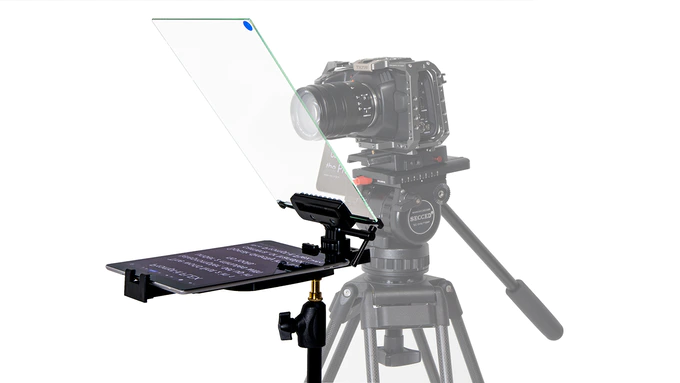 Prompt-it is also working on another important piece which is a hard case for the FLEX as the glass part can break if handled poorly when traveling.
The FLEX should be ready by January 2021 and is currently raising money on Kickstarter where it is offered for $270 AU or about $193 USD).
If you don't want to miss any new photography product be sure to check out our product photography section. Make sure you won't miss any Kickstarter photography projects on our dedicated Kickstarter page here on LensVid.