The Benro Polaris is a robotic tripod head that can be used for star tracking, dynamic timelapse, sunrise and sunsets, panoramas, and more. It is currently raising money on Kickstarter, it is fully app controlled and going by the marketing material it is certainly Benro's most innovative product in years.
The main features of the Benro Polaris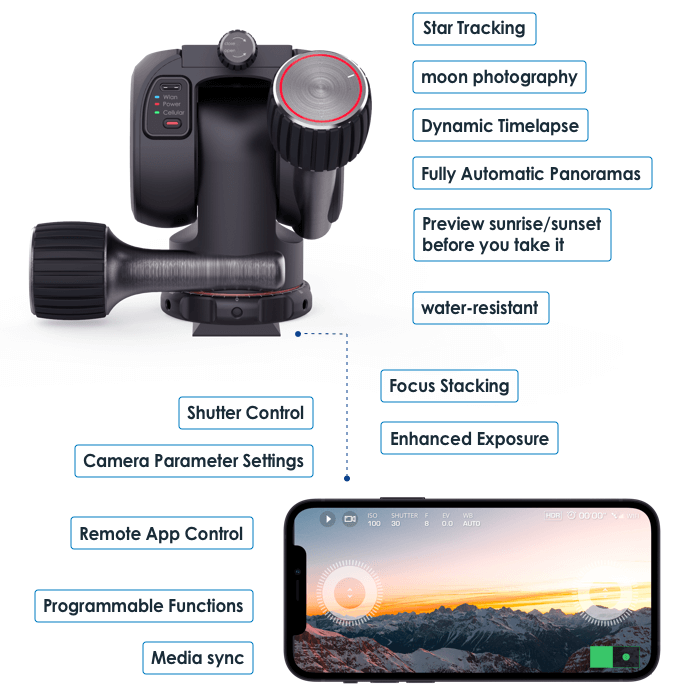 What is the Benro Polaris?
On paper, the Polaris is really a dream come true for many outdoor landscape, timelapse, and astrophotographers. It can pan and tilt precisely via command from an app and when connected to the camera it also allows the user to view the image from the camera allowing them to place a tripod at night in the cold while they are sitting in the car/tent or even at home if they shoot from outside the house and still see exactly what they are doing and control the camera.
One more very powerful feature of Polaris is its ability to automatically render photos that you will typically work on in the computer using the computer inside the head. This means that you can capture panoramic photos, time-lapses, exposure bracketing, and more and have them combined "in-camera" (via the head).
When in star tracking mode the Polaris has a built-in GPS and star maps to help the user to automatically tract constellations. It can also show you the pat of the sun in the sky and help you to automatically keep it in the frame so that you will get the perfect sunrise/sunset timelapse with your camera.
The Polaris can also be used to automatically take a number of photos and create a panorama image.
The Polaris can carry up to 7kg (15lbs) which means it should be able to move almost any setup including some pretty long telephoto lenses, its motors are precise and efficient so it should have a very long battery life (no actual number was given) but you can also use it as a regular two-way manual head as the brushless motors do not get in the way.
The Polaris and its app – use from a distance
Pricing and Availability
Current pricing during the Kickstarter phase is just short of $500 (official pricing will be set at $900). There is also a premium version with a Celular connection if you want to control the unit from a large distance beyond WIFI which opens a whole range of options (it currently goes for $700 on Kickstarter). The first Units should reach backers around June 2021.
If you don't want to miss any new photography products be sure to check out our product photography section. Make sure you won't miss any Kickstarter photography projects on our dedicated Kickstarter page here on LensVid.